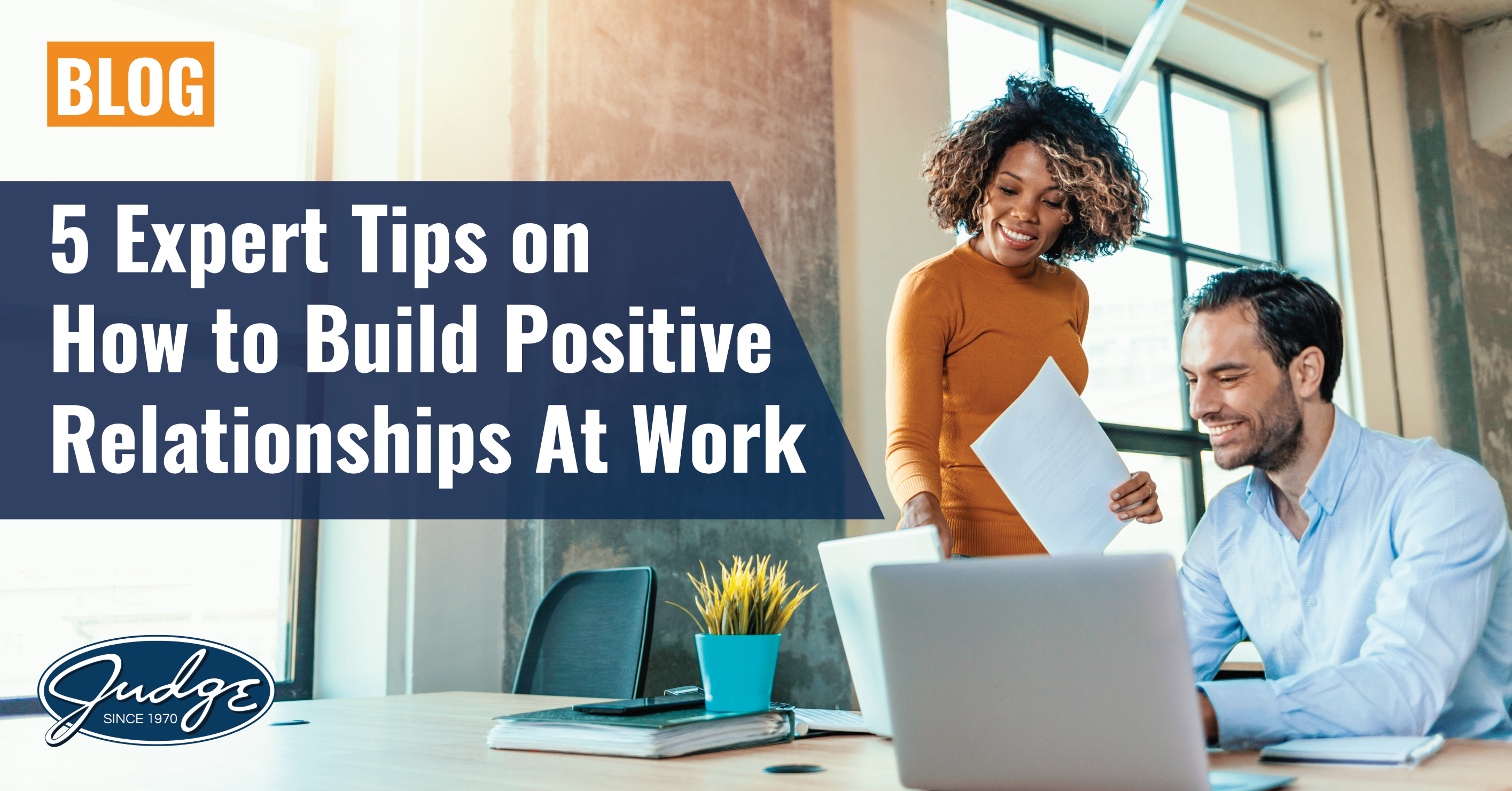 Share this post
5 Expert Tips on How to Build Positive Relationships At Work
Whether working on a team project or simply interacting with co-workers throughout the day, positive relationships can make all the difference in your productivity and job satisfaction. In the era of remote working, these relationships and the skills to build them have become even more important.
Regardless of your industry, it is important to build relationships at work. For many, the workplace can feel uncertain, isolating, and unsupportive. MHA's Work Health Survey showed that out of 17,000 respondents, 63% stated work stress negatively affected their mental and physical health. 63% also stated that they had experienced isolation because of a hostile work environment. Building genuine and healthy relationships with co-workers can significantly increase happiness at work and lead to many mental and physical health benefits.
Of course, building strong workplace relationships doesn't happen overnight – it takes time, effort, and a bit of finesse. Read on for four ways to build relationships at work that will help create a supportive and productive environment for you and your colleagues.
Be open (but professional)
When you first start working with someone, it is important to be open and honest about your expectations, goals, and what you hope to accomplish together. Don't be afraid to share some of your personality with your coworkers. While you always want to keep it professional, and not overshare, research shows that people who are seen as open and transparent at work are more equipped to build stronger relationships with their colleagues. So, if you are looking to build relationships at work, start with sharing something about yourself!
Be a listener
If you want to know how to be a good colleague at work, start by listening. According to Psychology Today, taking the time to listen can improve your workplace relationships tremendously. The key is not to listen to respond, but to listen to understand. Everyone loves to talk about themselves and when you listen to them and they feel you understand them, relationships are much easier to build. The next time you are in a meeting or having a conversation with a coworker, try to focus on what they are saying and why. Not only will this build trust and respect, but it will also give you a better understanding of how you can best work together.
Ask questions
If you want to build a strong relationship with someone, ask questions. This shows that you are interested in them and their work. According to a study by the Harvard Business Review, asking questions is one of the key ways to have better conversations and build better relationships. The study found that when people ask questions, they are seen as more engaged, interested, and intelligent. Furthermore, questions help build rapport and show that you are interested in the other person. As a bonus, you may find out your colleague is interested in a topic or line of business they are not directly involved in. If you are involved in it, you can seek out their opinion or help in the future. Just make sure not to ask too many personal questions – keep it professional!
Be respectful
One of the best ways to build relationships at work is by being respectful at all times. Respect is a key component of any relationship – especially workplace relationships. In fact, a recent study shows that respect is one of the most important factors in determining the quality of a workplace relationship. According to the study, employees who feel respected by their colleagues are more likely to trust them, be engaged in their work, and have a positive attitude towards the company. Many companies are launching Diversity, Equity, and Inclusion initiatives to suit this purpose. By encouraging understanding across an organization, the goal is to create a more welcoming, understanding, and respectful workplace.
Celebrate success
Always be the first to cheer on your coworkers' success. When we celebrate our successes together, it forges a stronger bond, which in turn creates a more effective workplace. When you celebrate the success of others on your team, it shows that you are invested in their success – and that you are willing to work together to achieve common goals.
Here are a few ways you can celebrate the success of your colleagues:
Sending a congratulatory email or text
Bringing in treats or coffee to share
Posting about their success on social media
Conclusion: 5 Expert Tips On How to Build Positive Relationships At Work
Creating a workplace you enjoy being part of, as well as one that values you as a person, is important. You want to be able to rely on your colleagues and know they value your input. The professional relationships you develop at work can last a lifetime and produce valuable connections, even if you change jobs.
By following the tips above, you can start to build strong workplace relationships that will help you create a more positive and productive work environment. And remember, always be respectful, humble, and willing to lend a helping hand – these are the key ingredients for those who want to know how to be a good colleague at work!
Topics : Articles, Blogs, expert tips, Office Relationships, relationship building, Workplace Relationships
Share this post
Join Our Winning Team
We are always looking to add talented professionals to our team. Advance your career with Judge.
Apply Now
Let's Continue the

Conversation.

Tell us how we can help you and we'll be in touch soon.