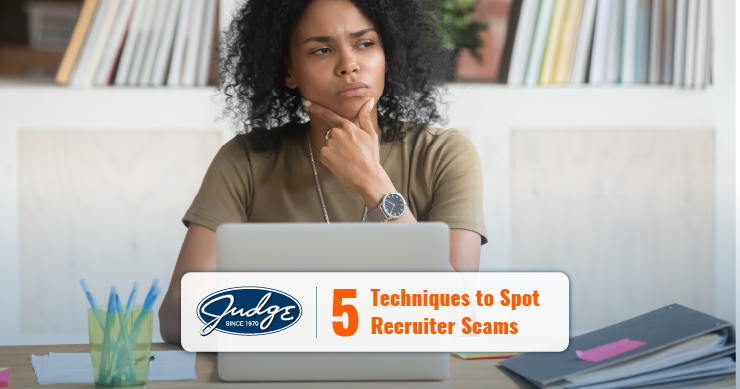 Share this post
5 Techniques to Spot Recruiter Scams
Summer, 2021 is just around the bend.
As America begins to bounce back from the Covid hangover, economies are re-opening, companies are re-hiring, and yep, you guessed it — scammers are on the rise! Even in the world of job recruiting.
Even if you take all the right steps, like developing a great resume, getting it out there, and letting everyone in your extended network know that you're seeking a new opportunity; you can still fall prey to a recruiting scam.
Like most scams, the purpose of a recruiting scam is to get as much money from you as possible — and to quickly disappear! So how should you, an innocent job seeker, avoid getting into this rather uncomfortable situation?
We put together a list of tips to help you recognize recruiter scams.
Double check the email address' consistency with the company's email.
If the email includes spelling, punctuation, capitalization, or other grammatical errors, be on the lookout for a scam.
Check for contact information at the end of the email (e.g. the company's phone number and social media links). Job recruiting scams often won't have any.
If it seems fishy, do not open any attachments sent in the email.
2. Too good to be true
The pay is much higher than a typical job in the industry.
Shorter hours and no required experience for a high paying job.
A job offer is presented before you even interview.
You get a job right away, after a quick phone call or online interview.
3. They ask you for money
You are requested to make a payment before even beginning the job.
Your bank account information is requested prior to starting, under the pretense of setting up direct deposit.
You are asked to pay for a credit card report and resume reviewing.
4. They ask you for personal information too quickly
Account information is requested for direct deposit.
A social security number is requested to set up a health care plan.
You are asked to go to a website in order to fill out your credit card information for a credit check.
Judge Pro Tip: Secure websites have URLs starting with https:// and not http://.
5. The search results don't add up
Before agreeing to an interview do your research - you should be able to find all information using an online search if the company is real (phone number, address, and more)
Look up recruiters on LinkedIn to make sure they are connected with the company they claim to represent.
If emails, addresses, phone numbers don't match - it's a red flag.
Key Takeaways: 5 Techniques to Spot Recruiter Scams
Everyone wants the idyllic job hunt. A quick interview, for the perfect job, as soon as possible. Sometimes you might get lucky, but more often, these situations are too good to be true. If you're skeptical, you might want to take a second look before committing to an interview. Ask questions, and NEVER pay for something before getting more details on the process.
Stay alert, patient, and motivated throughout the job search process. It can take time, but a great job might be just around the corner. Visit our website to learn more.
P.S. Know this — no real recruiter will ask you for your credit card information!
Topics : Articles, Job Interview, Job Search, Recruiting Scams, Recruitment
Share this post
Join Our Winning Team
We are always looking to add talented professionals to our team. Advance your career with Judge.
Apply Now
Let's Continue the

Conversation.

Tell us how we can help you and we'll be in touch soon.