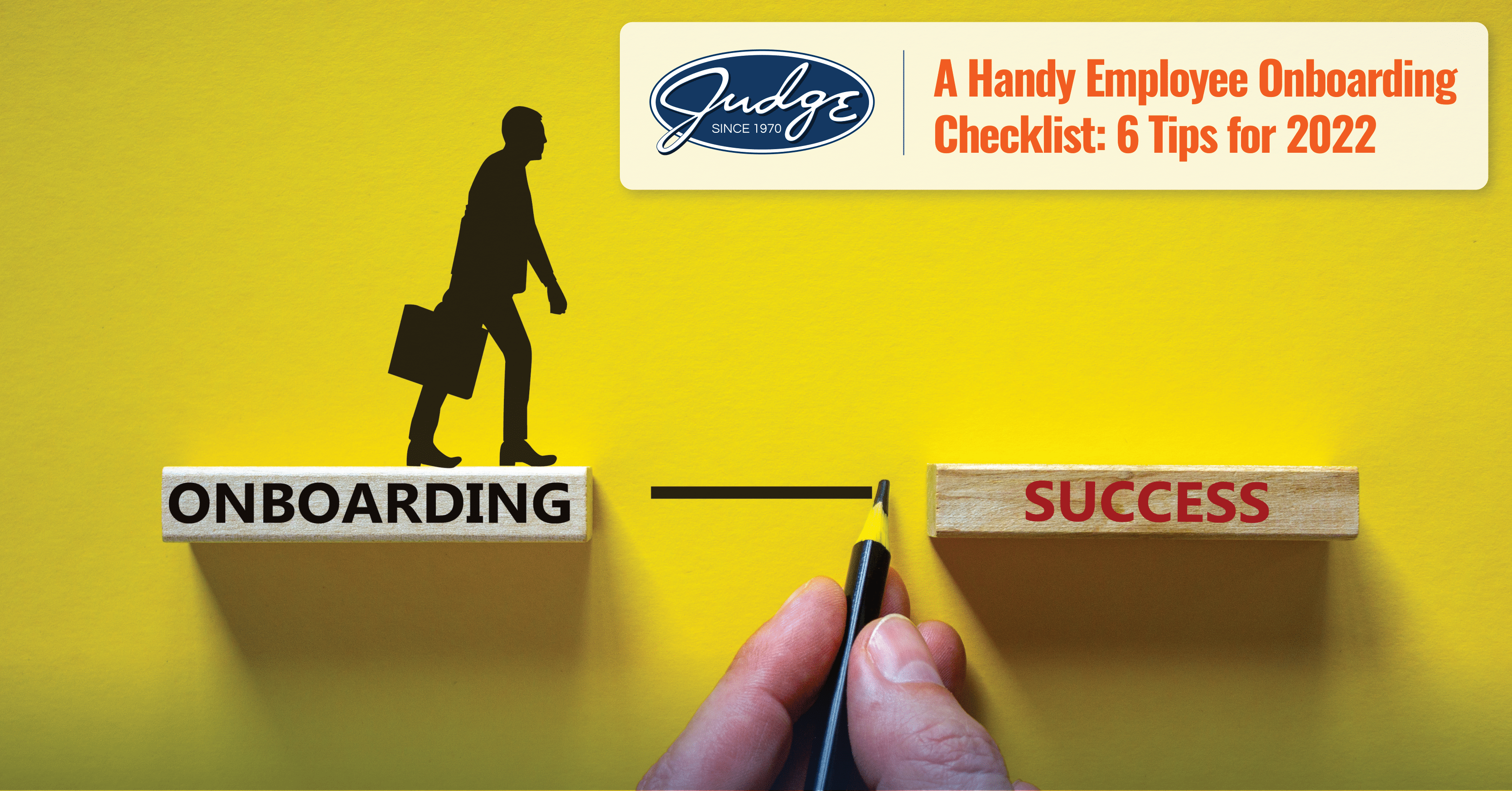 Share this post
A Handy Employee Onboarding Checklist: 6 Tips for 2022
If you've ever changed jobs during your career, you probably already know that employee onboarding can be a very dry, time-consuming, and even overwhelming process. In the worst-case scenario, onboarding can even be a red flag — causing employees to leave before their probation period has ended. Thankfully, it certainly doesn't have to be that way!
Amazingly, a strong onboarding process can improve employee retention by 82%. Learning how to improve employee onboarding is more important than ever in the current job market. Employees are leaving positions in droves, leaving companies to face the difficult proposition of identifying qualified replacements quickly.
If you've found yourself in this situation, tightening up your onboarding process might be your next move. Maintaining an employee onboarding checklist that is simple, effective, clear, and consistent will help your company make a great first impression; ensuring new hires feel comfortable in those first stressful 3 months.
Here are 7 ways you can improve your existing onboarding process!
1. Prepare Internally
The last thing you want is for your new hire to show up for their first day, only to discover that there is nothing valuable for them to do! To avoid this situation, prepare a checklist for the following tasks:
Desk assignment
Required equipment, including ordering anything necessary
Employee work email address creation
Security access requests
Password setup for portal access
Required software installation
A welcome gift or card is also a nice touch!
2. Send all necessary paperwork in advance
Make sure your employee has a chance to interface with their team within the first day or two, as opposed to leaving them at a desk all day, filling out paperwork. Technology can streamline onboarding paperwork, especially when effective pre-onboarding is introduced. Send your new hire an onboarding packet that includes all necessary paperwork including any contracts, tax documents, or other legal documents. Be sure to send these materials out early enough to be completed before the new hire's first day and communicate that you are available for any questions.
3. Communicate all essential information
Being a clear communicator at the beginning of the process can save a lot of time later on. Providing essential information in one place is a great way to make sure new hires have a good experience, so they can reference information they do not remember. Remember, onboarding involves a lot of information, and it is difficult to immediately retain it all! Let employees know the expectations, team culture, company history, day one and 3-month outlines, information about bonuses, promotions, and so on. Providing some form of cheat sheet regarding important resources or helpful websites is always helpful as well.
4. Make them feel welcome
Introduce your new hire to the team before they start! A quick email can be sufficient for large teams. Assign a few colleagues from their team to be available for questions, socializing, and general guidance through the onboarding process. It is important for your employees to be involved, and to start understanding the company's organizational culture.
5. Assign a mentor
Involving senior staff can be a great way to ease new employees into their position. Your new employees can learn efficient shortcuts, grow in their career, and gain confidence in the new role more quickly. Here are great tips about how to become a good mentor and how to create a mentorship program.
6. Set clear goals and expectations (and communicate them!)
Everyone wants to know what is expected of them. To bring the best out of your new hires, hold regular performance reviews, listen to feedback, and review goals and expectations. Help your employees understand how their personal goal fits into a larger organizational goal, and always reward employees for great performance.
Conclusion: A Handy Employee Onboarding Checklist - 6 Tips for 2022
To improve your hiring process, you may want to consider setting up a survey, in order to access continuous feedback from your hires. But remember—this will only work if you actually take steps to implement changes based on the feedback! Most new hires are very excited to join your company. Make sure you treat their onboarding process with the same level of energy, to make sure your relationship starts on the right foot.
Topics : Articles, Employee Onboarding
Share this post
Join Our Winning Team
We are always looking to add talented professionals to our team. Advance your career with Judge.
Apply Now
Let's Continue the

Conversation.

Tell us how we can help you and we'll be in touch soon.