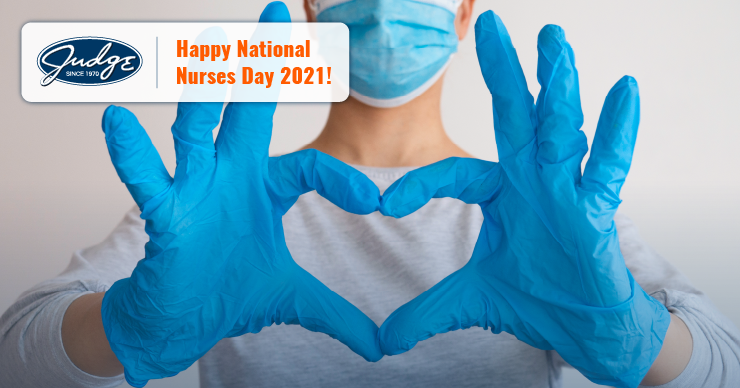 Share this post
Happy National Nurses Day
By Mick Angelichio
At Judge Healthcare, we partner with and employ hundreds of nurses every year. Our teams are tasked with matching great nurses to great organizations, and for that reason, we understand a thing or two about the qualities that make a great nurse. I'd like to highlight some of those character traits now — in honor of nurses everywhere.
Empathy and Emotional Stability - No description of a great nurse is complete without highlighting traits like empathy and compassion. When patients are vulnerable — whether scared, sick, or deeply troubled or saddened — there is nothing more consoling than a professional nurse by their side, standing with strength, kindness, compassion, and understanding.
Technical Skills and Attention to Detail - I decided to list this second for a reason. Most of us are aware that nurses tend to be emotionally resilient. But sometimes, we are so quick to celebrate the soft-skills, that we lose focus on the medical skills nurses must learn, refine, and maintain every single day. Great nurses are highly skilled and technically trained.
Communication Skills - As if it weren't enough to be both empathic and skilled practitioners, great nurses must also be excellent communicators. A nurse needs to know when to be gentle with a patient, assertive with a doctor, and comfortable asking for help. Great nurses leave the stress of their everyday lives behind to maximize the quality of care they provide. This is not easy to do, and it shouldn't be taken for granted. Speaking of which…
Versatility - Simply put, nurses' duties are rarely straightforward and predictable. They can vary from day to day, requiring the ability to wear many hats! The ability to switch on a dime is one of the most impressive skills great nurses possess.
Problem Solving Skills - Patient health can be a puzzle. Sometimes, it's obvious which pieces fit together. Other times, the next steps aren't always clear. No one has a better eye on a patient minute by minute, hour by hour than nurses do. Doctors are tasked with making key treatment decisions, but nurses have a bird's eye view of a patient's health and are able to leverage this knowledge in important ways.
At the end of the day, these are just a few of the many important nursing characteristics and at the risk of overloading you, I could probably list 20 more! Instead, I'd simply ask you to join me in recognizing, thanking, and celebrating the talented nurses who keep us safe and healthy, in times of turmoil.
Thank you nurses across the world. You are heroes of the pandemic — but you were heroes long before it too.
Topics : Articles, Healthcare, Healthcare Professionals, Judge Healthcare, National Nurses Day, Nurses
Share this post
Join Our Winning Team
We are always looking to add talented professionals to our team. Advance your career with Judge.
Apply Now
Let's Continue the

Conversation.

Tell us how we can help you and we'll be in touch soon.