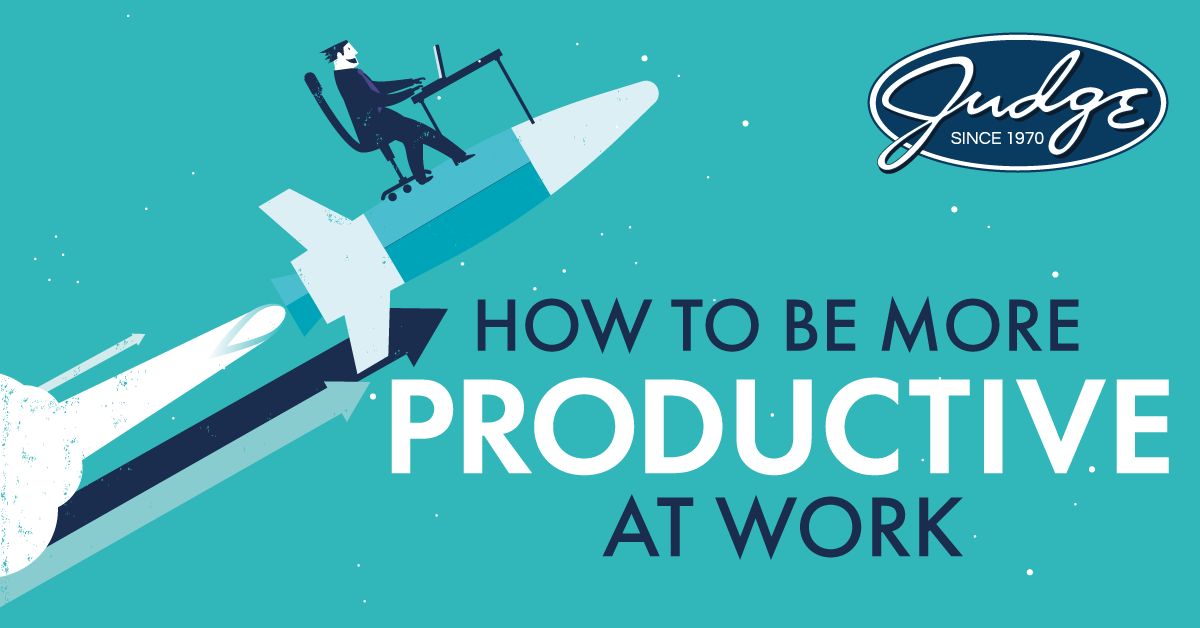 Share this post
How to be More Productive at Work
Tell me if this sounds familiar: You're wrapping up another busy day at work. You're packing your things away, firing off a couple emails, and saying 'good night' to your coworkers. As your computer screen turns black, you lean back in your chair and take a deep breath when a question pops into your head: "What did I accomplish today?"
For many people, the answer to that question is… "not much." In today's world of near constant distractions, it is becoming increasingly difficult to be productive at work. Emails, social media, and other distractions are taking away our ability to be productive. It's time to stand up to distractions and take your (work)day back!
But how do you take your day back? Here are some tips I've found to be immensely helpful in making me more efficient and productive at work.
GET IN EARLY
We end up wasting so much time in the morning. It is important not to waste these early morning hours. Eat your breakfast and get your coffee before you get to work so you're ready to go when you hit your desk. By starting your day focused and full of energy, you'll set the tone for the rest of the workday. It is hard to get that burst of energy at 2 PM if you're just going through the motions from 8 AM - 1:59 PM.
PREPARE
At the end of every day at work, setup your schedule for the next. Have a plan written out with the next day's tasks and goals and break your day into segments. This way, when you arrive at work the next morning you can dive right into your day.
SET MINI GOALS
Give yourself several mini goals for your day & week and make them visible. You more than double your chances of achieving your goals when you write them down and they are visible in your work space. This also helps keep you on task. You can always refer back to your plan and goals to ensure you are completing them.
ATTITUDE IS EVERYTHING
Your attitude is half the battle. Don't walk through the motions at work but instead be an active participant in your day. Challenge yourself to meet and exceed your goals. Success fosters success, so don't be shy to take control of your daily projects and invest 100% into them.
AVOID DISTRACTIONS
It can be hard to insulate yourself from all the distractions around the workplace: your office neighbors, email, and cell phones are just some of the myriad of distractions around the office. When you plan out your day, set aside specific times throughout the day to check and respond to email. Use headphones to signal to your colleagues that you are focused working – even if you aren't listening to music, people will be less likely to casually interrupt you if you have headphones on. And please, put down your cell phone. Do yourself a favor and note how many times you pick up your phone throughout the day, you'll be surprised.
That's it! Pick one or two (or ALL OF THEM) to try and see what happens. I bet you will feel better and more accomplished. And I want to hear your suggestions! Use the comments section below to share your tips & tricks on being more productive at work.
Good luck!
By: Joy Provenzano
Topics : Articles, Productivity, Time Management
Share this post
Join Our Winning Team
We are always looking to add talented professionals to our team. Advance your career with Judge.
Apply Now
Let's Continue the

Conversation.

Tell us how we can help you and we'll be in touch soon.