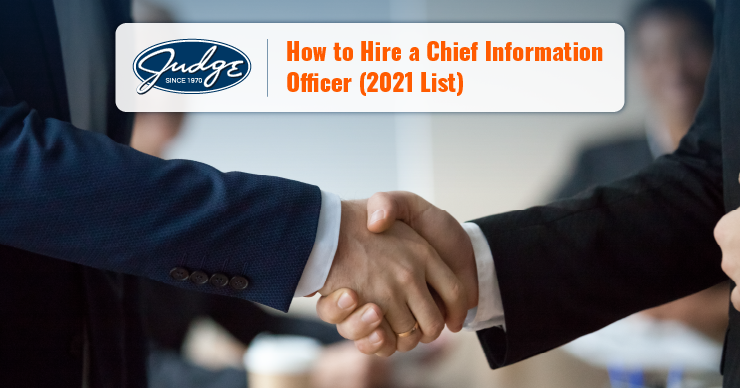 Share this post
How to Hire a Chief Information Officer (2021 List)
"Innovation distinguishes between a leader and a follower."
- Steve Jobs, Apple co-founder
The CIO — or Chief Information Officer — is one of the most important positions in any tech-heavy organization.
CIO's not only oversee IT departments; they are intimately involved in executive decision-making. Chief Information Officers must balance the temptation of new opportunities, with a realistic bird's eye view of a company's capabilities.
Hiring the right CIO can distinguish your company from "merely" a leader in the field, to one that identifies business opportunities competitors don't even see coming. With the ever-increasing need to integrate technology into business models, companies are on the hunt for innovators.
Making plans to hire a CIO? Here are a few things to consider.
Define your needs
Before posting a position and interviewing candidates, your leadership team will want to revisit its business plan, discussing considerations related to the CIO position itself.
Having a clear vision for future goals will help you write a job description with duties, expectations, and responsibilities. The right candidate will not only possess a strong educational background, s/he will be a fantastic cultural fit, and will have a proven record of managing a team and forging company growth.
The right candidate should not only be passionate about the position itself; but also about the kind of work you do.
Look for specific experience and skills
A great CIO candidate should have a wealth of experience in your industry. Understanding field specific technology and being in-the-know about tech innovations around the bend will help distinguish a good candidate from a great one. To this end, look for candidates with substantial software knowledge and certifications, a proven track record of problem solving, software design skills, and most importantly, an exceptional ability to manage a team.
Seek strong financial literacy
A great CIO will not only serve as a tech leader, but will also develop a keen understanding of your company's financial objectives. A CIO often must solve problems within carefully allocated budget lines. For that reason, identifying candidates who understand ROI and risk, particularly as they relate to technological implementation, is critical.
Curiosity and innovation
Technology is constantly changing, and your CIO will need to have a finger on the pulse of the latest trends. Researching, testing, and constantly seeking information about the latest innovations will help your company stay on the cutting edge. To this end, make sure to ask candidates what kinds of new technologies they implemented in their last place of work, and have them walk through key successes and challenges.
Conclusion: How to Hire a Chief Information Officer (2021 List)
At the end of the day, figuring out what technologies are best for your company and successfully implementing them is no easy task. Hiring an innovative CIO can make this process much less daunting. If you're still considering whether you should hire a CIO, here is a summary of why it's worth considering.
CIO's can improve the daily workflow of your business.
CIO's can create and implement plans for your IT network, and the future trajectory of your IT department.
CIO's can manage your software and hardware purchase, as well as their implementation.
CIO's can introduce industry specific cutting edge technology, and increase the overall productivity of your business.
Topics : Articles, CIO, Hiring, IT Departments, IT staffing
Share this post
Join Our Winning Team
We are always looking to add talented professionals to our team. Advance your career with Judge.
Apply Now
Let's Continue the

Conversation.

Tell us how we can help you and we'll be in touch soon.