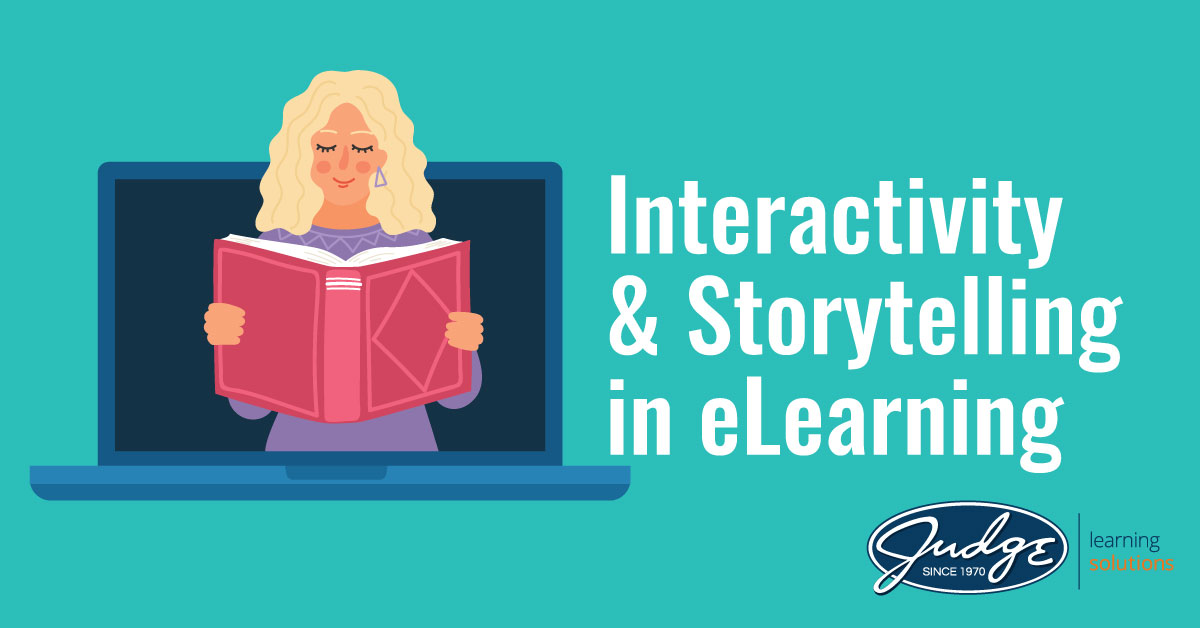 Share this post
Interactivity and Storytelling in eLearning
By Sally Eames, Instructional Designer 
I'm excited to present my 4th blog in this 4-part series. When I put "interactivity" and "storytelling" together in the title of this post, I had a sneaking suspicion that most people who read it would think, "Oh! Sure! Choose your own adventure!" While that approach is certainly valid, there's so much more possible when you combine a storytelling approach with interactivity in eLearning.
First, however, we need to rethink our shared definition of "story." Most of the time, people think of a story as a narrative with a plot. This is great for scenario-based training, but very limiting.
What happens if we expand "story" to include relationships? With that definition, a story becomes the relationship between two or three things, not just a set of steps taking us from Point A to Point B. If we think of story in that way, interactivity can help us explore the relationship between concepts or products by providing learners with an experience of the relationship that teaches better than words alone:
A roadmap helps learners visually see how the steps in a process lead to the end result
Click-to-reveals allow learners to compare and contrast similar products
A collection of flip cards groups a set of information bites together under a larger category
Drag and drop interactions underscore relationships between categories and components
Interactivity can also visually reinforce organizational needs. For a client whose mandated document controls require specific binders for filing, I used a set of vertical tabs designed to look like the binders they referenced. Each tab opened up to a list of the documents contained in that binder.
It can also reinforce the emotional impact of a story. I've used photo comparison sliders to showcase the difference a decision made by allowing learners to shift between before-and-after images.
There are many ways to combine interactivity and storytelling in your eLearning project. It doesn't have to consist of clicks for the sake of clicks. Interactivity can provide an experience that will help the training land for learners in a way they'll remember.
Want to talk more about this? Leave a comment below, or reach out to us at JLS@judge.com. Our team of creative rock stars are ready to help!
Topics : Articles, eLearning, Learning, Learning Solutions, Storytelling
Share this post
Join Our Winning Team
We are always looking to add talented professionals to our team. Advance your career with Judge.
Apply Now
Let's Continue the

Conversation.

Tell us how we can help you and we'll be in touch soon.