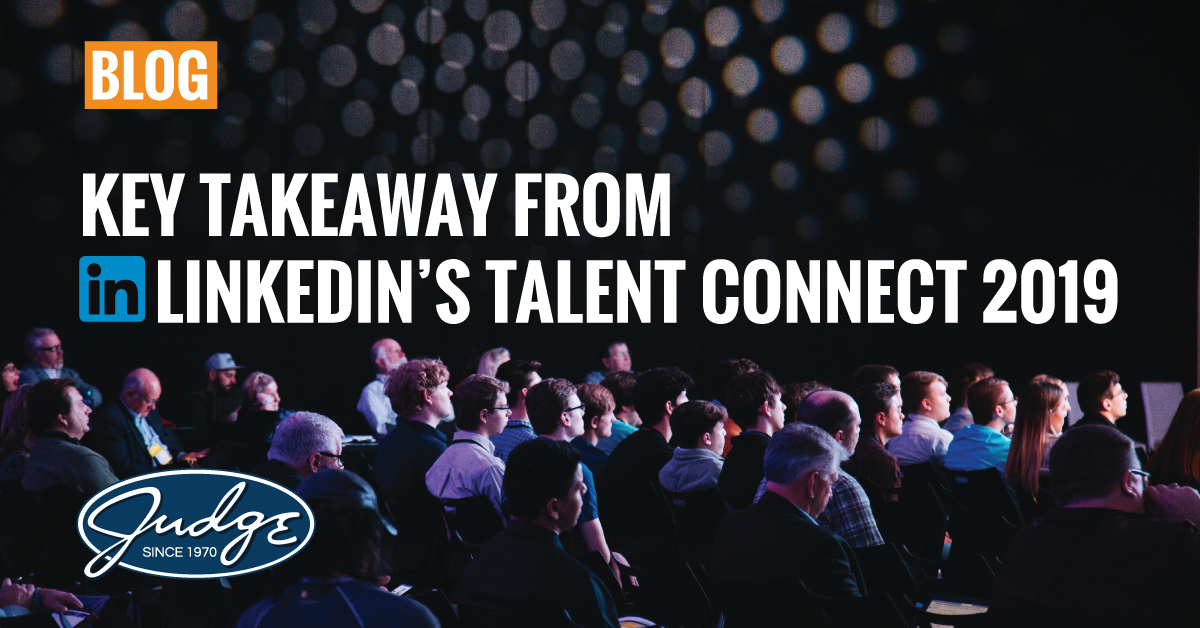 Share this post
Key Takeaway from LinkedIn's Talent Connect 2019
As the director of talent acquisition with The Judge Group, I'm always looking for ways improve our internal hiring process and for insights into building high-performing teams.
I was fortunate enough to attend LinkedIn's Talent Connect 2019 conference. It was a great experience networking with other professionals and gleaning insight from talent professionals in a variety of industries. My biggest takeaway from the event is companies need to recognize that employees are their biggest asset.
It is important that managers/organizational leaders make their employees feel valued and respected. Employees want to feel that they are contributing meaningfully to the company and that their work really matters. Tips included giving them a platform to speak with upper management, providing them with learning or mentoring opportunities, and creating a positive work culture. Focusing on your employees by providing them with meaningful perks leads to lower turnover, higher employee satisfaction, and an overall healthier company.
Other highlights from my trip to the conference include (use the links to check out their talks):
Cynthia Marshal, CEO of the Dallas Mavericks, gave a passionate talk on leading from the heart.
Dean Carter, Vice President of HR from Patagonia discussed the importance of creating a value-led culture and how doing so at Patagonia has led to a 4% turnover rate and a 97% (!) employee satisfaction rate.
Michelle Obama, former First Lady of the United States of America, talked about how diverse groups of people out-perform homogeneous groups – leading to better overall company performance.
I want to give special mention to Second City Works, the professional services arm of the Second City comedy theater. They talked about having to be adaptable, or improving if you will, in business. Things never move down a straight path. There are twists, turns, and obstacles along the way and you need to be able to react accordingly. But another point they touched on is how to keep employees engaged after the "honeymoon" phase has ended.
This really struck a chord with me and I think ties back into my major takeaway I mentioned earlier. In today's war for talent, any kind of employee attrition can leave a company is a serious lurch. If you can create an environment where employees feel empowered and your culture is strong & positive, you can become a company where your employees don't want to leave. Even better, you can become a company that top candidates want to work for.
By: Jeff DeLucia
Topics : Articles, Talent Acquisition
Share this post
Join Our Winning Team
We are always looking to add talented professionals to our team. Advance your career with Judge.
Apply Now
Let's Continue the

Conversation.

Tell us how we can help you and we'll be in touch soon.