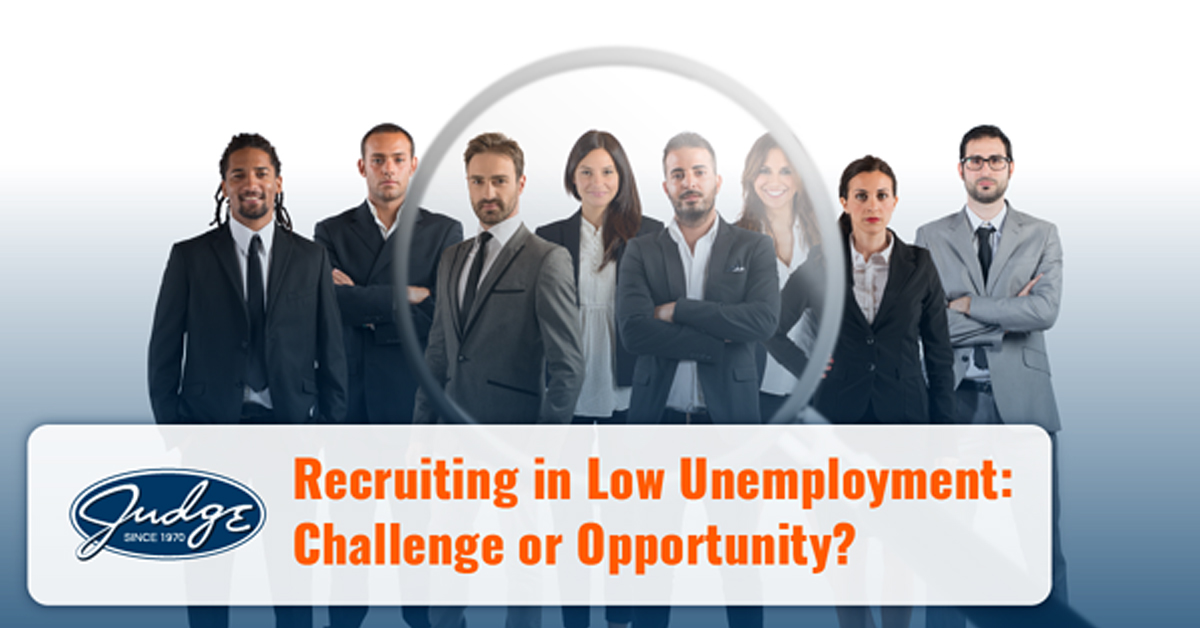 Share this post
Recruiting in Low Unemployment: Challenge or Opportunity?
Pop Quiz!
The year is 2020. Unemployment rates are very low, making the job of hiring professionals:
Super easy
Impossibly hard
A challenging, but unique opportunity to rise above the noise by staying adaptable and forward thinking.
The correct answer is A!
Just kidding. The correct answer is C, and it's not just because it's the coolest sounding.
While it's true that recruiting in low unemployment can be challenging, there are plenty of ways to play the hand 2020 has dealt you—rather than simply reminiscing on the hiring-friendly times of the past. Remember, while you may not have control over the job market itself, you do have control over your own creativity and adaptability.
Here are some tips to consider!
Emphasize your key selling points and benefits
Start off by closely reviewing the salary and benefits you offer, and compare them to your competitors. Consider highlighting unique selling points like tuition reimbursement, continued education opportunities, recurring training opportunities, and advancement potential. Shine a bright light on whatever sets your company apart. We all know how frustrating it can be to interview a fantastic candidate, only to see them slip through your fingers. Don't let unclear communication be the reason they go with your competitor!
Review job descriptions and mandatory requirements
Before making your postings public, ensure job descriptions clearly showcase the culture of your company and team. If you're having trouble identifying qualified candidates, consider toning down your mandatory requirements a bit. Don't drop the absolute musts, but think about what areas can be made up within your company's internal training resources—prioritizing motivation, intelligence and potential.
Experiment with creative tactics
First, think about investing more time into the pool of candidates you already have. Accessible recruiters and hiring managers can make a company much more desirable to work for. Second, consider testing different apps and tech solutions. Communicating modernity can be very attractive to a subsample of qualified applicants. What are the characteristics of that population and where can you find them? Make sure your brand and culture is attractive to candidates.
Consider contractors
If you're having a hard time identifying applicants with in-demand skills, consider contractors. Whether it's an independent contractor or contracted employees placed by a recruitment agency like The Judge Group, selecting from a pool of skilled professionals can be just the glue you need to crush your yearly goals.
Don't overlook your current team!
When recruiting in low unemployment, it's important to reflect on your team's collective talent. Perhaps some of your employees are nearly ready to advance, but are missing a few skills. Sending employees to trainings, seminars, and other learning opportunities not only demonstrates you are committed to them—it helps them grow within your company and can improve your retention rate. Additionally, you could look into talent development bootcamps, where you identify junior employees and train them up in the skills you need.
By: The Judge Group
Topics : Articles, Hiring, Recruiting
Share this post
Join Our Winning Team
We are always looking to add talented professionals to our team. Advance your career with Judge.
Apply Now
Let's Continue the

Conversation.

Tell us how we can help you and we'll be in touch soon.