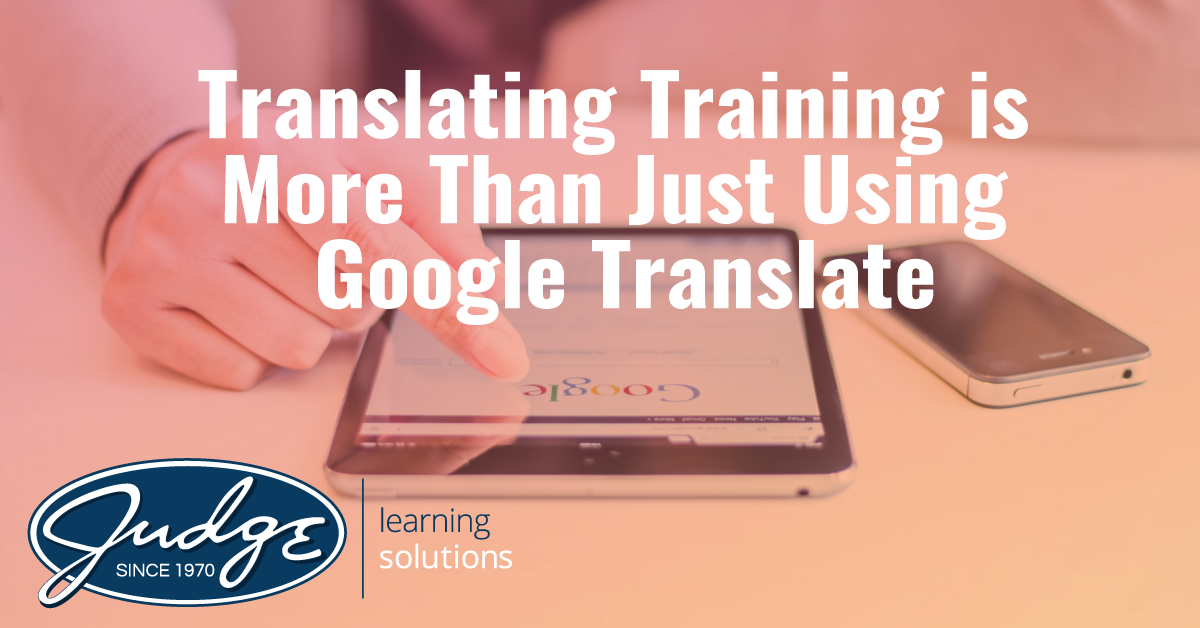 Share this post
Translating Training is More Than Just Using Google Translate
By Mark Burke, Ed.D.
We have a lot of clients lately translating their eLearning into other languages. Whether common translation languages like Spanish, or less common like Hebrew and Portuguese, there's a process the training needs to go through to get it right. Unfortunately, many organizations are not equipped to provide the right level of rigor needed. Google Translate is great if you want to check what a word means in another language, but when translating the nuances of technical training or a complex soft skill, it's not the right tool. (Don't get me started on the time I used Translator to translate a one-page infographic into Russian only to find out that Google gave me several phrases that turned out to be less than appropriate for work!)
When you're talking to a training provider about translations, ask about their process. Here are three attributes that any good translation process will have:
Translation by professional, native speakers. There are gifted translators throughout the US and world; make sure your vendor uses them and not a basic online tool.
Localization. Just as you would get a different opinion in the Midwest vs. the South when asked about grits vs. oatmeal, you'll get different results when translating for one region versus another. Localization shows thoughtfulness towards the learner.
Quality Assurance. There should be QA everywhere. After translation. After localization. After placement in the training. After the final review. Expect a great deal of QA from your vendor.
At Judge Learning Solutions, we translate a lot of our content to other languages. We're often asked about our process and what separates us from other vendors. My answer? Quality. We want your learners focused on the content and not word choice, so we don't cut corners.
Bottom line – have your translation vendor walk through their detailed process of how they will translate your content. If the process doesn't the mention the attributes above, and is likely significantly cheaper than other vendors, then you may be on the road to a lower-quality learning experience.
Want to talk more about this? Leave a comment below or reach out to us at JLS@judge.com. Our team of creative rock stars are ready to help – just let us know what you need.
Topics : Articles, Learning, Training
Share this post
Join Our Winning Team
We are always looking to add talented professionals to our team. Advance your career with Judge.
Apply Now
Let's Continue the

Conversation.

Tell us how we can help you and we'll be in touch soon.