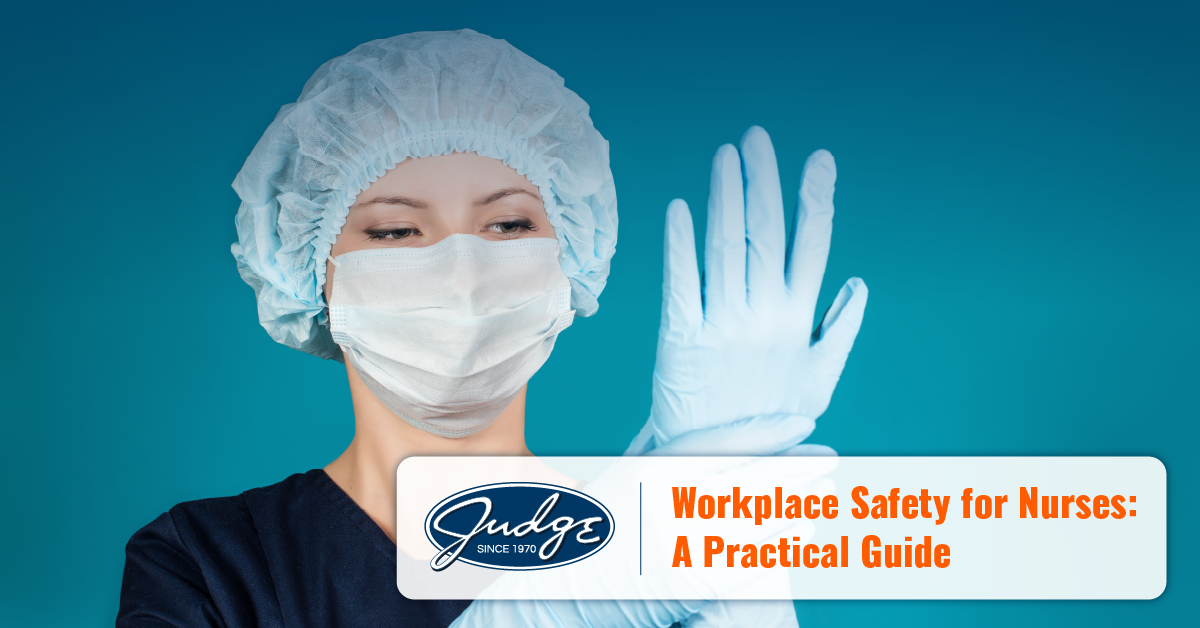 Share this post
Workplace Safety for Nurses: A Guide for 2020
In the wake of COVID-19, safe hygiene practices have been in the public eye more than ever — likely in human history.
And yet none of this is new to nursing veterans, who have practiced workplace safety for the entirety of their careers. In medical environments patients may present with anything from infectious diseases, to musculoskeletal injuries, cardiovascular disease, mental health challenges, and a range of other serious health concerns. It's up to nurses to leverage best practice safety techniques not only for themselves, but for their patients, colleagues, and society at large.
Although institutions already implement stringent procedures, current and aspiring nurses may appreciate an overview of key safety measures in nursing. So here it is, with links to expert resources.
Hand hygiene - should be conducted immediately after interacting with a patient, entering or exiting the room, and after contact with potentially hazardous substances.
Protective equipment - consists of wearing masks, gloves, gowns and goggles. These are extremely important measures when caring for patients who are known to be highly contagious, whose source of illness is unknown, or for individuals with compromised immune systems.
Decontamination - sanitizing and sterilizing rooms and equipment is necessary for reducing disease and infection. Any spills should immediately be cleaned and avoided until they are safe for everyone.
Knowing your personal limits - working non-traditional hours is a common practice in nursing. Long shifts, double shifts, and late hours are the norm. Listen to your body and recognize exhaustion, because an unfocused mind can be one of the greatest health risks for nurses and patients alike.
Practicing safe lifting - using proper body mechanics when lifting, pushing, and working with patients is important. Always ask for help if you are not physically capable of doing it on your own.
Learning proper policies and procedures for threats - it is important not only to know the safest way to remove yourself from threatening situations, but also how to document and submit incidence reports, if and when they occur.
Being careful with the sharp objects - in the medical field, you are regularly exposed to potentially dangerous medical tools. Lack of concentration can lead to the mishandling of sharp objects (such as needles), putting nurses at risk for exposure to hazardous bodily fluids.
Practicing open communication - a lack of clear communication can increase otherwise avoidable mistakes. Documentation, double checking, asking questions and listening are all important to the safety of patients and nurses.
Conclusion: Workplace Safety for Nurses
Not all medical environments are the same, and these safety tips will be tailored by administrators in each unique setting. The most important thing to remember is that nurse safety never exists in a vacuum. Nurse safety, doctor safety and patient safety are intimately intertwined, and it's crucial that all parties are on the same page.
We thank nurses and medical professionals for all that they do!
By: The Judge Group
Topics : Articles, Healthcare, Healthcare Professionals, Nurses
Share this post
Join Our Winning Team
We are always looking to add talented professionals to our team. Advance your career with Judge.
Apply Now
Let's Continue the

Conversation.

Tell us how we can help you and we'll be in touch soon.