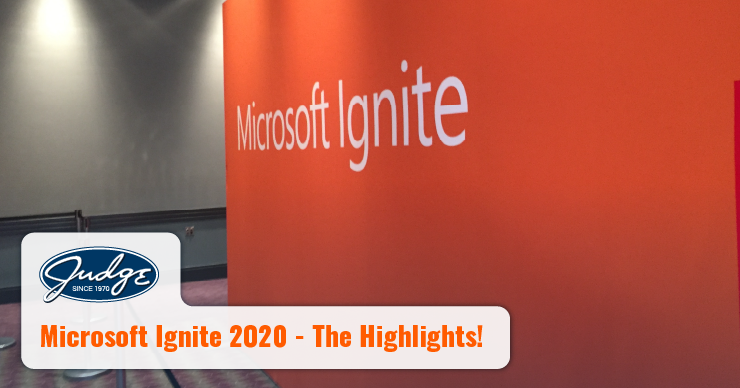 Share this post
Microsoft Ignite 2020 – The Highlights!
Microsoft Ignite 2020 — it came, it saw, it conquered.
It goes without saying that COVID-19 turned the work world upside down, creating new challenges for employees and businesses alike. We've all adapted, and so has Microsoft.
That's why this year's event focused on making remote work easier and more secure than ever. Ignite 2020 highlighted features, tools and services designed to help businesses and IT departments thrive in a transformed work world. Besides these "2020 specific" topics, attendees also learned about innovations in development far before COVID-19 came around.
Without further ado, here are some of the key announcements made at this year's Microsoft Ignite sessions.
Updates to Microsoft Teams
Several new improvements to Microsoft Teams were announced. Together, these features will make team and client meetings better. First, the new "together mode" will include various scenes (like auditorium, coffee shop, and conference room) and the layouts will be set up in a more dynamic, engaging mode. These changes will allow its participants the feeling of being closer together, even when they are very far apart!
Furthermore, the collaborative calling experience in Teams will help users more easily share information while on calls. This will especially be helpful for IT help desk and HR teams. Microsoft is even teaming up with the popular meditation app Headspace, in order to help users focus and de-stress before and after work. Lastly, Teams improved their security features to help companies protect data.
Updates to Microsoft Azure
Azure Communication Services (ACS) was introduced as a stand-alone communication platform. This is exciting news for developers, as they will now be able to incorporate video, voice, chat and text messages across all applications, websites and mobile platforms. Azure also introduced "Active Directory," designed to make remote work securer than ever, and boost employees' activity.
Additionally, there were three introductory sessions on Azure AI, discussing how AI will shape the future of tech. Finally, Microsoft announced new innovations to Azure Arc and Azure Stack. To read more about those, click here.
Updates to Microsoft Edge
The latest Microsoft Edge update introduced more secure remote work capabilities. For example, MAM (mobile application management), allows IT administrators to selectively manage individual work-related apps on a user's device, instead of needing to manage a user's whole device."
Microsoft Edge will also release improvements to its PDF tools, allowing users to validate electronic signatures, add notes to PDFs, and better navigation through the document and tables of content. Microsoft Edge will be available on Linux in public preview, come October.
Conclusion: Microsoft Ignite 2020 - The Highlights!
Naturally, there were many more announcements about the future of Microsoft products and services. If you weren't able to attend, but still want to hear some amazing speakers, learn about how Microsoft is working to improve our remote experiences by clicking here. You can still rewatch some of the session!
Until the next Microsoft Ignite!
Topics : Articles, Conference, Developers, IT
Share this post
Join Our Winning Team
We are always looking to add talented professionals to our team. Advance your career with Judge.
Apply Now
Let's Continue the

Conversation.

Tell us how we can help you and we'll be in touch soon.