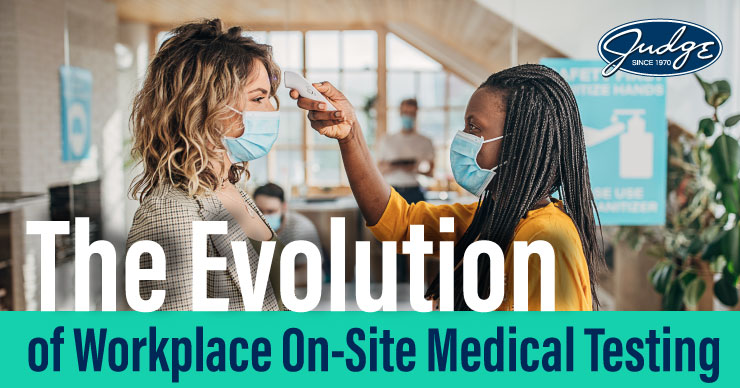 Share this post
The Evolution of Workplace On-Site Medical Testing
As the country continues to battle COVID-19, on-site medical testers and screeners have become indispensable in keeping employees, students, and others safe.
Check out the below infographic to see how workplace safety has evolved during the pandemic (click on the infographic to see a larger version).
Phase 1 - No Protection
In the earliest stages of the pandemic, workplaces around the world were largely uninformed about proper safety precautions. Until reliable information could be disseminated widely, protective strategies were mostly limited to:
Basic Personal Hygiene
Encouraging employees to wash hands often, especially after returning from public places. Likewise, using hand sanitizer and sneezing or coughing into one's arm.
Self-Assessment
Asking employees to watch for fever, cough, shortness of breath, and any other potential symptoms of COVID-19.
Seeking Medical Advice
Reminding employees to visit a doctor if feeling ill.
Phase 2 - Self Prevention
As information from trusted sources began to hit the mainstream, prevention techniques became better understood. Medical and research institutions didn't have time to mobilize yet, but businesses began implementing basic measures to help protect employees and slow the disease's spread. These included:
Social Distancing Measures
Keeping 6 feet of distance between employees whenever possible, and implementing staggered work schedules if needed.
Working from Home
Asking office workers to work remotely and socially isolate when possible.
Wearing a Mask / Shield
Requiring the use of masks and face shields, especially in densely populated workplaces like factory floors, warehouses, and some offices.
Phase 3 - Medical Screening
Employees in essential industries do not have the option of being able to work remotely. Additionally, many businesses rely on a certain amount of person-to-person interaction, making remote work unsustainable for more than a few weeks. In response, businesses began to hire COVID-19 medical screeners. Medical screeners can significantly mitigate the risk of the disease spreading widely. Their duties include:
Temperature Checks
Being taken at the entrance and exit points of buildings for staff, clients and all personnel entering the facility.
Health Assessments
Administering health questionnaires designed to assess the overall health of individuals and make medical recommendations.
Entrance and Exit Logs
Recording when and where individuals entered the workspace for more effective disease tracking.
Decision Making
Assigning passes or fails and recommending when individuals should seek professional medical opinion.
Phase 4 - Medical Testing
The most recent, aggressive, and effective prevention measure — medical testing — places a trained COVID-19 tester on-site. By rapidly identifying and tracing COVID-19 cases in workforce populations, companies are able to halt the spread of the disease before it spreads. Medical tester duties include:
Swabbing
Swabbing and saliva gathering in order to systematically test employees for the COVID-19 virus.
Contact Tracing
Providing personnel and strategy to help companies gather information and conduct outreach to individuals who may have been in-touch with employees having tested positive.
Constant Reminder of Health and Safety
Self-monitoring and safety remain at the top of the list. Trained nurses keep personal accountability and best practices top-of-mind.
The future of a safe work environment
Even amidst the continued rise of COVID-19 cases around the world, businesses are implementing better, more effective safety measures. Of the phases above, one does not replace or subsume the importance of the others. Each is vital in helping slow the spread of COVID-19 and keeping your workforce safe.
Nevertheless, as resources become increasingly available, Medical Testers are quickly becoming the most effective way for businesses to function safely.
Beyond preventing the spread of the disease, COVID-19 medical testers bring the added benefit of making employees feel increased levels of comfort and safety at work. Building this level of trust will help employees feel much more at ease and will help your teams function more smoothly.
To read more on testing recommendations from the CDC, click here.
Topics : Healthcare Professionals, Healthcare Staffing, Infographic, Medical Testers
Share this post
Join Our Winning Team
We are always looking to add talented professionals to our team. Advance your career with Judge.
Apply Now
Let's Continue the

Conversation.

Tell us how we can help you and we'll be in touch soon.