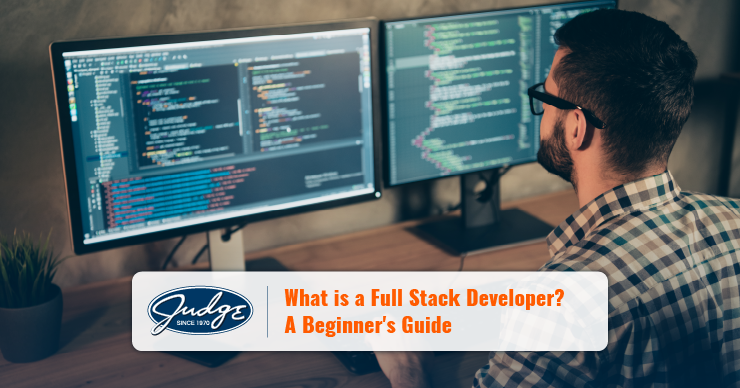 Share this post
What is a Full Stack Developer? A Beginner's Guide
In today's technology driven world, web development is a highly desired skill. Based on your background and interests, what kind of development is right for you?
As the web grows ever more complex, developers are becoming increasingly specialized. But if you've seen any job ads specifically seeking front end or back end development skills, know this: a full-stack developer can do both!
For those trying to decide which path is right for you, let's review: what is full-stack development?
What is a full-stack developer?
Full-stack developer are engineers with a hybrid skill set. They work on both the client-side and the server-side of the application — handling user interfaces, servers, databases, and more. Full-stack can apply to web stack, mobile stack, or software programs for specific devices. Full-stack developers don't necessarily master all technologies, but the more a developer can gain skill in various aspects of development, the more flexible (and employable) he or she will be.
Educational (and practical) background of full-stack developer
Usually, full-stack developers have a degree in computer science, or at least have completed several online programming courses. They often begin their career as either a front or backend developer, and build complimentary skills over time, through educational seminars or additional courses. Practical experience and demonstration is extremely important for career growth.
What skills are needed?
To begin with, a full stack developer should be aware of all the processes of building applications. Full-stack developer jobs also require one to become comfortable with:
A programming language – You should be proficient in at least one programming language such as Java, Python, Ruby, etc. Ideally more than one!
Front-end technology – This is very important in project and product development. Knowing HTML5, CSS3, and JavaScript, as well as having knowledge of third-party libraries like jQuery and LESS, is a must.
Database and cache – Because every project needs a database to store information, a full-stack developer should be familiar with MySQL, MongoDB, Oracle, and SQLServer. In addition, it is good to have a working knowledge of caching mechanisms (Memcached, Redis).
Basic design ability – The knowledge of design is not a must, but it can certainly help in full-stack development. Knowing basic principles of prototype design or UI design are a plus.
Server – A background in Apache or Linux helps in the process of administering servers.
What are the responsibilities of a full-stack developer?
A dependable full-stack developer will be comfortable with the following areas:
Front-end architecture
Designing user interactions
Back-end web development
Developing servers and applications
Ensuring cross-platform optimization
Working alongside graphic and web designers
Ensuring both technical and consumer needs are met
Why do companies need a full-stack developer?
As a jack of all trades, a full-stack developer is not only focused on keeping up and maintaining technology, but is also concerned with overseeing a team of fellow inventors, creative thinkers, and innovators. Most companies rely on their full-stack developers for constant improvement of security, and pushing their technology to remain competitive. For more on why companies hire full-stack developers, click here.
Conclusion: What is a Full Stack Developer?
The required skills, education, experience, and knowledge for getting a full-stack developer job should not deter you. It's possible to get a head start as a front or back-end developer, in order to hone your skill and gain experience. To become one, all you need is a drive to learn and an aptitude for technical knowledge. Having experience in related fields certainly helps!
Topics : Articles, Full-Stack Developer, Java, Python, Software Development, Technology, Web Development
Share this post
Join Our Winning Team
We are always looking to add talented professionals to our team. Advance your career with Judge.
Apply Now
Let's Continue the

Conversation.

Tell us how we can help you and we'll be in touch soon.