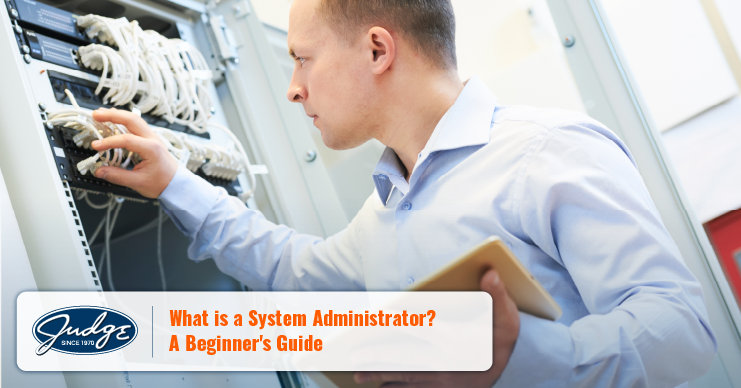 Share this post
What is a System Administrator? A Beginner's Guide
Careers in IT are on the rise!
So if you're thinking about a career in the information technology sector, a system administration gig should definitely be on your research list.
The demand for network and computer systems administrators — already high — is projected to grow significantly over the next decade. In 2021, organizations of all types and sizes maintain computer networks, so the need for system administrators is certain to increase.
Maintaining, building, and operating a strong computer infrastructure has become one of the most important priorities in everyday business, no matter the field!
In today's blog, we explore the primary duties and responsibilities, the educational background, and other requirements for becoming a system administrator.
So, what is a system administrator?
System administrators are professionals who are responsible for the day-to-day operations of computer networks. They are accountable for network setups and updates, server maintenance, and more. Typically, the main focus of a system administrator is to provide a safe and reliable work environment, especially for multi-user computers associated with the LAN (local-area network).
What are the requirements for becoming a system administrator?
Any concise systems administrator job description will make it clear that the uptime, performance, resources, and security of a business' computers must meet the needs of users, without exceeding the company budget. To fulfill these responsibilities, a system administrator must meet certain requirements.
Education – System administrator's need to have a bachelor's degree in information technology, computer science, or a related field. Important coursework includes computer network administration and database management. Some larger organizations may also require a master's degree.
Training – While completing their coursework, many students are required to acquire additional experience, in the form of internships. Here, students can earn practical training, where they will use their newly acquired knowledge to become more familiar with important tasks and duties.
Certifications – Becoming certified is not necessary, but it is preferred; CompTIA (Computing Technology Industry Association) is the world-leading provider of certifications in the IT field. The most popular certifications preferred for a system administrator's role are CompTIA A+, CompTIA Network+, and CompTIA Security+.
Skills – Aside from education, training, and certifications, there are several skills that can help a learner become better prepared for the system administrator role. Technical skills are often on top of the list, but clear communication, multitasking, and problem-solving skills are necessary too!
What does a system administrator do?
Simply put, a system administrator maintains the technology system holding up a business! This sounds like a lot, so you may wonder —exactly what is a system administrator expected to do?
In short, they install desktops, intranets, laptops, and servers, and often take care of cybersecurity. On top of that, they are responsible for LANs and wide-area networks (WANs) and connecting computer groups digitally. Repairing cables and troubleshooting issues and glitches also falls under the umbrella system administrator duties. From the smallest IT issues to the most complex, system administrators handle many critical components of IT infrastructure.
What is the job outlook for system administrators?
System administrators work across industries. These range from financial institutions, to computer system design firms, educational services, and more. In May 2018, the U.S. Department of Labor reported that 18% of the 383,900 system administrators work for computer systems design firms. 10% were employed in educational services, including colleges and K-12 school districts. 10% were also working in financial institutions like banks and insurance carriers. Job growth of 4% is predicted over the next 9 years. For updated statistics on the job outlook and expected growth for these IT professionals, click here.
What is a System Administrator? A Beginner's Guide
Simply put, if you possess technical skills, and are interested in solving computing problems for business networks, this is a great career to look into!
Topics : Article, Cybersecurity, System Administrator, Technology
Share this post
Join Our Winning Team
We are always looking to add talented professionals to our team. Advance your career with Judge.
Apply Now
Let's Continue the

Conversation.

Tell us how we can help you and we'll be in touch soon.