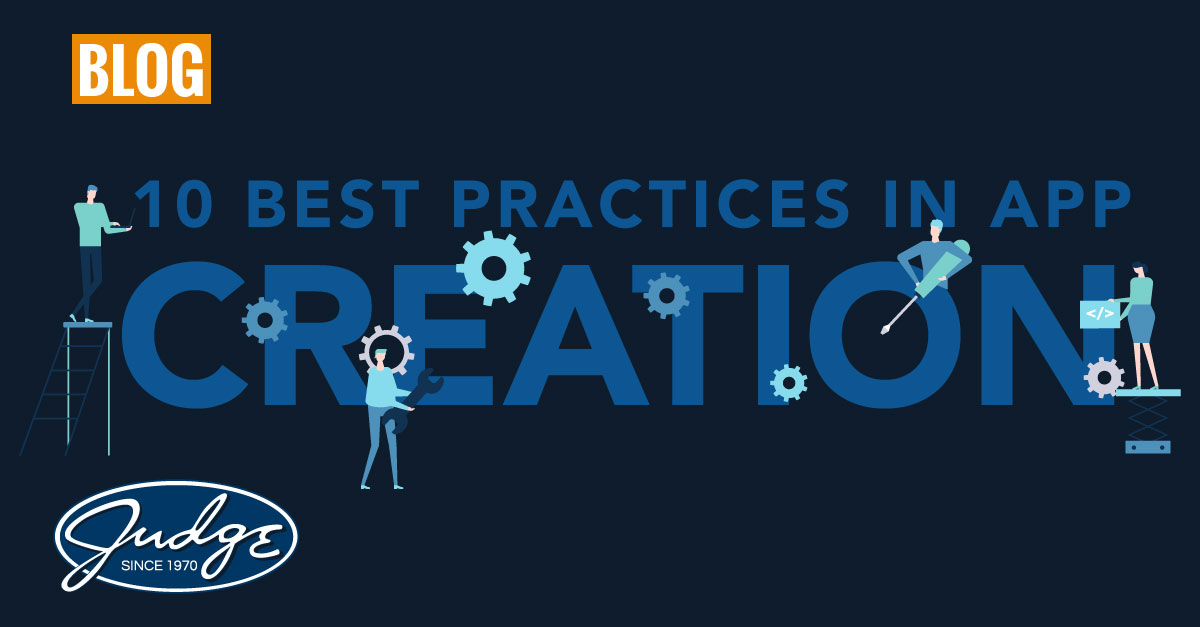 Share this post
10 Best Practices in App Creation
There's a lot that goes into creating a great app. Here at Judge, we've built both customer-facing and enterprise applications for clients across various industries. Our experienced team knows what takes to design, build, and deliver applications to meet a user's needs.
In the infographic below, we share our 10 best practices for creating apps (click the image for a better view).
Preparation
You can't make a great app without a team of talented designers and developers — but the truth is, nothing is more important than early planning and preparation. Why? Because all that highly skilled work will go to waste without a fantastic idea, a clear vision, careful budgeting, a marketing plan, and significant early testing.
Design and Development
After the pre-production phase, it's time to seek out designers and developers. Ensure your vendors can achieve key elements of your vision by carefully studying their portfolio work.
If you feel confident they have the artistic or technical skills you need, pay attention to their track record by looking at reviews and testimonials. If you end up working with an agency (as opposed to a boutique studio or freelancers), try to solidify an unambiguous POC — or "point of contact." And if you work well with your POC, seek a guarantee that this person won't be re-assigned in the middle of your project.
Before beginning, make sure your production team clearly understands your broad goals, your target market, how your tool aims to make users' lives easier, and the app's functional requirements.
Growth and Maintenance
Growing your app's usage is all about measurement, analysis and maintenance. By leveraging analytics, you'll better understand how your users interact with your app. What time of day do they use it? How long do they use it? Where do they drop off? Where do they spend most of their time? Understanding app analytics improves results around overall time spent on the app, goals achieved, number of new users gained over time, and user retention. And of course, always seek constant feedback from your users!
In Conclusion
Don't forget to prioritize staying on top of updates. This will save you time and money over the long haul. Finally, remember, onboarding new users is fantastic — but make sure your current audience is highly engaged!
Topics : App Development, Infographic
Share this post
Join Our Winning Team
We are always looking to add talented professionals to our team. Advance your career with Judge.
Apply Now
Let's Continue the

Conversation.

Tell us how we can help you and we'll be in touch soon.