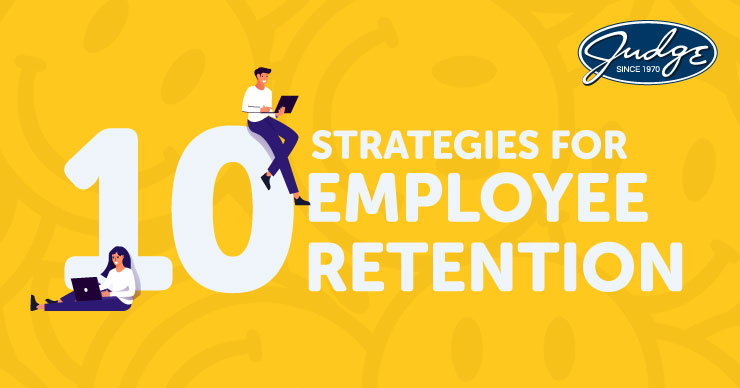 Share this post
10 Strategies of Employee Retention (Infographic)
In case you don't already know (but we're guessing you do!), hiring talented employees takes time, patience, and money. However, retaining employees and allowing them to grow with the company long-term can be even more challenging.
So, what steps can your company take to avoid losing those talented top performers? The infographic below showcases ten of our best strategies for employee retention.
(Click on the image below to view a larger version)
High employee turnover costs your organization time, money, and productivity — hindering overall growth. Not to mention the hassle of the interview process.
True, you will inevitably lose some employees for reasons beyond your control. But it's best if these reasons don't include things like burnout, poor compensation, lack of communication, or lack of training and growth opportunities. Fostering a work culture that champions open communication is the best way to avoid these problems.
Top talent is hard to attract and even harder to keep. That said, it's worth putting in the effort to keep your business running at peak performance. Consider creating an employee retention program that offers career growth opportunities, mentorship programs, and other perks to ensure your employees have a positive experience.
If you are unsure how your employees are feeling about their work environment, you can always test the waters with a survey or one-on-one meetings. Ask for constructive feedback to learn what can be improved. When employees do decide to leave, turn it into a learning experience by performing an exit interview to gather insight into why they chose to move to a different employer.
Use these ten strategies for employee retention to improve employee satisfaction and overall work culture!
Topics : employee retention, Hiring, Infographic, Job Search, Strategy
Share this post
Join Our Winning Team
We are always looking to add talented professionals to our team. Advance your career with Judge.
Apply Now
Let's Continue the

Conversation.

Tell us how we can help you and we'll be in touch soon.