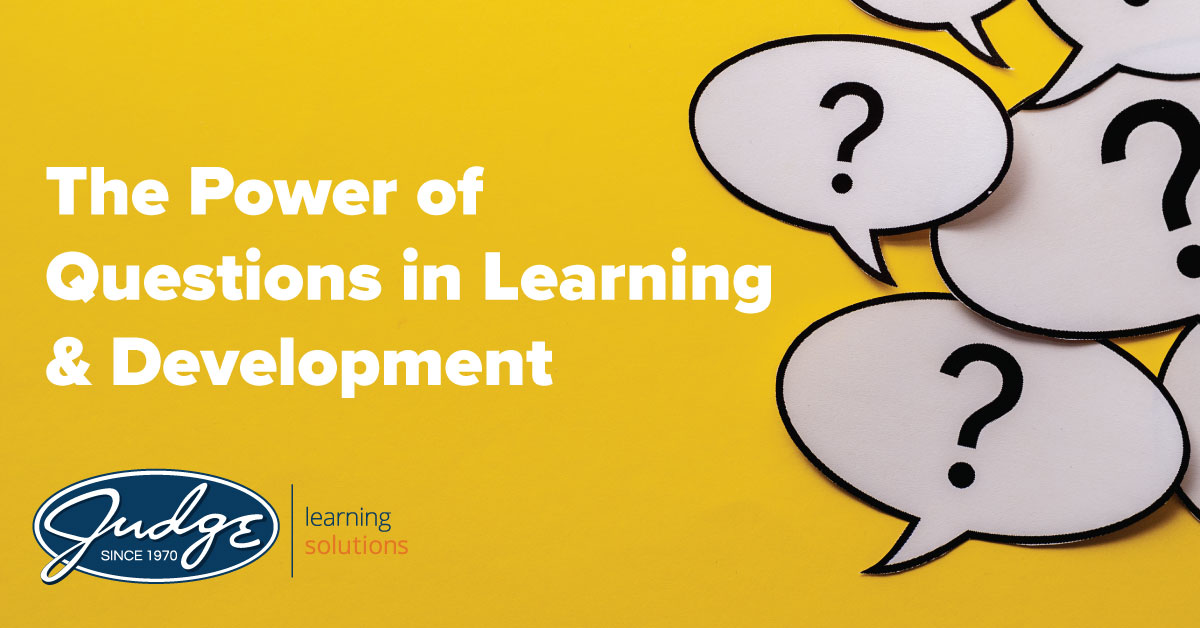 Share this post
3-Part Series: Part 1 – The Power of Questions in Learning & Development
By Jill Pearson, M.S., APTD
We live in a time of constant show and tell. People have myriad ways to share their thoughts, their stories, their photos, and their creations. And sometimes it feels like, as professionals, our job is to show and tell the client something brilliant. After all, we are the experts in learning design and development.
But consider the following:
• What's one surefire way to get a new client relationship started off on a great foot?
• What tool can you use to engage learners from the very first moments of a training?
• How can you find common ground among project stakeholders who disagree?
The answer to all of these is the same: by asking questions.
Over this 3-part series we'll look at how to use questions as a tool across many aspects of an L&D professional's world. For this introduction, let's look at why questions are so critical in the early stages of a new project.
Questions are non-threatening. Even if you are a project owner or a skilled and knowledgeable instructional designer, beginning a relationship by asking thoughtful questions is still a tactful way to broach a topic. It's important not to ask things you should already know, but perceptive questions about future needs and objectives can actually show your stakeholders you pay attention and think ahead.
Questions can help clarify project parameters. While the project you are working on likely has a detailed statement of work, it's still essential to review key points during a project kick-off call, as well as into the first few status meetings. Rather than simply restating what's already outlined in the SOW, meeting attendees are much more likely to engage with questions that require detailed answers from them. For example, "the statement of work includes an assessment. Have you thought about the required pass-rate?" Even if they don't have that detail at the moment, you can add it to the meeting notes as an action item for them.
Questions help set expectations. In some cases, you'll be able to ask stakeholders exactly what they are able to commit to in terms of project review periods. In others, there will be less wiggle room in the timeline, and you'll need to disguise your expectation as a question, "Based on the timeline, we will need to have review periods of no longer than 3 days. Can you commit to that?"
While an account executive is the primary relationship manager, project managers and instructional designers both need to develop strong relationships with their clients in order to deliver the best possible product. Using tactful questions can go a long way towards building that relationship.
Want to talk more about this? Leave a comment below, or reach out to us at JLS@judge.com. Our team of creative rock stars are ready to help – just let us know what you need.
Topics : Articles, Learning, Learning Development, Learning Solutions, Workplace Relationships
Share this post
Join Our Winning Team
We are always looking to add talented professionals to our team. Advance your career with Judge.
Apply Now
Let's Continue the

Conversation.

Tell us how we can help you and we'll be in touch soon.