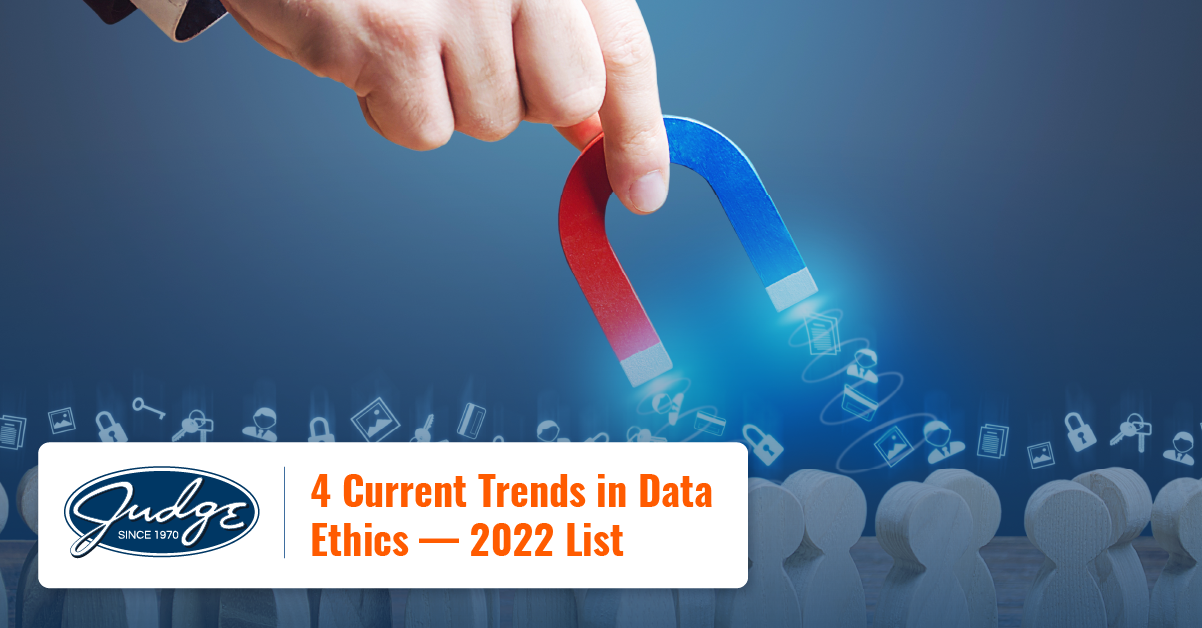 Share this post
4 Current Trends in Data Ethics — 2022 List
Important conversations about Artificial Intelligence and the Internet of Things are becoming more and more common. In 2022, there is no doubt that these technologies can be used to improve people's lives in important ways.
But how often do we consider the data ethics involved?
Widespread use of these advanced technologies produce huge volumes of data, containing sensitive information like consumer data. Many upcoming fields—ranging from artificial intelligence, to machine learning, and advanced analytic —hope to leverage these massive datasets to develop new technologies. As such, greater attention is rightfully being placed on defining the ethical use of this data, without violating people's right to privacy, or creating unnecessary risks to society.
So what exactly is data ethics?
"Data ethics is a branch of ethics that evaluates data practices—collecting, generating, analyzing and disseminating data, both structured and unstructured—that have the potential to adversely impact people and society."
Put into lay speak, it dials in on ethical concerns surrounding the use (and possible misuse) of consumer and business data. Data ethics is extremely important in fields like data science and analytics, information technology, artificial intelligence, and machine learning.
Today, many companies are implementing new guidelines designed to mitigate the risks of data misuse. If left unchecked, these risks can create large-scale complications. Here are some of the most important digital ethics trends to be aware of, moving into 2022!
1. Upfront consent and information
Many organizations are increasing transparency around their data use policies. Typically, this means providing greater detail about what's happening to customer data after it's collected. After clients are provided specifics, their consent and acknowledgement are requested. Customers also appreciate the option to opt out their data being used in specific ways. Being upfront can keep customers more informed and helps foster loyalty.
2. Importance of transparency and trust
Even when organizations take precautions to ensure their customers' data remains private, unexpected data breaches can and do occur. To strengthen client trust, companies are increasingly taking steps to communicate incident details and facilitate a response plan to all affected parties—especially customers.
3. Regular algorithm auditing
AI and Machine Learning lean on complicated algorithms that require data input. To minimize human interference and inaccurate or irrelevant data, organizations have adopted continuous data monitoring and auditing protocols.
4. Following rules and regulations
Even if existing data privacy regulations like General Data Protection Regulation (GDPR) in the European Union do not directly address data ethics, there is significant overlap between key privacy requirements. The continued development of the global economy means that companies must abide by the regulations and laws of any nation that customers providing personal data reside in.
Conclusion: 4 Current Trends in Data Ethics — 2022 List
Most customers understand the value of their personal data, and want to know that their privacy is being respected. Businesses and organizations who take pride in respect, privacy, and transparency around their data usage are taking steps to build customer loyalty and maintain a positive reputation.
Topics : Articles, data, Data Science, Technology
Share this post
Join Our Winning Team
We are always looking to add talented professionals to our team. Advance your career with Judge.
Apply Now
Let's Continue the

Conversation.

Tell us how we can help you and we'll be in touch soon.