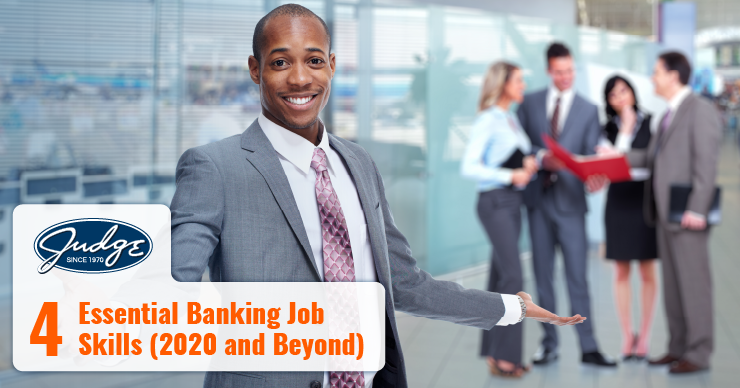 Share this post
4 Essential Banking Job Skills (2020 and Beyond)
Between 2010 and 2019, a whopping 12% of full service bank branches closed around the U.S. So, if you haven't made a pit-stop at your local bank recently, you may want to swing by to make sure it's still open! This evolution started long before COVID-19.
Maintaining branches can be an expensive endeavor. Rent is high, upkeep is constant and maintaining professionally trained staff is a never-ending task. Meanwhile, the digital age is complicating matters further. Improvements in AI have increased e-banking use in lieu of bank trips. Whether it's opening a new account, transferring money, or freezing your credit card — most financial errands can now be completed from the comfort of your own home. So, what does all this mean for future careers in banking?
The demands on bank workers are changing. Today's jobs are more fluid and require learning skills that didn't even exist a few years ago.
Here are 4 essential banking job skills that will be important in 2020 and beyond.
Digital Literacy and Fluency
For anyone interested in pursuing a career in banking, knowledge of the programs, tools, and systems banks utilize is a must. Surprise, surprise - traditional tools are no longer enough. Most operations — be they applications, communications, or approvals — are moving online. Technology is subbing in for human labor, as banks move towards programming, codeless design configurations, and other innovative methods. Simply put, anyone who can quickly pick up digital skills has a major leg up on the competition.
Interpersonal Skills
Even as banking customers continue to expand their use of applications and online tools, the importance of gaining new clients and maintaining relationships (with less in-person conversations than ever!) remains paramount. It should be no surprise, then, that the demand for employees with high "EQ" is as important as ever. One of the major differentiators in competition between banks will be the overall quality of customer service. For this reason, banks will prioritize training employees on effective communication and conflict resolution skills.
Adaptability
Given these fluctuations, current and future employees must be comfortable with a high degree of change and continued training. As the financial sector adopts new digital technologies, adaptability and team-skills will become prized assets. Recruiters will seek candidates who are equal parts adaptable, creative, emotionally intelligent, and resilient.
Problem-Solving Skills
Problem-solving skills are always necessary for careers in banking. As traditional banking continues to recede, being able to assess a customer's problem, maintain excellent customer service, and offer an appropriate solution is the best way to establish trust and create opportunities to upsell or cross-sell a product or service. The more employees understand new products and technologies, the more their problem-solving skills will help them advance in their careers.
Conclusion — 4 Essential Job Banking Job Skills (2020 and Beyond)
Technology will inevitably change the relationship between banks and their prospective workers. In the future, banks will seek candidates who can handle the pressure of constant change and adapt to the latest technologies. This new era will be marked by both technological advancements and the innovative ways bankers use them to help customers.
Topics : Articles, Banking, Financial Services, Job Skills
Share this post
Join Our Winning Team
We are always looking to add talented professionals to our team. Advance your career with Judge.
Apply Now
Let's Continue the

Conversation.

Tell us how we can help you and we'll be in touch soon.