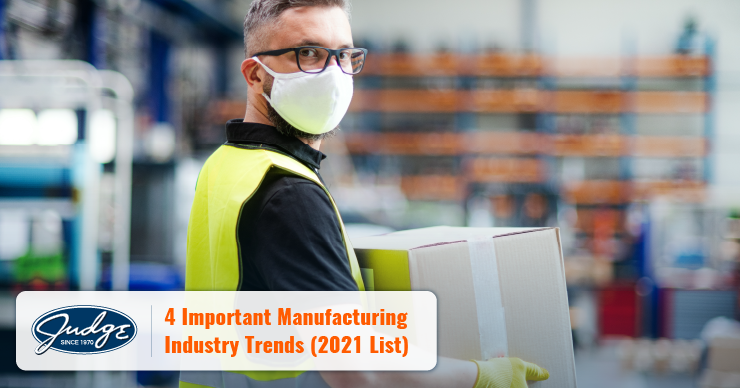 Share this post
4 Important Manufacturing Industry Trends (2021 List)
For good reason, the manufacturing industry puts a premium on quality, efficiency and innovation. Meanwhile, technology is the vehicle that both pushes - and is pushed by - these forces, creating an endless feedback loop.
While the technology available to manufacturers is more advanced than it's ever been, the pressures are the same as always. Adapt, evolve, and improve — or perish! Put differently, if manufacturers want to do more than merely survive over the next decade, they'll have to embrace new and disruptive technologies.
Here are the top 4 manufacturing industry trends we expect in 2021:
1. Smart Manufacturing
Technology is changing and enhancing how the manufacturing world operates. The use of small robots, AI, Internet of Things (IoT), and machine learning are being integrated with one another, permitting smart devices to interact across environments. Technology-enhanced environments are not only improving safety; they are predicting maintenance needs before they occur with the help of data collection and analysis.
Meanwhile, IoT has already proven successful when it comes to lowering costs and controlling, connecting, and monitoring data usage. And don't forget about the new 5G network! 5G will allow manufacturers to introduce and implement all this new technology to its fullest extent.
2. Emphasis on Employee Safety
Safety is (and should always be) a top priority in manufacturing. However, it took on a whole new meaning in 2020. When COVID-19 swept across the globe, it forced industry leaders to think beyond typical safety protocols and security precautions. This manufacturing trend will continue into 2021, bringing new social distancing measures in production areas, building inflow and outflow monitoring, medical testers and screeners, and increased equipment disinfection protocols.
To minimize human to human contact, some technicians also successfully integrated technology allowing them to perform duties remotely. More on this in trend # 4!
3. 3D Printing
Before 3D printing, it took months for manufacturers to develop the desired molds, jigs, and fixtures to mass produce equipment, tools and products. Nowadays, 3D printing can replace this costly process by creating any design or variation of a product without new molds or machinery. Some of these processes can now be completed in a matter of days! In addition, prototyping, troubleshooting, and testing new products has also become much easier and more cost-effective.
4. VR and AR Usage
Augmented reality (AR) and virtual reality (VR) has received lots of attention during the ongoing pandemic. Thanks to VR-and AR-enabled devices, field operators and technicians are able to provide remote assistance to customers. Even without being on site, they are able to troubleshoot, offer advice, and assist in making repairs. Moving forward VR and AR will continue to give the manufacturing industry new opportunities to evaluate their existing procedures and processes, as remote operators and technicians become increasingly common.
Conclusion: 4 Important Manufacturing Industry Trends (2021 List)
Although the manufacturing industry faced unique challenges in 2020, companies pulled through thanks to some advanced technical agility. In 2021, these adaptations may become the new norm. We're excited to see what these manufacturing industry trends will bring to the U.S., and what new innovations are yet to come!
Topics : Articles, Manufacturing
Share this post
Join Our Winning Team
We are always looking to add talented professionals to our team. Advance your career with Judge.
Apply Now
Let's Continue the

Conversation.

Tell us how we can help you and we'll be in touch soon.