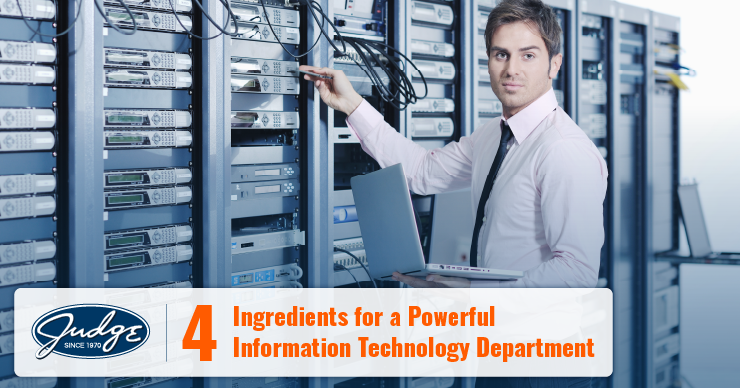 Share this post
4 Ingredients for a Powerful Information Technology Department
If you took the time to click on this article, you probably already know that IT teams are crucial to the success of large organizations. In 2020, COVID-19 has made the importance of information technology departments more obvious than ever. So as we make our way towards 2021 (some might say hurdle towards it uncontrollably), the importance of establishing a strong team and organizational structure can't be understated.
In today's blog, let's take a look at some of the key ingredients to building a successful information technology department.
Leadership
Strong leadership can make or break an IT team.
Whether it's your CIO, your CISO, or some other executive role, finding the right IT leader is a priority that shouldn't (ever) be underestimated. The ideal IT leader will possess a combination of experience and poise. On the experience side, your candidate should have a deep understanding of your industry — including field specific technologies. On the temperament side, the ideal IT leader should work well with others, enjoy communicating, and be a master problem-solver. S/he should enjoy exploring innovative ideas but be cautious and meticulous when implementing them.
Maintenance Team
Getting all that hardware, software and computer network system set up takes time and talent. Of course, the bigger the company, the bigger the team. For a small company, we might only be talking about a single employee or two. Either way, if you don't hire candidates who can properly evaluate, maintain, and install your network system, you'll need to seek external help as soon as possible. Knowing what equipment to choose, and working within budget also falls under the scope of responsibilities.
Network Team
Networks vary from very simple to extremely complex, usually depending on the size and scope of the organization, and the sensitivity of its data. If you aren't convinced about the importance of hiring a quality network team, think of it this way; when an organization's servers go down, the consequences can be very costly — not only to internal operations, but to the lives of the clients and customers that organization supports.
For this reason, it goes without saying that building a team of employees who can manage, maintain and secure your network, as well as stay on top of the latest technologies, is crucial.
Customer and Employee Support
In addition to staffing an expert technical team, it's also important that your hires are capable communicators who are enjoyable to work with. Customer and employee support (aka help desk support) consists of a range of duties, such as: resolving technical problems, responding to queries via chat, phone and email, training, installing software, running reports, remotely accessing, and guiding people to fix computer problems.
Yep, it's a lot! That's why strong communication skills are often at the top of the IT most wanted list.

Conclusion: 4 Ingredients for a Powerful Information Technology Department
Building an IT dream team takes a lot of effort and resources — not only in identifying technically skilled employees — but also employees who are excellent cultural fits for your organization. While the size of your company and resources will surely impact the size of your IT team, the truth is, sheer manpower should be a secondary focus. The most important thing is maintaining a strong team that knows how to maintain systems, manage network security, and most importantly, solve problems.
Feel free to reach out to us at Judge IT Consulting for help managing a powerful Information Technology Department.
Topics : Articles, IT, IT Departments, IT Management, Network Infrastructure
Share this post
Join Our Winning Team
We are always looking to add talented professionals to our team. Advance your career with Judge.
Apply Now
Let's Continue the

Conversation.

Tell us how we can help you and we'll be in touch soon.