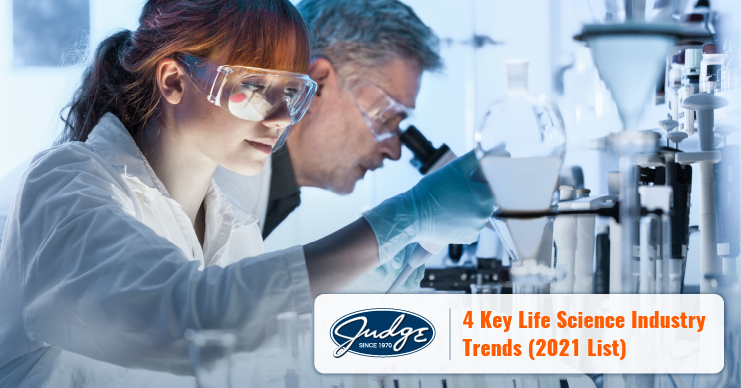 Share this post
4 Key Life Sciences Industry Trends (2021 List)
The Life Sciences is the study of all the living things on Earth. If it sounds broad, that's only because…it is!
The Life Sciences Industry includes everything from pharmaceuticals, to environmental science, biomedical technology, biomedicine, neuroscience, nutraceuticals, and many more specialties. In their quest to improve science and medicine, life science experts focus on research and development, as well as commercialization of products.
COVID-19 created unique challenges in 2020, forcing the world to approach health and medicine in new ways. The rush to create and test vaccines was unprecedented, and as a result, the funding for research and technology increased dramatically. Consumers suddenly lived in a world in which access to safe medical care was no longer a guarantee.
Needless to say, it's been a bumpy ride. The good news is, technology is already offering key solutions. Here are some of the most important life sciences industry trends of 2021.
Research Technology and Collaboration
In 2020, tools and laboratory equipment were integrated to better monitor, treat, and assess patients. Processing data accurately is vital for the life sciences industries.
Collaboration between the medical field and the life sciences industry has been impressive in the past, but it reached new heights in 2020. Drug research companies are collaborating with life science technology professionals and software providers to analyze data more than ever. When the bioengineering field gets involved, life-changing treatments are developed through predictive drug modeling. More broadly, life science technology has facilitated more efficient data accumulation and use.
Personalized Medicine
Individual treatment means better outcomes, and a key part of personalized care is advancements in the field of genetics.
Genetic coding has led to a great awakening in our understanding of DNA — and the ability to interpret large pools of DNA information has revolutionized personalized medicine. Knowing exactly what medicine formula and dosage each patient needs will continue to make saving lives easier.
Digital Diagnosis and Treatment
Digital diagnosis and treatment have been around for years, but their relevance gained considerable traction during the COVID-19 pandemic. Lockdowns and social distancing rules significantly impacted patient treatment, as demand for more efficient digital care went through the roof.
Lucky, life science technology has responded with multiple solutions.
For example, many doctors have incorporated virtual treatment, including telehealth consultation for diagnosis and medical prescription. Life functions monitoring is another digital practice on the rise. All in all, telepractice is a growing trend in the life sciences industry, and it will continue to gain relevance in 2021…and well beyond the pandemic!
Digital Transformation
Many tech innovations adapted before 2020 gained relevance during the pandemic. Wearable medical devices and remote patient monitoring save lives every day. Artificial Intelligence, Machine Learning, Internet of Things, and Augmented Reality will continue to help scientists create applications designed to provide better disease diagnosis, drug development, and new product research. More technology = more lives saved!
Conclusion: 4 Key Life Science Industry Trends (2021 List)
The life sciences are going through a digital transformation, and key advances have brought the sector directly into the spotlight during COVID-19. These life science industry trends are already saving lives and will continue to do so moving forward.
Topics : Articles, Life Sciences
Share this post
Join Our Winning Team
We are always looking to add talented professionals to our team. Advance your career with Judge.
Apply Now
Let's Continue the

Conversation.

Tell us how we can help you and we'll be in touch soon.