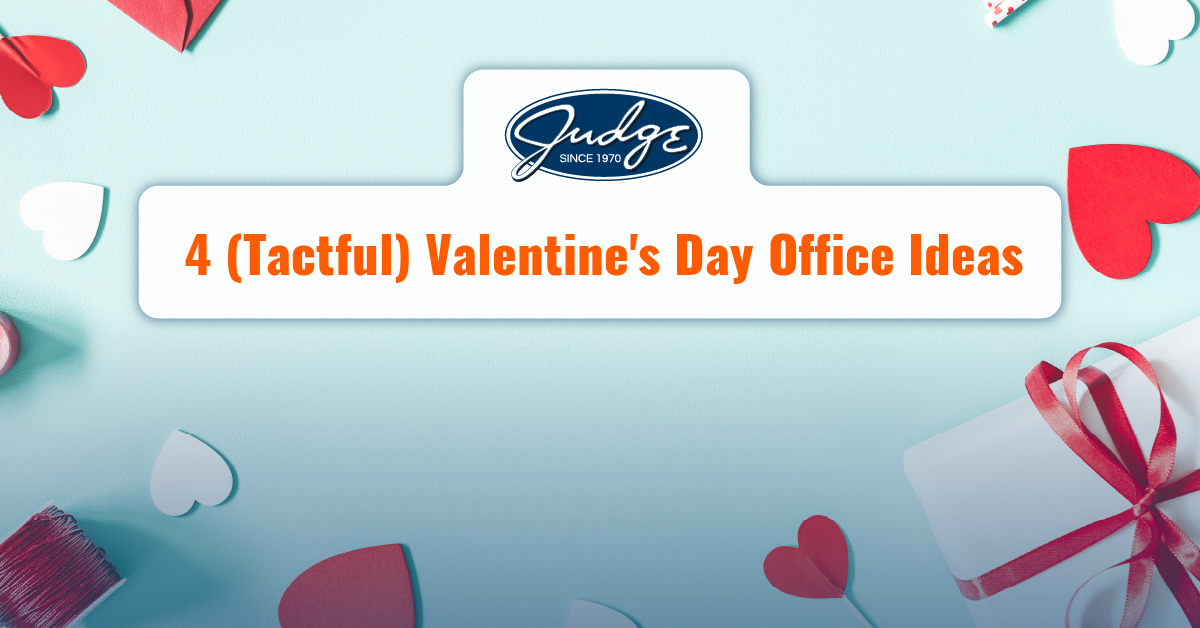 Share this post
4 (Tactful) Valentine's Day Office Ideas
Valentine's Day. A day for love, surprises, and appreciation. How could anybody not be thrilled that February 14th is just around the corner? Hold your holiday horses, because things aren't always as they seem.
According to a survey conducted by Healthline, attitudes in the U.S. are fairly split about Valentine's Day:
54% of survey respondents report "loving" the holiday.
21% say it is "just another day" to them
18% say they "don't care for" the holiday
7% say it makes makes them "sad and lonely"
Since nearly half of Americans aren't necessarily looking forward to the bombardment of flowers and chocolate, what is the right way to respect both ends of the heart shaped bell-curve? We recommend re-framing the holiday as a day for appreciation, fun, and team bonding, rather than the expression of romantic love.
Here are a few Valentine's Day office ideas to get you going!
Idea 1 - Provide a meal, snack or mini-party
Consider organizing a mid-day gathering with your team, providing a snack or full lunch. Take the time to share company success stories, catch up, and acknowledge the great work delivered by individual team-members. Make sure to keep the conversation light! Here again, focus on professional appreciation for one another, treating it as an opportunity to celebrate your team-wide successes.
Idea 2 - Suggest a workday dress theme
If you want to create a sense of camaraderie around the office, try relaxing the dress code and encouraging coworkers to sport Valentine's Day colors. Wearing a themed article of clothing can be a fun conversation starter, and can lighten the office atmosphere. Shoes, ties, socks, dresses, shirts and pants should all be in the running!
Idea 3 - Host a contest
The week before Valentine's Day, ask co-workers to anonymously write down a short anecdote about a colleague who made a difference for them. On the 14th, read a few outloud — honoring the "winners" with a small gift, such as chocolate or candy. If your office is large, consider recognizing just a few colleagues who did something exceptional. And don't forget to bring some extra treats for the rest of the crew!
Idea 4 - Organize a present swap
If your office is a festive one, consider something a bit louder, like a Valentine's Day present swap. Simple ideas, such as a coffee mug swap, gift cards to local lunch spots, or your favorite candy, can all create a celebratory environment. Be sure to run this by your teammates beforehand to see what level of involvement they are interested in.
In Closing
Valentine's Day at work should be about comradery and celebration. By keeping the atmosphere light and fun, you will maximize the chances that all co-workers will have a good time — whether they are blissfully in love, Valentine's agnostics, or among the walking broken hearted. At the end of the day, you know your office best. Adapt these Valentine's Day office ideas to meet your needs, or do some more research!
By: The Judge Group
Topics : Articles, Employee Appreciation, Judge Tips
Share this post
Join Our Winning Team
We are always looking to add talented professionals to our team. Advance your career with Judge.
Apply Now
Let's Continue the

Conversation.

Tell us how we can help you and we'll be in touch soon.