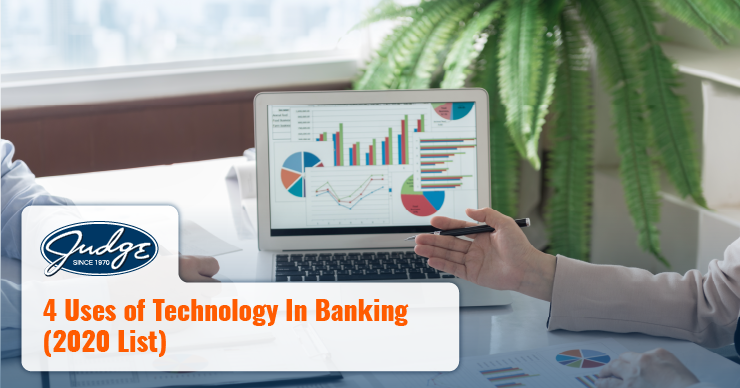 Share this post
4 Uses of Technology In Banking (2020 List)
When was the last time you visited a bank to ask a simple question about your account, or waited half an hour in line to fill out a stack of paperwork?
The digital era is changing how we do business on a day-to-day basis. And the recent COVID-19 pandemic is only accelerating the move to move to digital. In 2020, we use e-wallets, send money via the tap of our phones, and chat with bank representatives on demand. From online retail to mobile banking, we've all experienced novel fintech solutions in action. And the transformation is far from over! The ever-increasing demand for digital banking will continue to influence banking in the future.
Here are the four most prominent ways technology has created innovations in banking:
Customer Experience
Who could have imagined 50 years ago that banking today wouldn't require leaving your house, let alone going to the bank? No doubt about it — technology has made the banking experience much more convenient. It has allowed us to get answers quicker, avoid long lines, and spend less overall time on banking-related tasks. Of course, there are two sides to every story. Attempting to resolve a complicated issue with a chatbot "conversation" can make us long for the days of old, when a customer service rep would happily guide us through a problem. Nevertheless, banking has become much more efficient and customer-friendly on the whole.
Online Banking
Take a look at any checkout line. You'll probably observe customers pulling out their phones instead of their wallets. Many of the tech-savvy among us have already transitioned to e-wallets — completely forgoing the need for cash or physical cards. Whether it's ordering checks, transferring money, checking investments, or making payments, most transactions don't require more than a click or two. Indeed, the financial service industry as a whole has embraced the benefits of technology.
Click here to read more about the newest fintech trends of 2020.
Fraud and Security Management
Thanks in large part to the proliferation of online banking, the nature of fraud itself has changed. Banks are investing more time and money than ever into keeping customer data safe. Incorporating technologies such as APIs, blockchain, and OAuth2.0 have made a huge difference when it comes to detecting fraudulent behavior. Additionally, the use of facial recognition, thumbprints, and other forms of biometric identification are being adopted to help reduce fraud. Thanks to many forms of cybersecurity, plugging in sensitive social security or credit card information is less scary than ever.
Error Reduction
Whenever a process relies heavily on human skill and accuracy, errors are unavoidable. Throughout the history of banking new technologies were introduced to help reduce human errors — even before the invention of early calculators. The use of automation for repetitive tasks is proving effective in reducing errors and, as an added benefit, saving companies money. Tech innovations have mitigated the frequency of these issues dramatically, making it easier than ever for banks to fix problems as they arise.
4 Uses of Technology In Banking (2020 List)
Technology will continue to transform innovations in banking. Some might even argue that the transition is occurring slower than it is in other industries. Nevertheless, as online banking needs continue to grow, further innovation is inevitable. We may not know what the next big change is, but one thing is for sure — we have yet to see the final synergistic form of tech and banking.
Topics : Articles, Banking, Financial Services, Technology
Share this post
Join Our Winning Team
We are always looking to add talented professionals to our team. Advance your career with Judge.
Apply Now
Let's Continue the

Conversation.

Tell us how we can help you and we'll be in touch soon.