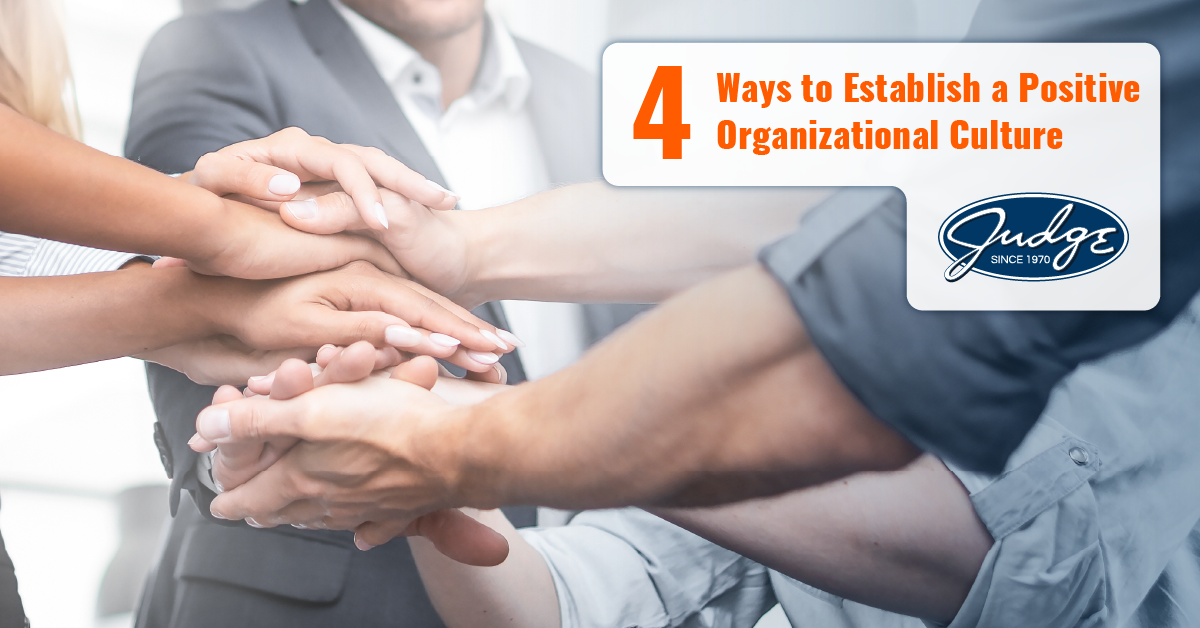 Share this post
4 Ways to Establish a Positive Organizational Culture
Let's run the numbers.
Say you began your first "career" job at age 22, with plans to retire at 65. Assuming you ended up working the national average of 1,811 hours per year, you'd log a smidge under 78,000 hours by the time you retired.
I don't know about you, but reading those numbers makes me feel some serious mixed emotions.
At the top of the list is this one: Feeling happy at my job matters to me. Both for my mental health and my workplace productivity. If you're a talented manager, you won't be surprised to hear me say this. So, the question is, what can you do to create a positive organizational culture that supports your team members?
Here are 4 ways to get started!
1) Establish workplace values
Establishing a core set of values can be a tremendous way to forge what business theorists call team cohesiveness. When people are connected by shared values, they are much more likely to feel committed to the team's goals and mission. The values established by your company might be broad, such as an unwavering commitment to respectful communication. Or they might be specific — like placing a strong emphasis on employee health and wellness. Whatever the values, it isn't sufficient to simply state them. They must be demonstrated on a regular basis. If your company hasn't made serious efforts to establish workplace values, it's time to start asking some bigger questions!
2) Communicate roles in the context of team
Ultimately, the success of an organization rests on the ability of its interdependent parts to cooperate effectively. For this reason, it's not only important that team members have a clear understanding of their own duties — but also where those duties fit within the context of the larger organization.
One way to accomplish this is by sitting down with employees to discuss the importance of their role within the organizational structure, including how their position interacts with the rest of the business system. Another way is to prioritize the use of "team language." We are all part of the same team, we work together, and we support one another. As a manager, not only should you communicate that your own door is always open, but you should explain the importance of your team members supporting one another as a function of their job.
3) Give constructive feedback and praise
Creating a business culture in which feedback is welcome should be a part of every manager's mission. By delivering it in a respectful, objective manner, you'll make it clear that your concerns are about the project's end goal — not your team members as people. By the same token, when you see excellent work, offer praise. It can boost confidence and make employees feel valued.
Judge Pro Tip: When offering praise, give specific examples of what part of the projects stood out. In the same way that constructive criticism should be objective and solution driven, (as opposed to person-centered), so too should constructive praise.
4) Create an environment of open communication
Creating an environment ripe for innovation means respecting ideas, even if you feel they may be off the mark. Work to create a positive work culture where everyone can brainstorm safely. Afterall, a team member's idea might miss the mark the first time, but you never know when a fantastic suggestion is just around the corner. By squashing ideas without sufficient communication, you'll run the risk of disincentivizing an employee from offering a second, much better idea.
At the end of the day, there is a lot that goes into creating a healthy, thriving organizational culture. Getting it right requires commitment from the top, and all the way down. The investment might be high, but the potential payoff is much higher!
Topics : Articles, Communication, Culture, Organizational Culture
Share this post
Join Our Winning Team
We are always looking to add talented professionals to our team. Advance your career with Judge.
Apply Now
Let's Continue the

Conversation.

Tell us how we can help you and we'll be in touch soon.