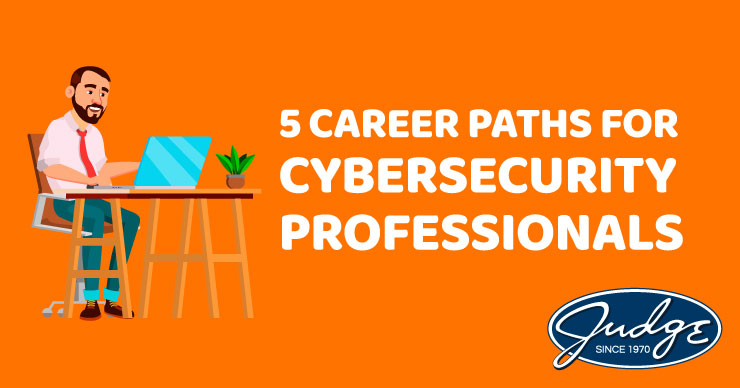 Share this post
5 Career Paths for Cyber Security Professionals
In this week's infographic, we're offering a snapshot of some of the most popular career paths for cyber security professionals.
Finding the right career path in cyber security is not necessarily easy! It's a quickly evolving field filled with many career options — all of which require carefully honed skill sets. At Judge, we regularly seek talent, hire employees, and provide hands-on training. Learn more about some of the most popular cyber security careers, including some of their responsibilities and requirements.
(Click on the image below to view a larger version)
Conclusion: 5 Career Paths for Cyber Security Professionals
The detrimental consequences of COVID-19 have only further elevated the importance of technology in the digital age. Like any generational shift, new doors are opening all around us, presenting opportunities for businesses to take hold of.
And yet, despite the gifts technology offers, there is a notable dark side.
Cyber threats are becoming more common every year. Attacks including NotPetya, Mirai, Stuxnet and WannaCry have all made headlines — causing businesses to fear the worst of outcomes.
As a welcome side effect, the digital age has helped create new career paths for cyber security professionals. Cyber security professionals are the "good guys" of the internet — protecting data from corruption, theft and disclosure to competitors.
The path for future iterations of cyber security careers is still under construction. But the initial stepping stones are solidly on the ground!
Topics : Career Opportunities, Cyber Attack, cyber threats, Cybersecurity, Cybersecurity Month, Infographic, Job Search
Share this post
Join Our Winning Team
We are always looking to add talented professionals to our team. Advance your career with Judge.
Apply Now
Let's Continue the

Conversation.

Tell us how we can help you and we'll be in touch soon.