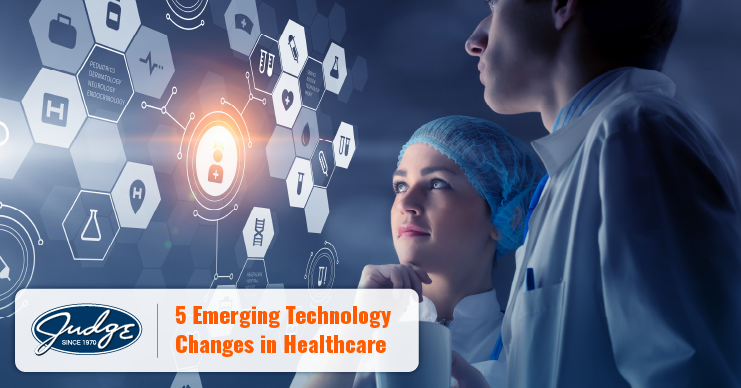 Share this post
5 Emerging Technology Changes in Healthcare
Amidst the healthcare industry's unending pursuit of improved results, technology has become one of its most important allies.
While it's true that the transition to high tech healthcare isn't an easy one, the life saving implications of improved technology make the return on investment well worth the cost. Never has this been more true than over the past year or two, when the dangers of person-to-person contact have required safer, more convenient ways for patients to interact with healthcare practitioners.
Technological advances are making healthcare more effective than ever. But how? Here's how technology is changing healthcare.
1. Artificial Intelligence
AI offers a potluck of advantages for medical organizations. From enhancing traditional analytics and clinical decision-making techniques, to improving treatment plans for patients, AI can help healthcare leaders analyze data faster than ever.
Additionally, natural language processing has increased personalized, contact-free care by providing virtual assistants and therapy bots for patients suffering from non-emergency problems.
2. Virtual Reality and Augmented Reality
Medical schools, research institutions, and professionals continue to increase their use of VR and AR. These technologies offer the ability to hone critical skills for future surgeries and procedures.
Thanks to immersive interactive displays of patients' anatomy, it's possible to simulate many aspects of a medical emergency — improving performance in real-time surgeries. VR and AR has even been used to assist patients experiencing intense medical events, such as child labor!
3. IoMT
The Internet of Medical Things (IoMT) is opening doors for ever more personalized care.
With IoMT, wearable devices can help patients and their doctors monitor their health remotely — reducing the need for difficult hospital trips.
It also allows for better predictive maintenance of essential hospital machinery, such as MRIs and CAT scans. Professionals and patients are quickly catching onto the benefits of these technologies, thanks to their convenience and preventative nature.
4. EHR Development
Electronic Health Records are secure lifetime records of a patient's health history. They enhance communication between computers containing patient records, making it easier for practitioners to track and treat patient health.
In 2021, EHRs are already widely adopted, but they are becoming more advanced over time.
With user-friendly systems, the capacity to share data in bulk, and data analytics, EHRs help federal and private organizations create more accessible, better healthcare services.
5. Nanomedicine
Nanomedicine is a branch of nanotechnology that interacts with the life sciences. Its uses include diagnosis, imaging, sensing and delivery through medical devices.
Increasingly, nanomedicine plays a key role in the administration of drugs. Additionally, companies have enhanced nanomedicine's use in targeting individual cells and sensing drug delivery in tumors.
Conclusion: 5 Emerging Technology Changes in Healthcare
This is just some of how technology is changing healthcare in 2021! Together, these technologies aim to provide predictive and real time solutions for institutions, medical professionals and patients, building trustworthy relationships and saving lives.
Topics : Articles, Artificial Intelligence, Augmented Reality, Healthcare, IoT, Judge Healthcare, Technology, Virtual Reality
Share this post
Join Our Winning Team
We are always looking to add talented professionals to our team. Advance your career with Judge.
Apply Now
Let's Continue the

Conversation.

Tell us how we can help you and we'll be in touch soon.