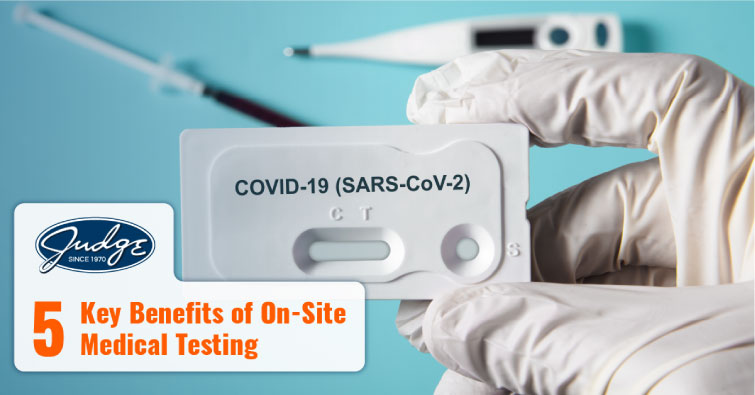 Share this post
5 Key Benefits of On-Site Medical Testing
Which of the following accurately describes how your employees are feeling?
A. Excited to return to the office and finally have their own work space. No more monitors on the coffee table!
B. Nervous about being stuck in close quarters with so many people.
If the correct answer isn't obvious to you, you aren't alone. Feelings about returning to work in the age of COVID-19 are a mixed bag. While it's true that many of us are itching for a return to normalcy, so long as the virus continues to spread there will always be valid concerns. To help reduce legitimate fears, it's vital that executives prioritize employee safety. For this reason, more and more businesses are considering on-site medical testing, in which trained testers perform on-site swabbing, track data, help employees with daily self-evaluations, and more.
Here are 5 reasons your company should seriously consider on-site medical testing:
The Best Known Preventative Approach
By now, most of us understand the importance of wearing masks, social distancing, and practicing proper hygiene. As important as it is to take these precautions, by far the most effective approach involves regular testing and contact tracing. Only by hiring on-site medical testers can you be sure your work ecosystem's safety is being prioritized.
Speedier Diagnosis and Response
Speed is everything. The faster a potentially ill employee can be identified, the faster they can receive proper medical attention, while also protecting others from infection. On-site medical testing yields quick results, allowing companies to respond more rapidly. Constantly tracking COVID-19 related symptoms means that it's easier to identify and stop clusters from spreading throughout the workforce, should cases pop up.
A Constant Reminder of Necessary Precautions
It's human nature to become relaxed over time. The concern isn't so much about the initial back-to-work transition, as much as it is about subsequent weeks, when employees have comfortably settled into their surroundings. Having an on-site tester will help keep employees mindful, reminding them of the importance of social distancing, limiting exposure, and practicing proper hygiene.
Building Trust Between the Employer and Employees
Everyone wants to be treated like a person, rather than a cog in a wheel. As an employer, it's extremely important that you demonstrate interest in your employees' well-being. By using on-site medical testers, you'll communicate to your team that they always come first in a highly visible way.
Providing Psychological Comfort
It can be difficult to focus at work in the midst of heavy anxiety. Who could be expected to concentrate at work, let alone enjoy it, while fearing for their lives? On-site medical testing not only serves as a precautionary measure to stop COVID-19 from spreading — it helps put your employees' minds at ease.
The transition back to the office won't be an easy one. The most important thing companies can do is to reduce employees' largest source of worry. Regular testing, coupled with clear communication from company executives will help employees be safer, happier and ultimately, more productive.
Topics : Articles, COVID-19, Healthcare Professionals, Healthcare Solutions
Share this post
Join Our Winning Team
We are always looking to add talented professionals to our team. Advance your career with Judge.
Apply Now
Let's Continue the

Conversation.

Tell us how we can help you and we'll be in touch soon.