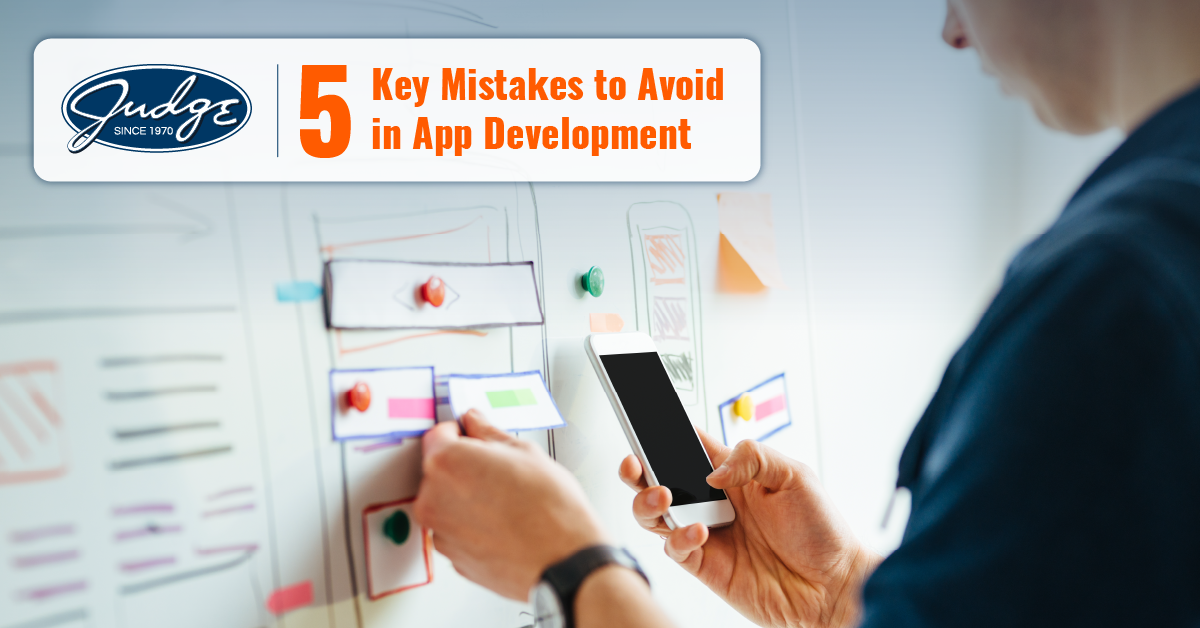 Share this post
5 Key Mistakes to Avoid in App Development
A few weekends ago, I walked into a local pizza shop in Philadelphia. This spot is the definition of a traditional "mom and pop" business. It's on a busy corner, it's super crammed, and it boasts some unbeatable pizza and pasta. So, you can imagine my surprise when I was paying for my large pie, and the cashier asked me:
"Hey…have you downloaded our app yet?"
Me: (long pause) … "…you guys have an app?"
In retrospect, I shouldn't have been surprised that small businesses are getting into the action too. Because according to Statista.com, by 2019 there were more than 2.5 million apps to choose from for Android users and over 1.8 million apps available for iOS. Still, the way people use mobile apps is quite different than how they use websites. And while most companies boast modern websites in 2020, the world is still figuring out how to A) optimize mobile apps, and B) successfully bring them to market.
Thankfully, the Judge Group is here to help! Let's take a look at 5 key mistakes to avoid in app development.
Poor budget planning
Developing an effective app is a serious financial investment. Depending on your app's complexity, the project can take anywhere from a few weeks to over a year. For this reason, it is important to select experienced contractors who will give you a realistic sense of what the project will require. When planning your budget, consider the complexity of its features and functions, the production process, as well as design, development and testing. Also, estimate ongoing costs after the app has been introduced, such as marketing, feature upgrading, and ongoing maintenance.
Finally, don't underestimate the importance of seeking multiple quotes before making your decision!
Including too many features
Too many features can complicate the user experience — resulting in backpedaling and wasted resources. For that reason, it's usually better to start with fewer features and expand over time, while leveraging user feedback. Remember, the entire purpose of an app is to help your customer complete a task, and to do it as easily and enjoyably as possible.
An underdeveloped marketing plan
It bears repeating: there are millions of apps out there! What will make yours stand out? If you've got a fantastic idea for an app, don't dive in before developing a solid, early stage marketing plan. Here are some tips.
Research your target audience deeply. Learn who they are, what they want, and where you can reach them.
Develop an adaptable plan for spending your marketing dollars.
Let key players in your business network know what's happening in advance
Consider teaming up with influencers to spread the word.
Even if your app is the best, most user-friendly tool on the market, your audience will never know if you don't get the word out! Explore many more app marketing ideas here.
Ignoring feedback
While working with your designers and developers, expect feedback — in fact, ask for it! They might pull in different directions from each other (and even from you), but it's vital that you consider all perspectives.
And the feedback won't stop there.
In the testing phase, you'll want to pay close attention to whether your users become stuck or confused at any point. You'll also need to understand which features they enjoyed, and which they felt were clunky, cumbersome, or unhelpful. After the app goes public, you'll want to solicit even more feedback. The truth is, you'll never please everyone, but don't underestimate the importance of user experience (UX).
Focusing only on downloads, and not retention
It goes without saying that the number of times your app is downloaded will be a key indicator of success. But it's not the only one! To create a successful app, you'll also need to prioritize user retention. So, during the development process, think how you'll measure sustained interaction and long term use. Likewise, think about how you might address a potential drop in usage.
In Closing - 5 key mistakes to avoid in app development
At the end of the day, not only will you be competing in your own niche, you'll also be competing for eyeballs in the attention economy more broadly. Remember, a great app is simple to use, engaging, and creatively marketed…all at once!
Topics : App Development, Articles
Share this post
Join Our Winning Team
We are always looking to add talented professionals to our team. Advance your career with Judge.
Apply Now
Let's Continue the

Conversation.

Tell us how we can help you and we'll be in touch soon.