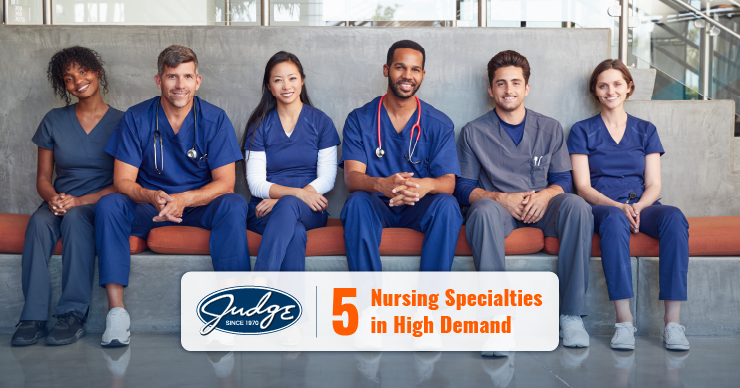 Share this post
5 Nursing Specialties in High Demand
---
If you didn't know just how important nurses were before 2020, the COVID-19 pandemic certainly taught you a thing or two! Demand for nursing — one of the most important occupations in the world — has been on an upward climb for many years. Research from The Bureau of Labor Statistics (BLS) suggests that by 2022, this trajectory will have increased by around 20%! So, if you've been thinking about getting into the nursing field, there has never been a better time than right now.
Not only is the demand for nurses high, their work conditions are improving. Compared to many occupations in 2021, nurses are able to achieve high levels of independence, job security, financial stability, and employment opportunities following educational attainment. Simply put, a career in nursing has never looked so promising!
In today's blog, we take a look at some of the nursing specialties most in demand.
Neonatal Nurse
This highly rewarding specialty involves caring for infants born prematurely, who are experiencing health issues. Neonatal nurses have always been among the highest demand nursing jobs, and the field is expected to continue growing. Positions require a minimum of a bachelor's degree in nursing. You cannot become a neonatal nurse until you earn neonatal nurse certifications.
Nurse Anesthetist
Certified registered nurse anesthetists (CRNA's) work closely with surgeons and anesthesiologists to administer anesthesia medications safely. With an increasing number of procedures performed in outpatient settings, this nursing specialty maintains a very positive job outlook. According to BLS, the job growth for nurse anesthetists is expected to climb 45% between 2019 and 2029.
This career often ranks as the highest-paid position in a nursing career. CRNA's are skilled medical workers who must obtain a master's degree from an accredited nurse anesthesia educational program, and also pass the NCLEX.
Dialysis Nurse
Dialysis nurses work with patients who must make routine trips to the dialysis center for treatment. They assist patients who experience kidney malfunction and require the use of dialysis machines to filter waste from their bodies. In order to become a dialysis nurse, a bachelor's degree in nursing is required with at least 200 hours of care for patients on dialysis in the last two years. The field is expected to grow by 19% by 2022.
General Nurse Practitioner
Thanks to the shortage of doctors in the U.S., general nurse practitioners have become one of the highest in-demand nursing jobs in the industry. They provide basic preventative health care across various clinics, hospitals, and nursing homes. From family practices and pediatrics, to women's health and more, the career of a general nurse practitioner can be quite versatile. The BLS reports 45% job growth from 2019 to 2029.
Clinical Nurse Specialist
This position requires being able to act quickly under pressure, while providing care to patients suffering from advanced health conditions. Clinical nurses, also known as intensive care unit (ICU) nurses, typically work in hospitals or clinic settings. To become one, you must earn a master's degree in nursing (MSN) with an emphasis in clinical nursing. This field is expected to grow 7% by 2029.
Conclusion: 5 Nursing Specialties in High Demand
In summary, the nursing field is booming. By selecting any kind of position in the nursing industry, you will have the opportunity to enjoy a highly productive career, and earn a competitive salary. To learn more about nursing job opportunities click here.
Topics : Article, Healthcare, Healthcare Staffing, Nursing, Nursing Jobs, Staffing
Share this post
Join Our Winning Team
We are always looking to add talented professionals to our team. Advance your career with Judge.
Apply Now
Let's Continue the

Conversation.

Tell us how we can help you and we'll be in touch soon.