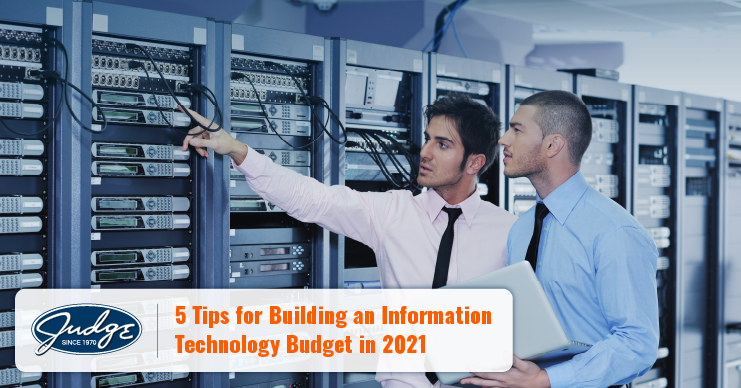 Share this post
5 Tips for Building an Information Technology Budget in 2021
"The simplest definition of a budget is "telling your money where to go"."
― Tsh Oxenreider
With 2021 right around the corner, executives are working to allocate resources for the new year — including their information technology budgets . Besides organizing tech expenses, IT budget planning is essential for drawing attention to key areas in need of improvement.
Importantly, the IT budgeting process is not "simply" about allocating funds. It is both a reflection of, and a blueprint for a company's overall strategic vision. In today's blog, let's discuss five helpful tips that can help you prepare an effective IT budget.
Use Your Current Budget as a Baseline
A good way to start planning for the coming year is by examining previous IT budgets. But don't merely copy and paste yesteryear's budget! Really dig into the methodology around the fiscal decisions your organization made in the past. Starting with a previous year's budget can be starting template for the current year.
Align Your IT Budget with Company Goals
Where is your company headed? Depending on what your strategic goals are, a technology revamp can definitely help you achieve them. Would a new software be helpful in improving internal communication? Do your systems require updates to keep pace with increasingly complex online orders? Could incorporating machine learning help mitigate repetitive tasks? Knowing the answers to business-specific questions like these will help you budget for long term goals, as opposed to merely focusing on short term deliverables.
Budget for Software and Hardware Replacements
Keeping careful records of hardware and software decisions and updates is what yearly maintenance is to vehicles! If you neglect staying on top of it, you'll find yourself in a world of trouble! Track how long your technology has been in place, as well as any updates or fixes. Remember — failing to catch problems in the short term can lead to significant issues down the line; like security risks, data loss, and reduced productivity.
Invest in Security
We can't stress this one enough! Cyberattacks are on the rise. With the pandemic still raging, companies have seen increases like never before. Plan wisely; and if you haven't already, now is the time to invest in cybersecurity tools like firewalls, antivirus software, and IP whitelisting. Consider implementing a multi-step authentication process when accessing data outside of your company's network.
Don't Cut or Postpone Trainings
When creating budgets, companies sometimes push employee training back to the end of the fiscal year. Unfortunately, this can lead to employees making preventable (and costly) errors, especially when it comes to security. So to the extent that it is possible, make training a priority!
Conclusion: 5 Tips for Building an Information Technology Budget in 2021
It takes time, thought, and teamwork to create an information technology budget that encompasses the most important areas of need and improvement. Once developed, it also needs to be tracked and monitored, in order to ensure plans are being implemented correctly.
We hope you'll find these tips helpful. Happy IT budgeting this year!
Topics : Articles, Budgets, IT, IT Departments, IT Management
Share this post
Join Our Winning Team
We are always looking to add talented professionals to our team. Advance your career with Judge.
Apply Now
Let's Continue the

Conversation.

Tell us how we can help you and we'll be in touch soon.