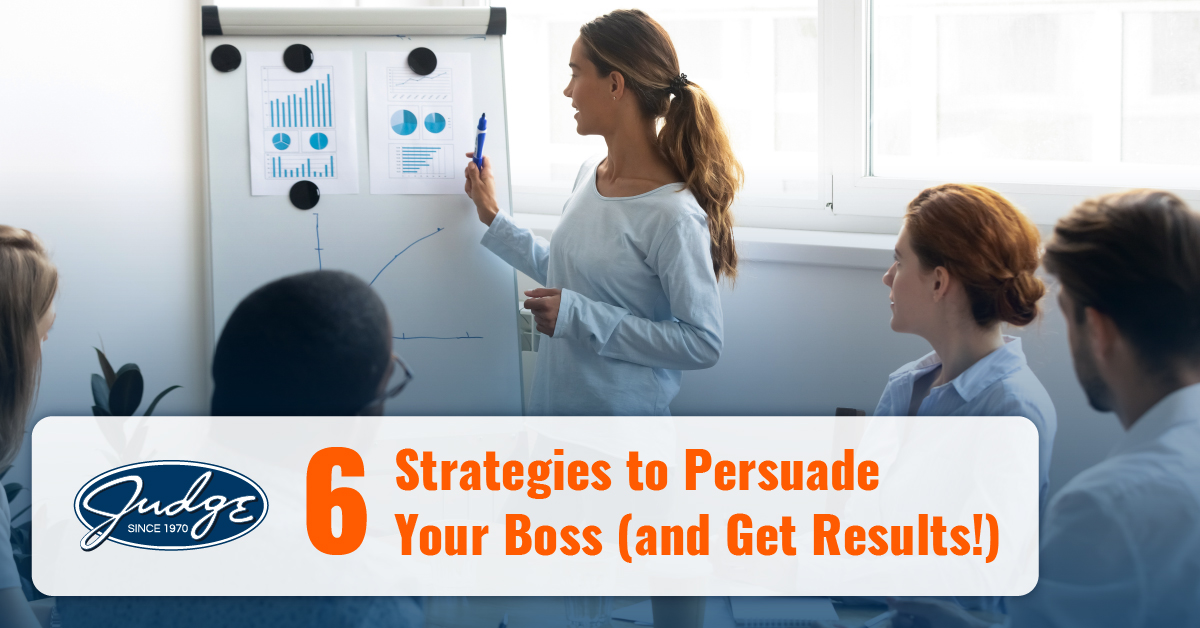 Share this post
6 Strategies to Persuade Your Boss (and Get Results!)
Tell us if this sounds like you.
You've been working at your company for some time now, and you are ready to present a few ideas you believe would bring about positive change—not to mention reflect positively on you.
Awesome!
Now there is just one hill to climb, and it might not exactly be a molehill. Namely, how will you persuade your boss that your ideas are worthy of consideration? In an ideal world, any talented supervisor will be open to some good old fashioned brainstorming. Whether or not you have such a supervisor, it's totally normal to feel anxious before presenting your ideas. The Judge Group is here to support you! Remember, there is a reason you've made it this far. Together, let's reflect upon some tactics for successfully presenting your ideas, and if all goes well, persuading your boss.
1) Build your reputation
In the early stages of working at a new organization, it takes time for colleagues and supervisors to understand who you are as a worker. Accordingly, you'll want to focus on familiarizing yourself with the company culture. Working diligently, offering solutions, and communicating in a friendly way are great first steps. Establishing a solid reputation early on will give you more leverage down the line.
2) Learn your boss's tendencies
The better you are at understanding how your supervisor communicates, the more likely you are to successfully persuade him or her. Learn how your boss prefers receiving messages. Does s/he prefer detailed presentations? Straightforward thoughts? Ideas backed by statistics? Carefully written proposals? This isn't about manipulating, it's about understanding how to communicate effectively. Finally, pay attention to timing. Great ideas can be turned down simply because they were presented at the wrong moment!
3) Practice and prepare
Even if you've thought through your ideas, it can be valuable to put them down on paper. Just because it makes sense in your head doesn't mean it won't come out sounding like gobbleldy-gook. Reading, editing and practicing your pitch will help you present your ideas more clearly. Finally, consider requesting a second set of eyes (of someone your trust), just to ensure you're ideas are clear.
4) Paint a (big) picture
It's normal to get wrapped up in the details of an idea you've spent a long time thinking about.
But remember, the nuts and bolts should only come after you've pitched the big idea—or at least planted the seed for it. Convince your boss that your ideas will lead to success in the long run. Put yourself in your their shoes—it's the end results that matter!
5) Expect questions
If all goes well, there will be questions, and probably lots of them! During your preparation, think of possible points of confusion or concern. Write down your answers or type them out. Anticipating questions in advance will help you feel more stable when the right time comes.
6) Be persistent!
If you are confident in your ideas and their potential applications - don't go gently into that good night! Head back to the drawing board. Rethink aspects of your approach, and how you presented things the first time. Sometimes, patience and perseverance are all that's needed to convince your boss about your idea.
Good luck, you got this!
By: The Judge Group
Topics : Articles, Judge Tips
Share this post
Join Our Winning Team
We are always looking to add talented professionals to our team. Advance your career with Judge.
Apply Now
Let's Continue the

Conversation.

Tell us how we can help you and we'll be in touch soon.