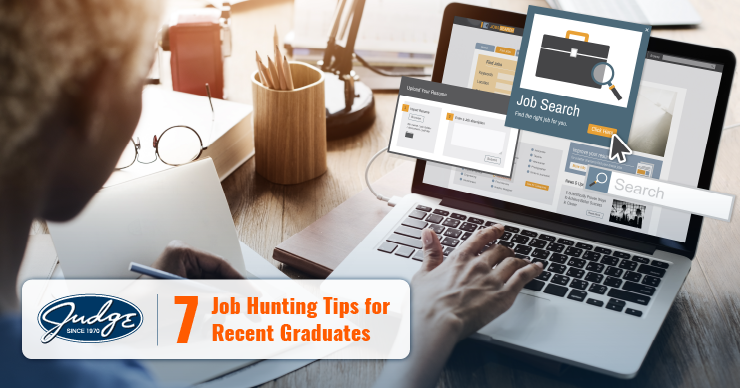 Share this post
7 Job Hunting Tips for Recent Graduates
Securing a job right out of college can be challenging in any economy. Add a worldwide pandemic to the mix — and let's just say you're up against some unique conditions.
Thankfully, there is a light at the end of the tunnel. Local economies are starting to reopen, and that means jobs are coming back — even if slowly. Whether you choose to take a break after college to spend time with family and friends, or you jump right into a job search, there are some important steps you should follow before leaving your college career behind.
We hope you will find this job hunting tips guideline helpful!
Start with Research
Good research always starts with good questions. Consider the following:
What are the top 10 companies in your field?
What skills do most employers look for?
What are some criteria for the kinds of positions you are interested in?
To keep your finger on the pulse of your industry, start following companies and organizations on LinkedIn.
Build your Network
Landing your first job after college can be made easier by revisiting your current network and working to expand it. Let your close circle know where you are and what you've been up to. Contact people from previous internships, college professors, personal mentors, friends, and classmates. Don't just focus on growing your number of connections. Get into the habit of professionally interacting with your closest acquaintances. Think about it like this: it's much better to have 300 meaningful connections than 800 random, haphazard connections.
For more job hunting tips, such as how to network virtually and increase your number of contacts, click here.
Leverage the Power of Social Media
If you're not currently active on social media, hop to it! In the 2020's, this is the easiest way to network online, bar none. Contact recruiters directly, learn about which companies are hiring, and participate in groups with people who share your interests. Connect, comment, and work on your profile weekly; this way you will become visible to recruiters who might have opportunities for you.
Expand Your Search
This is just another way of saying you've got to be flexible in your search! Consider expanding the geographic area of your search, be open to remote opportunities, or consider a job outside of your college major. Maintaining flexibility is necessary as you build your career.
Utilize the Campus Career Center
Say it again for the people in the back!
Before leaving campus, set up an appointment at your career center. You can ask professionals to give your resume one last glance, discuss dress and behavior expectations for interviews; and job hunt tips. Likewise, see if a counselor can give you a "career interest" test. These can be fantastic at helping you identify industries and occupations to explore.
Make sure to maintain good communications with the career services team after you graduate, because they may be able to help after graduation.
Update Your Resume
After updating your graduation date and recent internship experience, focus on keywords. Do some research in your field and highlight all of the words and phrases most commonly emphasized. Only use the ones that apply to your experience, so that recruiting software programs can recognize your resume. Customize your resume to the requirements and preferences of each job you apply for.
Work with an Agency
Receiving guidance from a recruiter can make your job search much less stressful! Recruiters can offer all sorts of advice—from sharing interview tips, to resume writing strategies, to potentially giving you the scoop on new jobs, not yet on the market.
Conclusion: 7 Job Hunting Tips for Recent Graduates
Take your job search seriously. In fact, consider it a job itself! Keep in mind, the average job hunt expedition lasts about 6 months, so remain patient and don't be discouraged. You'll reach the end of the tunnel soon enough.
Topics : Article, Career, Job Hunting, Job Search, Network, Recent Graduates, Research, Resume
Share this post
Join Our Winning Team
We are always looking to add talented professionals to our team. Advance your career with Judge.
Apply Now
Let's Continue the

Conversation.

Tell us how we can help you and we'll be in touch soon.