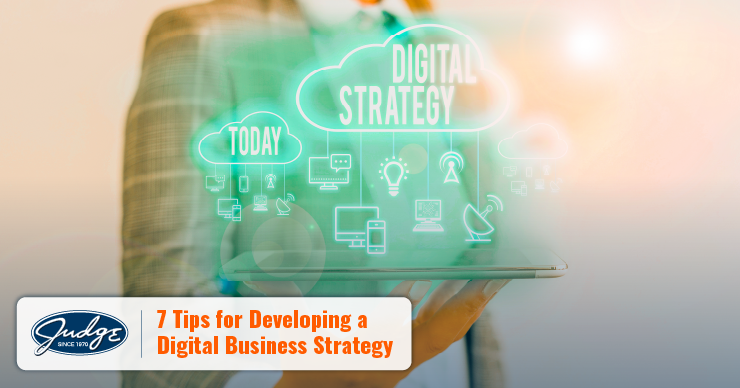 Share this post
7 Tips for Developing a Digital Business Strategy
Can you name an industry that has managed to stay truly unplugged? Fair warning — it's not going to be easy! In today's economy, having a powerful digital business strategy doesn't merely give companies an advantage over their competition — it's essential to staying competitive.
So, what is a digital business strategy?
Broadly defined, a digital strategy is a company's blueprint for achieving its business goals, using technology to reach its audience and organize its internal communication. Digital strategies are just that: strategies! They only work when they are carefully planned and executed. In this article, let's focus on two broad categories of a digital business strategy — namely, internal and external digital communication.
Internal Digital Strategy: Key Considerations
Leadership
When it comes to developing and maintaining company technology, finding the right Chief Information Office (CIO), Chief Information Security Officer (CISO), or related role is critical. Executives like these are tasked with overseeing IT departments, evaluating new opportunities, and ensuring the successful flow of information. The most talented technology leaders will also establish and maintain a company's digital culture.
Evaluate Current Technology
Companies should always evaluate their hardware (computers, servers, smart phones, etc.) and software (CRM, email marketing, etc.). Are you using your current technology in the best ways possible? Does your current technology keep up with your business needs, or is there a new program that might improve efficiency? For example, read more about popular tech trends in finance here.
Security
The importance of cybersecurity in today's digital world can't be stressed enough. Data breaches have the potential to result in expensive lawsuits and even full business closures. Digital security initiatives include securing your network, limiting access to data, utilizing 2FA and more. Whatever approaches your company chooses, a detailed evaluation of current security and future goals is essential. Read more here for helpful tips.
External Digital Strategy: Key Considerations
It would be easy to focus on popular digital marketing tools in this section. But before you get to that, it's important to focus on strategy. Here's what to think about.
Broad Vision
When strategizing about your company's digital communication goals, start off with the top-level, existential questions. What does your company want to achieve? Think about your brand, the kind of experience you want to create for customers, and where your audience can best be reached. It may sound fluffy, but it's hard, important work!
Understand Your Target Audience
Understanding your target audience will help you create a digital strategy that resonates with them. Whether it's by using polls, surveys, or interviews — your organization can harness information such as demographics (age and income), ethnography (hobbies and interests), and psychographics (attitudes and values) to understand the best ways to reach and communicate with consumers.
Analyze Your Market
Spend time reacquainting yourself with any market analysis research your company performed in the past. Consider factors like the size of your market, customer segments and buying patterns, your competition, and the overall economic environment. Without this information, your external digital strategy is certain to lack direction.
Consumer Digital Communication
Once you have a strong understanding of who your audience is and where to find them, it's time to focus on communicating with consumers. Digital communication can include everything from email marketing, to social media engagement, to paid digital advertising and more. It may be tempting to spread yourself thin, trying out every single tool and platform — but the goal is targeted, impactful communication!
Conclusion: 7 Tips for Developing a Digital Business Strategy
A digital business strategy is a broad concept, encompassing lots of interrelated parts. Ultimately, an effective digital strategy isn't possible without talented leadership, a culture of teamwork, and a constant desire to stay ahead of the curve.
Topics : Articles, Digital, IT, IT Departments, Strategy
Share this post
Join Our Winning Team
We are always looking to add talented professionals to our team. Advance your career with Judge.
Apply Now
Let's Continue the

Conversation.

Tell us how we can help you and we'll be in touch soon.