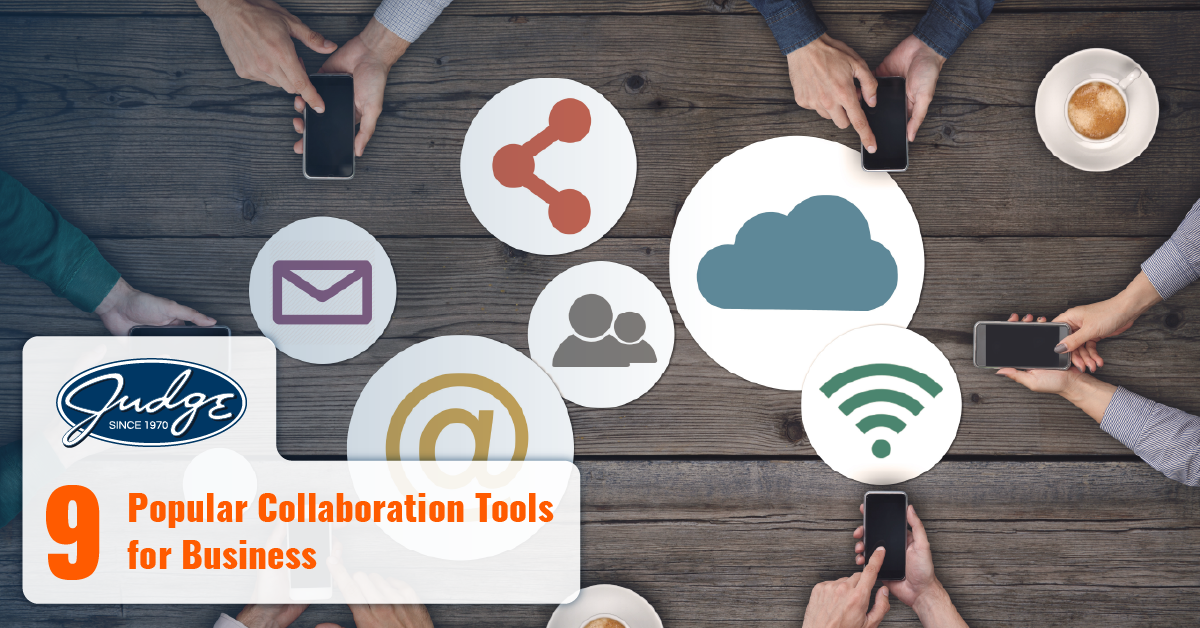 Share this post
9 Popular Collaboration Tools for Business
"We need to get more agile. Do some research and find the best team collaboration app that is affordable for us." Those were my boss' words to me, a mere month into my entry-level job. It sounded like a pretty straightforward assignment, so I said, "Sure! Easy enough!"
If I could hop in the time machine and have a chat with my former self, I'd tell myself the following, in no uncertain terms: "Hey, how about you ask your boss to be more specific?" Looking back, here are just a few questions I should have asked him.
What are the specific communication challenges we need to improve?
How many team members will be using this app, and could that number increase over time?
Can I set up a few meetings with our team members to discuss their challenges, too?
Besides the fact that there are literally hundreds of business collaboration tools to choose from, every team's needs are different. Thankfully, there's a silver lining here. Once you figure out what you are looking for, there are apps and tools out there with strong track records.
Here is an overview of some of the best collaboration tools for business!
Internal Communication Technology
Slack - A crowd favorite, Slack allows for group conversations in specific subject channels (allowing you to organize your "chat rooms" by topic), sub-threads within those channels, and the ability to direct message team members. For teams whose members work on simultaneous projects with different colleagues, Slack can be a powerful tool.
Troop Messenger - This simple application allows you to share ideas through messages, video, and audio. You can share your work with each other and manage projects, keeping everything organized and easily accessible. Thanks to an advanced search filter, you can also quickly access images, videos, files and contacts.
Chanty - Chanty allows you to communicate with team members via text, voice and video. The tool's task managing features are great at organizing workflow and tracking the status of everyone's work. Notifications help users keep up with deadlines and stay on top of their work.
Business Video Conferencing Technology
Fuze - This application is a great platform for organizing video conferences and conducting meetings. One of Fuze's most popular features, Fuze Analytics, integrates with Outlook, Google calendar, Lync and other apps, to help team members organize data.
GoToMeeting - One of the most popular video conferencing platforms around, GoToMeeting is easy to navigate. Videos are high-definition and notably mobile friendly. Advanced features such as "Virtual Whiteboard" and "Personal Meeting Room" make it easy to manage teams and hold meetings with clients and prospects.
UberConference - This platform makes it easy to communicate across organizations, and with clients, prospects and partners. One of UberConference's most recognizable features is its easy to use screen sharing feature, which doesn't require clients to download any app. The software is affordable and works locally and globally.
Project Management Technology
Zoho Projects - With affordable project management and time tracking features, Zoho projects is a cloud-based application with no restrictions on the number of projects you can manage at once. It is easy to navigate, gives full control of activity to managers, and allows users to create personalized fields and workflows, making it easier to perform custom tasks.
Trello - With features designed to help you keep track of the big picture, Trello is a powerful tool for managing teams. The software's interface comes with different boards, upon which cards containing different tasks are organized. These tasks are easily assigned to team members and can be moved around freely. Besides managing your projects, you can easily discuss them in comment sections with team members.
ProWorkFlow - This platform can accommodate a company of any size. It is designed to make it easy to manage multiple projects at once, keeping track of employees and independent contractors. The app's archive system allows you to store all related documents in one place. Finally, its template system is great for creating tasks, invoices, and more.
Conclusion
At the end of the day, whichever team communication tool you choose will depend on a host of factors, including but not limited to your current pain-points, your company's work style, the size of your team, and other factors. Always look for honest software reviews and make sure you engage in thorough testing before onboarding team members.
Topics : Articles, Collaboration, Software, Technology, Technology Solutions
Share this post
Join Our Winning Team
We are always looking to add talented professionals to our team. Advance your career with Judge.
Apply Now
Let's Continue the

Conversation.

Tell us how we can help you and we'll be in touch soon.