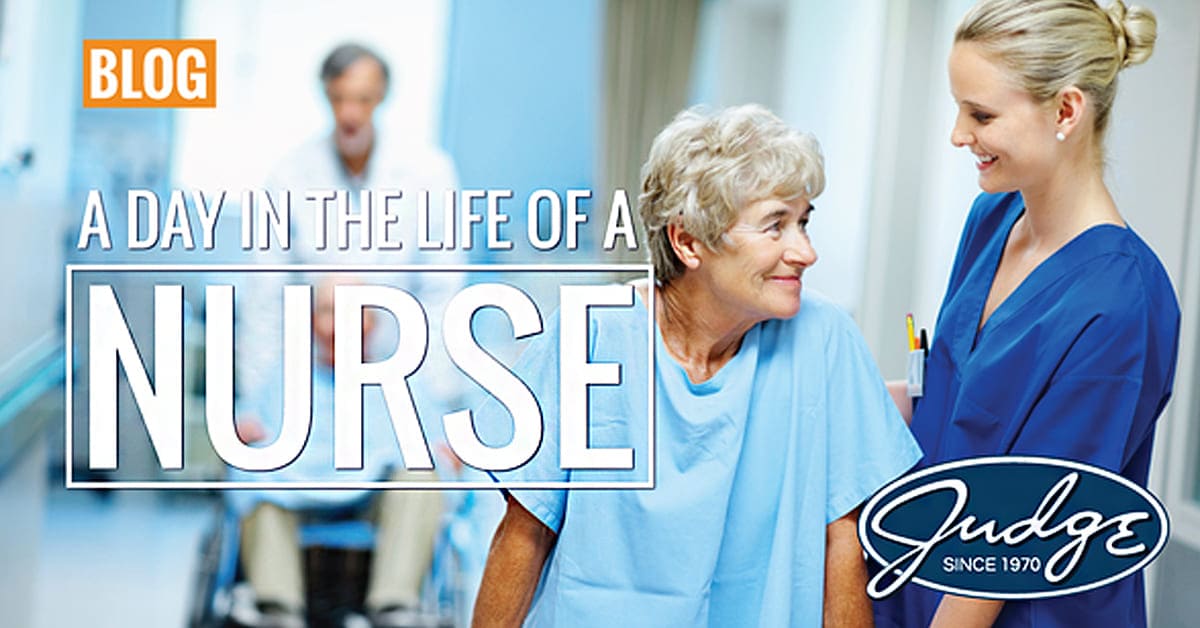 Share this post
A Day in the Life of a Nurse
If you have been to a medical facility for something that was hurting, or you had some type of health issue, chances are you have been helped by a nurse. I remember as a kid (I was very involved in sports) I was always getting rushed to the hospital or outpatient care facility and loved telling my "heroic" injury story to the nurses. I can recall them asking the most questions, telling funny jokes, and being very informative as well as attentive. Now as an adult working in the healthcare industry (and somehow still getting injured) I really get to see how good these professionals are at their job.
Now, there is no such thing as a "typical" day for a nurse. Each new shift brings with it a slew of new challenges and unpredictability. Plus, the sheer scope of the different functions that a nurse has means one day can vary widely from the next. Here's an example of what a nurse's day can look like:
It's 5 am and you're already up and prepping to start your day. You put on your scrubs, your most comfortable pair of sneakers you own (because you'll be walking & standing a lot), and you head into work.
Upon arriving at your facility, you would meet with nurses from the prior shift and get the "break down" of the patients in your unit and off you go making your initial rounds. After your initial rounds, you enter the latest information into the Electronic Medical Records (EMR) system – a critical step in patient care as you can't charge the patient/insurers until the records are up-to-date. As you're going through the records, you realize information was entered incorrectly. You call the doctor who entered it and have a tense conversation with him, challenging him on the records. You hold firm in your conviction until you can persuade him to see the error, all without damaging the relationship or making a hard conversation tougher.
It's mid-morning now and the family of one of your patients has arrived. They're concerned about their loved one. You just finished up your tense call with the doctor about improper info in the EMR, but you put your game face on and spend time educating the family on what is happening and the procedure to get their loved one healthy again. As you finish, there's a code (patient emergency). You rush over to the room and begin to operate a variety of equipment while coordinating with other nurses and a doctor in the room to keep this patient alive.
You've made it to lunch but there's no real break. As you eat the delightful Caesar salad you prepared, a heart monitor goes off, so up you go to check. You return to take a few bites when another alarm sounds and away you go again. Maybe you finish your salad, maybe you don't before lunch "break" is over. You return to the floor and next on your to-do list is titrate medications. After that, you need to coordinate care between MDs, social workers, and case managers. You follow that up by patiently explaining to another family what care is being given to a loved-one.
It's the end of the day and you spend what precious moments you have entering more information into the EMR system. The nurses for the next shift arrive and you brief them on the pertinent info they need. Your shift ended 30 minutes ago, but you're still at the hospital, finishing entering info into the EMR system and still helping when a code sounds. Finally, an hour after your shift ends, you call it a day and head home.
This is a hectic day! But nurses persevere through it all to deliver outstanding care to patients. What I find truly remarkable about them, is how they can go through all that in a day and still be some of the nicest, most compassionate professionals you'll meet in the healthcare field. And that's something I feel is overlooked about nurses. These professionals go through the rigors of the day and are still empathetic, kind, and caring. No matter how much stress they're experiencing, they don't let it show. They put the patients and the patients' families first. Nursing isn't just a job to these pros, it's a vocation. One where they answer the call to help those in need and put others ahead of themselves. Long hours, staffing shortages, and an arduous EMR system weigh on every nurse, but they continually rise through it thanks to their passion for helping other and their compassion towards those who need them.
So many of us are impacted by the wonderful efforts of these clinicians, either personally or through a family member or friend. It is important to give thanks to nurses for all their hard work, kindness, and attention to detail. Not only have I been treated by some wonderful nurses, but I have also gotten the opportunity to work with them directly in my position here at The Judge Group. So, from all of us at Judge:
Thank You!
By: Mathijs Mesters
Topics : Articles, Healthcare, Healthcare Professionals, Healthcare Solutions, Job Hunting, Judge Tips, Nurses
Share this post
Join Our Winning Team
We are always looking to add talented professionals to our team. Advance your career with Judge.
Apply Now
Let's Continue the

Conversation.

Tell us how we can help you and we'll be in touch soon.