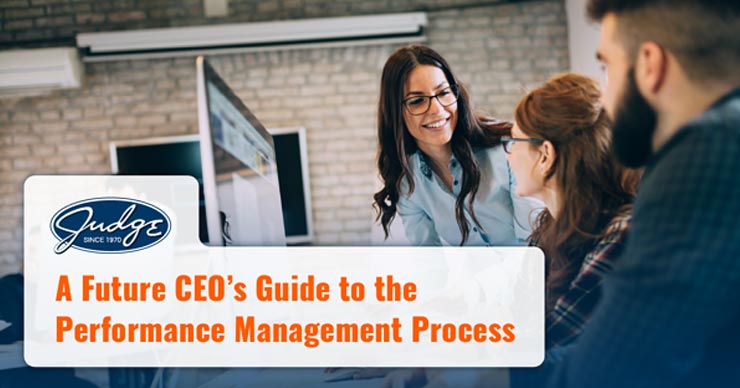 Share this post
A Future CEO's Guide to the Performance Management Process
Picture this.
The year is 2040, and you are now an executive at a Fortune 500 company. (Great job, future you!) As you lean back in your office chair, you think to yourself — "man, I did a great job of staying ahead of the curve back in the 2020's." Sure, it's a bit of a self-pat on your own the back, but it's a well-deserved one. after all, to make it this far you must have made some very smart choices along the way.
If this is an accurate description of you 20 years from now, it's almost certain that some of those great choices will have been made in the space of employee performance management — the process by which you empower your employees, leverage their talents, and support their growth as professionals.
In the meantime, back here in 2020, there are some important data points you'll want to keep in mind, that will help you make better decisions about your performance management process in the future.
Such as:
Thankfully, there is a common thread to be gleaned from this ever-growing mountain of data: It's time to modernize your approach to performance management!
Here are some suggestions for getting started.
Communicate trust
Always start with the following assumption: the vast majority of employees aren't out to cut corners or take advantage of you. They are here because they want to prove themselves, contribute to your company's mission, and grow as professionals. So drop the old school, authoritarian vibe. By showing that you trust your employee's intentions you will improve overall productivity and support their growth.
Of course, if you notice a particular employee struggling to meet deadlines, additional support can be very necessary.
Key Takeaway - Micromanage as a last resort.
Prioritize employee development and mentorship
Continuous mentoring and coaching — to be distinguished from daily micro-management — creates a strong bond between managers and employees. It also helps employees improve their skills and feel connected to their accomplishments. Dedicating resources towards learning new mentoring approaches can be time consuming, but over time, it will help you connect and communicate with your team. Dedicating resources towards learning new mentoring approaches can be time consuming, but over time, it will help you connect and communicate with your team. You can also consider setting up a performance development learning program for your team with the help of some professional trainers.
Key Takeaway - Facilitate employee growth through mentorship.
Create a positive work environment
Investing time and resources into your team's growth is a fantastic way to create a positive work environment. Employee perks are great too, but let's face it, we all know the difference between a company that takes time to create an environment of support, versus ones that tries to shortcut the process by buying our love. There are a myriad of interpersonal approaches you can leverage too.
Key Takeaway - Invest time (not just money) to show your appreciation to employees.
Set Team Goals and Expectations
Working towards defined team goals can bring everyone closer. A lack of clear expectations continues to be one of the greatest sources of employee stress. Setting clear expectations in a centered, friendly demeanor helps keep everyone on the right path. Circle back and discuss these goals daily, weekly, or monthly — whatever works best for your team. Keep the focus on the big picture and don't forget to celebrate your team's successes.
Key Takeaway - Communicate team wide, "big picture" goals
Be open to feedback and suggestions
Performance management is a journey filled with goals, expectations, coaching, and support. Along the way, it's important to hear your team out. Counter-intuitively, this is especially true if you are spread thin and managing a large team. Employees working intimately on a project are most likely to have constructive feedback, which can result in increased efficiency.
Key Takeaway - Don't get too big for your bridges, welcome feedback in appropriate circumstances.
That's all we've got for you. Consider re-reading this article in 20 years, we'd love to see what your evidenced based performance management process looks like!
By: The Judge Group
Topics : Articles, Employee Management, Judge Tips, Leadership
Share this post
Join Our Winning Team
We are always looking to add talented professionals to our team. Advance your career with Judge.
Apply Now
Let's Continue the

Conversation.

Tell us how we can help you and we'll be in touch soon.