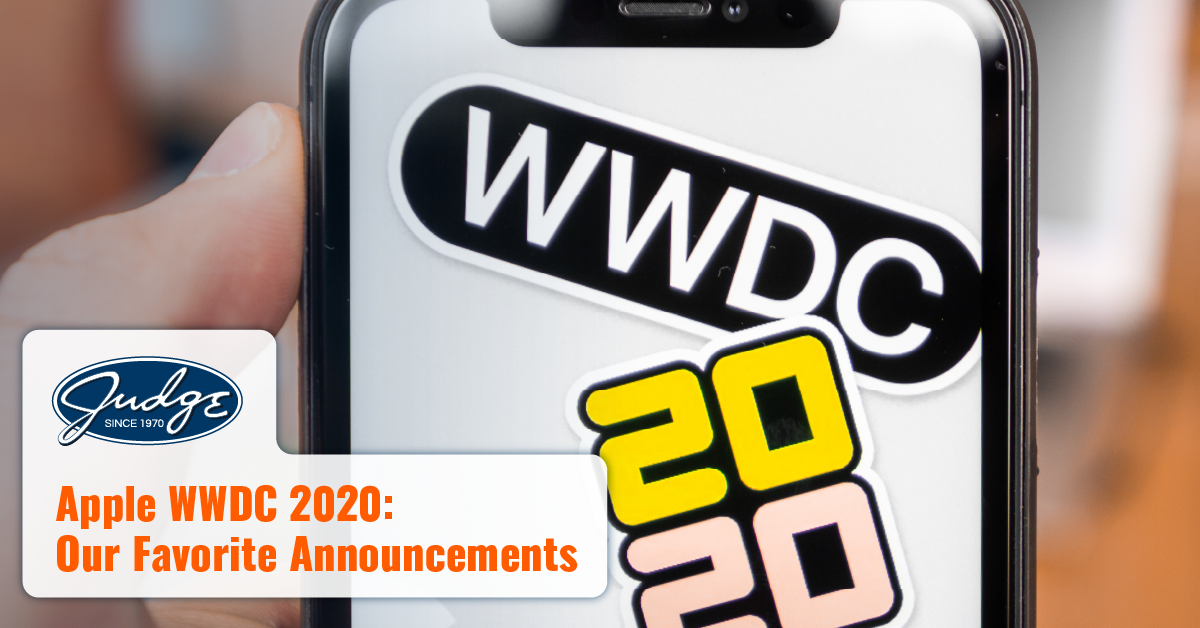 Share this post
Apple WWDC 2020: Our Favorite Announcements
Another Apple WWDC is in the books!
Unsurprisingly, this year was just a wee-bit different than its been in the past. While it's true that virtual events can't replicate in person conferences — for Apple developers lacking the finances to travel across the country, this year's free digital event has been nothing short of a jackpot. For those who were excited to attend the live event, let's be generous and call it…a nice change of pace!
What we learned
While Apple didn't release details about their upcoming hardware announcements, the company did introduce a wide range of software developments, which will improve the way we use Apple products. In particular, new features are on the way for iOS, watchOS, and iPadOS, to name a few. Likewise, the rumor that Apple is developing its own chip to replace Intel's has finally been confirmed.
Here are some more highlights!
iOS 14
Apple has devised a new way of organizing apps on our homescreen. Called "App Library and Widgets," Apple developers have simplified the way users find and access information. Now, your home screen will auto prioritize the apps you use more often, and it will be easy to hide the ones you don't use as much. Using Widgets, you can also embed mini apps within apps, and customize them in your Widget Gallery. Siri is getting some improvements as well! The virtual assistant will no longer take up the whole screen while in use — allowing users to operate other apps simultaneously. Also, Siri will now be able to translate several new languages and send audio messages in real time.
iPadOS 14
Navigation through iPadOS will become easier. A new sidebar is coming, with shortcuts and a menu dropdown that will make searching for apps and using an iPad as a laptop much easier. The home screen will include a Widget Gallery and easier ways to organize your apps. Apple Pencil is also getting some neat upgrades. One of the most impressive is a feature called Scribble, which converts your hand written text into typed text.
AirPods
Recent updates to AirPods software will allow them to connect to different devices automatically. For example, if you are listening to a podcast on your iPad (using AirPods), and you receive a call on your iPhone, your AirPods will switch automatically. Another cool feature coming to AirPods is that of "Spatial Audio." Spacial Audio will give users 3D, surround sound-like audio that will make it feel more like you're in a movie theater than wearing headphones.
Apple Watch
Some new features coming to your watchOS 7 include sleep tracking and the ability to be woken up with audio tones or haptic vibrations, as opposed to a traditional alarm clock. Also, handwashing detection software can track the duration of your wash and notify you when the job is complete!
Conclusion — Apple WWDC 2020: Our Favorite Announcements
Apple's developers have been working hard to improve how apps are organized and used. Apple Library and Widgets will make the user experience smoother than ever, and a generation of new and improved updates are sure to delight Apple fans across the globe.
Topics : Articles, Conference, Developers, Technology
Share this post
Join Our Winning Team
We are always looking to add talented professionals to our team. Advance your career with Judge.
Apply Now
Let's Continue the

Conversation.

Tell us how we can help you and we'll be in touch soon.