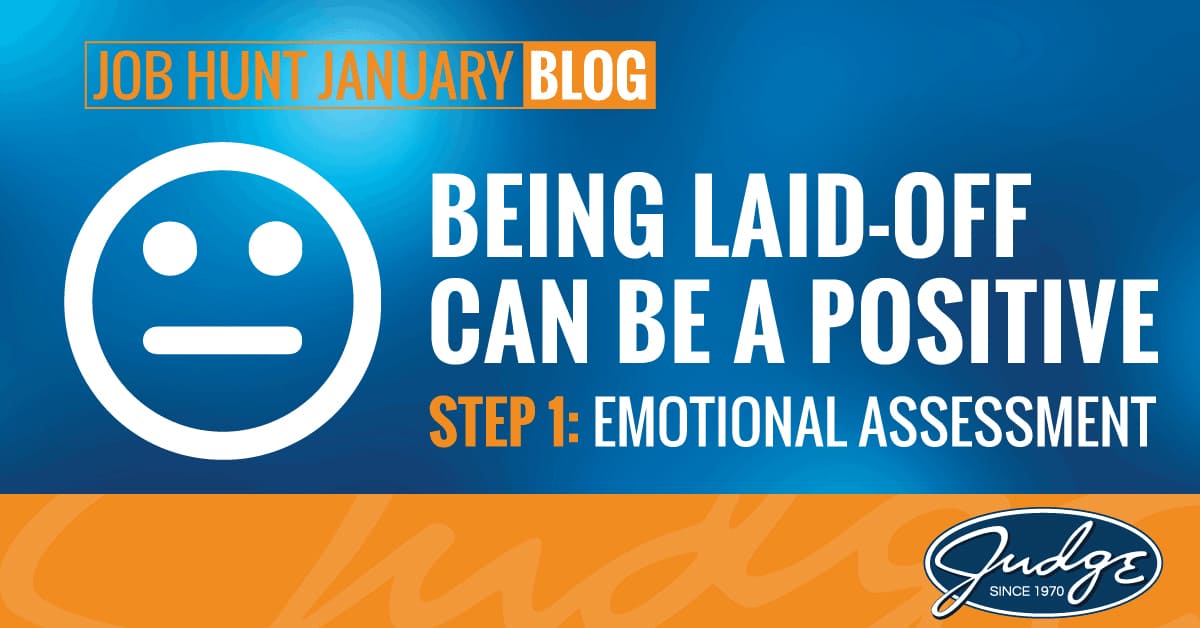 Share this post
Being Laid-off can be a Positive – Step 1: Emotional Assessment
The last thing anyone wants to hear is they've been laid-off and the company no longer needs you.
This is a very emotional time for people and can be devastating. But as Benjamin Franklin once said "If you fail to plan, you are planning to fail" and the sooner you stop dwelling on what happened and develop a plan of action to not only help you through this rough time, but to land your next job the better.
Over the next few weeks I'll be sharing a few "dos" and "don'ts" to help you through this challenging time. We'll start the series off by looking at the emotional and psychological effects of being suddenly laid-off and strategies you can implement to overcome them.
Emotional Assessment
It is important to be aware that depression, stress, anxiety, negative thoughts, and anger are all normal reactions to a sudden job loss and you are not alone. It is OK to be upset and caught off guard if this is was unexpected, but the faster you can assess the situation with a clear head the faster you'll return to a positive state, which creates a much better platform to begin looking for your next opportunity.
Talk to close friends, family, and trusted colleagues who really know you well. As hard as this may seem, it is very important to not hold this in. All these groups offer an excellent way to find support and encouragement as you work through the initial disappointment of being laid-off through the job hunt and ultimately finding your new job.
If you don't feel comfortable sharing with people you know, there are groups within major social media platforms such as, Facebook & LinkedIn, and local organizations directly related to your industry you can join and vocalize your situation to those that share similar experiences and can relate to what you're going through. Members of these groups can even provide insight on how they overcame being laid-off. You need support and shouldn't feel ashamed of an event that is in the past and can now be used to learn and grow from. Having a support network will also help you put out feelers for potential positions that are much more customized to your strengths and abilities.
This should also be a time for self-reflection and constructive criticism. For most, being laid-off is due to budget cuts or having a culture that is not conducive for both the employer and employee. At the same time, it can be a wakeup call that you aren't doing what you are passionate about and therefore not producing at a level you could be in a job you really enjoy. This is an excellent opportunity to both self-evaluate and speak with friends, family, & colleagues about what you have been doing and how it matches up with what you'd like to be doing. If you find that you are dissatisfied with what you have been doing, take this opportunity and channel your job search efforts in to finding a job that you'll be passionate about.
Getting yourself in the right mindset is the first step in rebounding from being laid-off. Building a strong support system of family, friends, colleagues, and others who can relate is a great way to pull yourself out of the shock and disappointment of being laid-off and start focusing on your next career move. In my next piece, I will offer tips on how to take stock of the financial impact of being laid-off.
Until next time!
By: MJ Brown
Topics : Articles, Job Hunting, Laid-off
Share this post
Join Our Winning Team
We are always looking to add talented professionals to our team. Advance your career with Judge.
Apply Now
Let's Continue the

Conversation.

Tell us how we can help you and we'll be in touch soon.