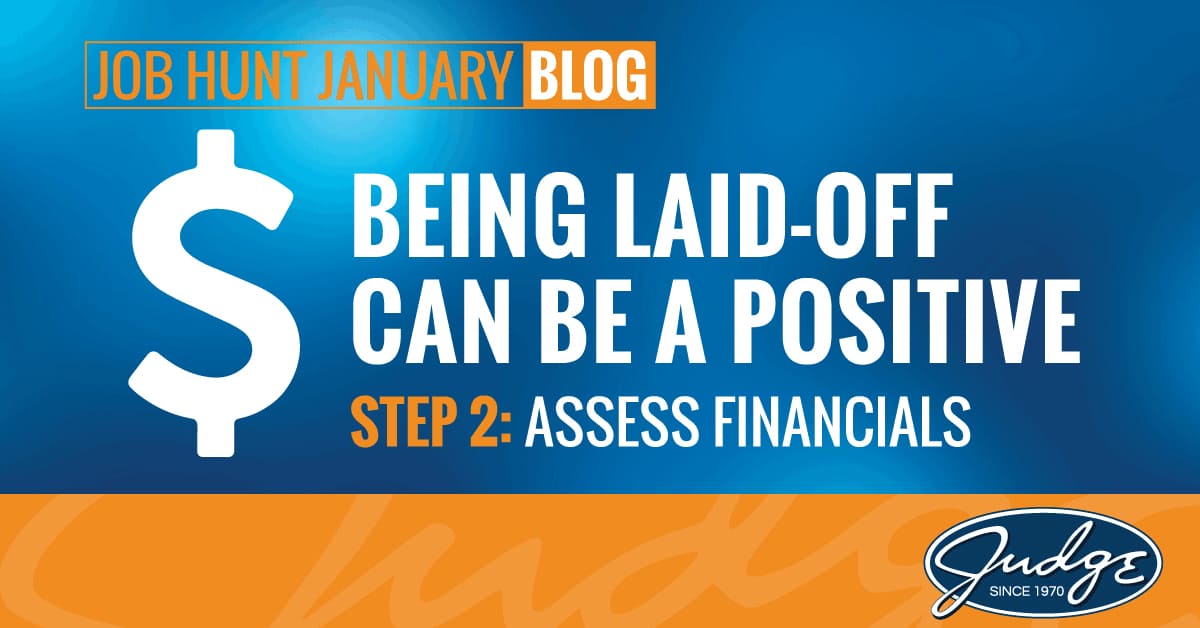 Share this post
Being Laid-off can be a Positive – Step 2: Assess Financials
Being laid-off is a challenging time. This is why I am writing a series of posts to help you get through it. In my last post I discussed the importance of taking an emotional assessment. This time, I'm talking about something more concrete: a Financial Assessment.
It is important to quickly "get all your ducks in a row." This assessment will be one of the most important you undertake, especially if you are supporting additional people other than yourself. Even though this seems like common sense, it is a subject that has to be dealt with early on when evaluating your current state and moving forward to a new position.
Assess Financials
When you're first laid-off, it can be tempting to take some time off or to go on an extended long vacation between jobs. This isn't necessarily the best choice for a couple of reasons. One of course being that this may not be financially viable to take the time off and another is having to explain the extended employment gap to prospective companies. An assessment of your financials will give you a timeline for how fast you need to begin a new job search and how many hours a day you should plan to dedicate to job hunting.
Ideally, it would be good to take a few days or even a long weekend to clear your head and collect yourself. But when a few days turns into a week, and a week turns into two, and the next thing you know you've been off for a month or more, this can compound a lot of issues. This extends the anxiety and uncertainty of being without a job and can take a serious toll on your bank account. Every day that passes is one more day you will need to make up for.
Your job search should be controllable after a few days to a week of rest and reflection. Taking too much time off, even if you can afford it, has the potential to create a very serious question to the next hiring manager or recruiter you speak with. They're going to want to know what you've been doing during your employment gap and saying you've been riding jet skis in Cabo will send up a yellow flag. A great way to utilize any extended time off is to pursue new certifications or licenses. That may not be the easiest financial decision to make, but can help explain your time off while gaining a deeper knowledge in your field that will pay dividends down the road.
Lastly, having a firm grip on your financials will help you decide if you need to reconsider holding out for a higher paying position. Lower paying positions out there can be a fantastic stepping stone into a great role down the road with a company you like. If your financial assessment concludes that you do not need to take a pay cut and you have some flexibility, than you can hold out for a higher paying position.
Your financial situation plays an important role in your job hunt. It will dictate how fast you have to move in your job hunt, what salary you are able to accept, and even afford you the chance to deeper your industry knowledge through education opportunities. In my next piece, I will offer tips on how to build a job search action plan.
Until next time!
By: MJ Brown
Topics : Articles, Job Hunting, Laid-off
Share this post
Join Our Winning Team
We are always looking to add talented professionals to our team. Advance your career with Judge.
Apply Now
Let's Continue the

Conversation.

Tell us how we can help you and we'll be in touch soon.