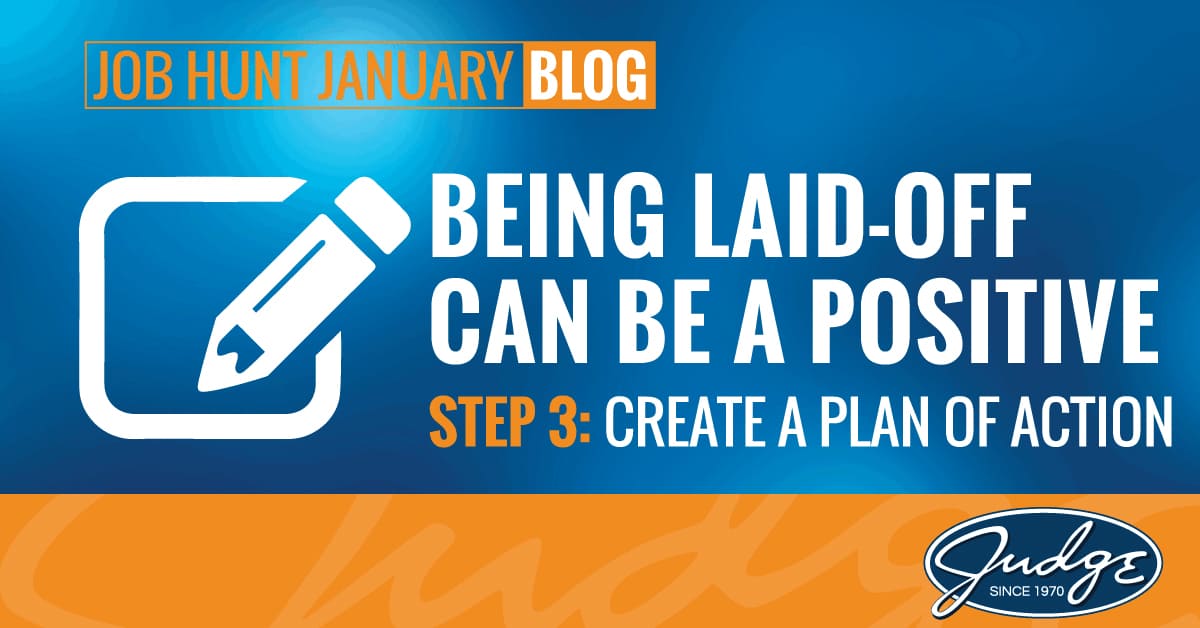 Share this post
Being Laid-off can be a Positive – Step 3: Create a Plan of Action
Being laid-off is a challenging time. This is why I am writing a series of posts to help you get through it. In my last post I discussed the importance of taking an honest assessment of your finances. In this post, I will show you how to create a Plan of Action.
This is where things get tricky. When you've worked for the same organization for a long time, figuring out where to start can be very stressful. Being out of the job search market for an extended period of time often means you don't know where to begin your search.
A very typical reaction after losing a job is to just start flinging your resume around the major jobs boards to see what sticks. This has only been amplified more recently by the proliferation of the "One Button" applications, meaning you can submit 400 resumes in 30 minutes or less! Sounds great right?
Unfortunately, you aren't the only one sending out so many resumes. Everyone else searching for a job is doing the same thing. This has led to hiring managers and recruiters being overwhelmed with resume submissions. They are receiving thousands of these submissions on a daily basis and can realistically only look over so many and sort the qualified candidates from the unqualified. This is when a plan of action can help you stay on track and make the best use of your time.
Create a Plan of Action
To start your Plan of Action, write down your goal on where and what type of position you would like to see yourself. Obviously, make sure the goal is realistic to what you have been doing recently. If you happen to hate what you've been doing and no longer want to be in that position or industry, still write down the new goal/position and pursue it the same way. Writing down your desired position will let you hone in on how you should make the most of your time searching for companies and positions that really match up by researching them online or leveraging your network of friends, colleagues, and family around you.
Next, establish the distance and region you are willing to commute or relocate. It's also important to decide whether or not you would accept a remote position. This will help you understand what the market is for a position in these areas.
Compensation is very important to list while creating your goal page and needs to be understood based on the region you are interested in working. For example, a Graphic Designer position in Atlanta, Ga is going to have a different pay rate than for the same position in New York City. A great place to research pay scales is on the major job boards such as Indeed and Glassdoor. You should also write down any non-monetary compensation you are interested in, such as vacation time, health benefits, and working hours, as you may be willing to accept a little less salary in exchange for a more comprehensive benefits package.
Lastly, decide on your application approach. I advise you only send as many of the one click applications that you are able and willing to document and keep track of. This is important because it can hurt you when a response does come back and you're sitting there asking yourself "Who the heck is calling me?" This can throw off your game and you'll come off as ill prepared and not very serious about your search. Potentially better options would be to target certain companies that meet your above criteria and use your network to see if you have any connections. If not, do your research and craft highly specific resumes to the company and position. Another alternative would be to work with a recruiting company that already has established ties with companies in your industry.
Getting your Plan of Action together is a pivotal step in your quest to find a new job. In my next post, we'll talk about arguably the most important asset in your job search: your resume.
Until next time!
By: MJ Brown
Topics : Articles, Job Hunting, Laid-off
Share this post
Join Our Winning Team
We are always looking to add talented professionals to our team. Advance your career with Judge.
Apply Now
Let's Continue the

Conversation.

Tell us how we can help you and we'll be in touch soon.