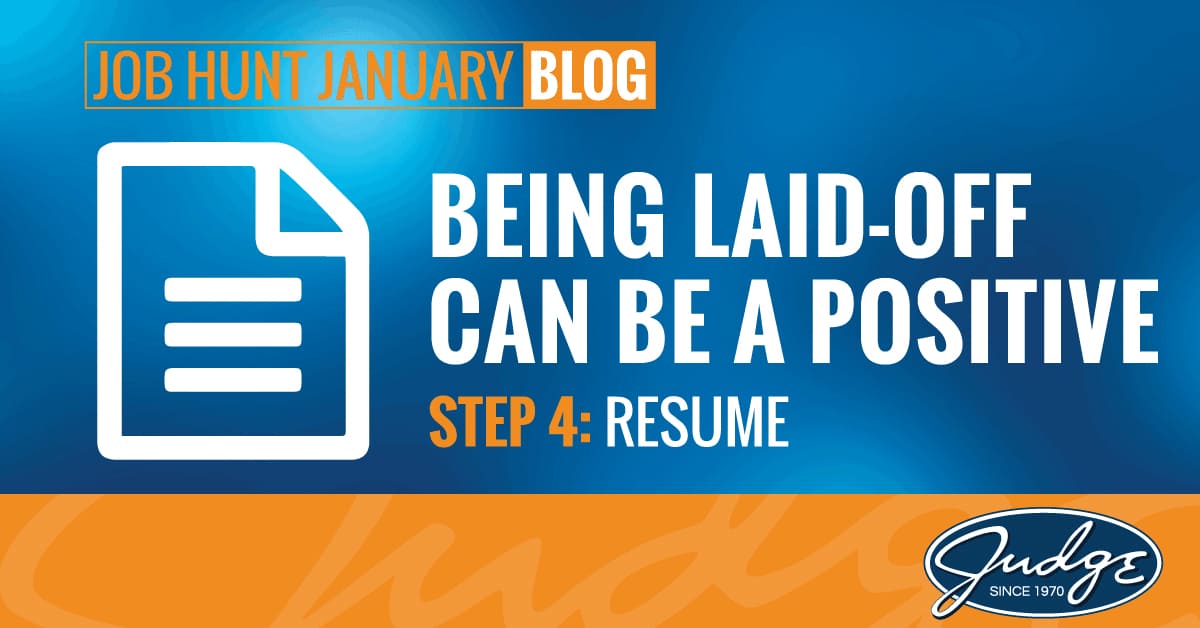 Share this post
Being Laid-off can be a Positive – Step 4: Resume
Being laid-off is a challenging time. This is why I am writing a series of posts to help you get through it. In my last post I discussed the importance of creating a Plan of Action. With that in-hand, it's now time to shift your focus to your resume.
Resume
It is imperative to use your goal and the position you are going to apply for, to structure your resume in a way that highlights the work you have done that is directly related to the job you are "hunting" for. Your resume should be filled with keywords of what you have done in the past that are relevant to the responsibilities of the position you are applying for.
Using the right keywords in your resume is vital. Most databases utilize analytics to grade each resume 1-100 for jobs your resume matches up to. This rating is based on how many keywords in your resume match up with keywords in the job description. The hiring manager will use these ratings to develop their priority list on who they are going to call first for the job. To put it simply: the higher your resume scores, the more likely you are to receive a call from the hiring manager. In highly populated areas this can be the difference maker.
How do you know what keywords to use in your resume? Use the job posting as your guide. Be sure to include specific software you use instead of vague or general terminology. Knowing and properly using industry buzz words and jargon in your resume can also help. Just make sure they're relevant to the job posting.
Once you've refreshed your resume with keywords it is a good idea to have other people look it over and provide feedback. You can ask family and friends to look at it, but it would serve you better if you had professionals look at it. This is especially true if you know hiring managers or other people in similar roles to the one you'd like to pursue. They can provide you valuable insight on how to get your resume noticed in the swarm.
Another excellent resource is recruiters. If you choose to work with a recruiter, they will provide you with feedback and tips on how to make your resume more appealing for the job you're applying for. These individuals are uniquely positioned to help as not only are they seeing hundreds of resumes a day, but they're also working closely with hiring managers. This gives them a deeper understating of what hiring managers are looking for in the position.
By properly using keywords in your resume, you can better position yourself to receive a call for the job you want. Make sure they are relevant to the position you're applying to, are an accurate representation of your skills/experience, and utilize your professional network to solicit feedback.
Until next time!
By: MJ Brown
Topics : Articles, Job Hunting, Laid-off, lay-off
Share this post
Join Our Winning Team
We are always looking to add talented professionals to our team. Advance your career with Judge.
Apply Now
Let's Continue the

Conversation.

Tell us how we can help you and we'll be in touch soon.