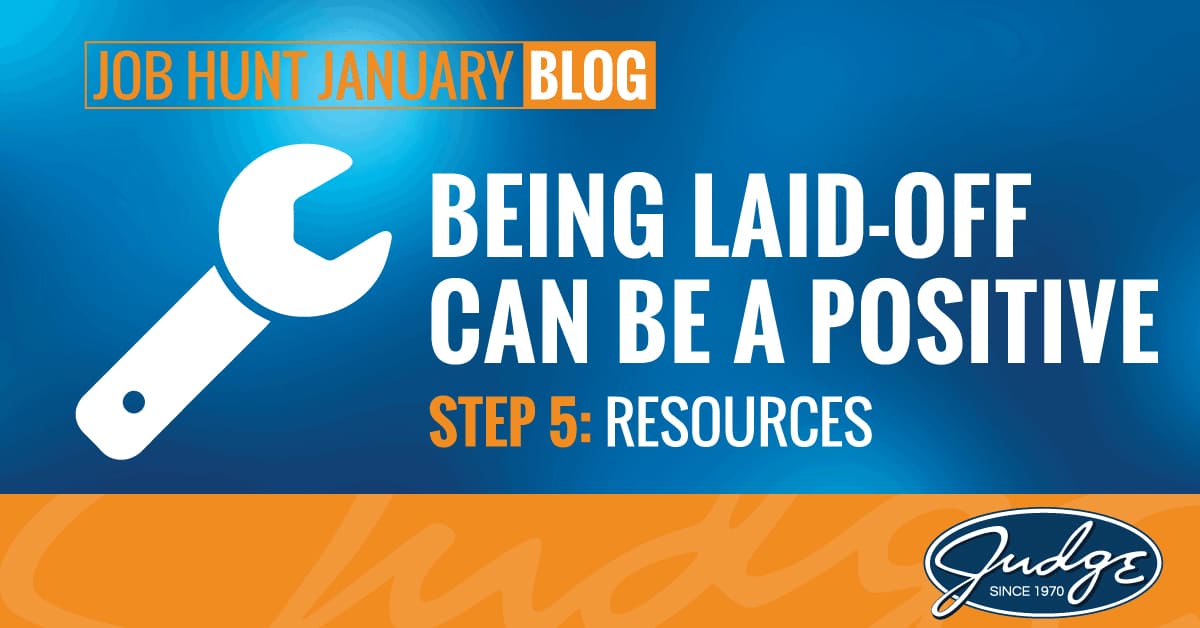 Share this post
Being Laid-off can be a Positive – Step 5: Resources
Being laid-off is a challenging time. This is why I am writing a series of posts to help you get through it. In my last post I talked about properly using keywords in your resume. In the final post of this series, I'm going to talk about utilizing all the resources available to you to land your next job.
Resources
Strategically use your goal to reach out directly to companies and agencies to increase your job search. You'll want to spend a lot of time researching both the company and the person you're contacting. Be sure to write a highly customized cover letter discussing how you can help the company. Make sure to keep record of these interactions in an Excel or Outlook type database so you can be prepared when they do respond with a serious inquiry. You don't want to be caught unprepared and come off as unprofessional.
There are a plethora of digital resources out there that you should take advantage of. LinkedIn, company websites, and blogs are all great ways to interact with companies you're interested in working for. Leaving comments and joining in on on-line conversations is a great way to show off your knowledge and show that you're in the job market. This can really increase the amount of exposure you receive strategically for the position you are looking for. There are a lot of conversations that take place on LinkedIn and other social media outlets that directly touch on the jobs you are looking for. These conversations are great platforms to communicate and show your interest to recruiters and hiring managers who get emotionally involved with these types of interactions. Just remember to keep all these interactions professional.
Also, you can find a lot of hiring managers and recruiters through LinkedIn and social media platforms. Even once you have secured a position, you can continue to network and build relationships with these people by interacting on posts or topics they are active with. This will continue to build your network if the worst ever happens again regarding being laid off. This only takes a few minutes to do and can have great benefits down the road.
Another way to network and get your message out would be to join groups as I discussed in an earlier article. There are many online groups on Facebook, Twitter, and LinkedIn, as well as local in-person groups that directly link with a community of peers in your industry. You'll be surprised with the amount of support and opportunity that lies within these types of groups and they are growing at a very fast rate. See if the members of these groups have any insight on a possible certification they acquired to get them over the hump or maybe know of a hiring manager that is currently looking for a candidate just like you.
Taking advantage of the resources available to you is the last step in turning a layoff into a positive. By reaching out and joining communities, you not only increase your odds of finding your next job, but you also open yourself up to new opportunities down the road. Use this time to strengthen existing relationships and build new connections. You'll find that not only will your job search benefit, but your career will benefit too.
By: MJ Brown
Topics : Articles, Job Hunting, Laid-off
Share this post
Join Our Winning Team
We are always looking to add talented professionals to our team. Advance your career with Judge.
Apply Now
Let's Continue the

Conversation.

Tell us how we can help you and we'll be in touch soon.