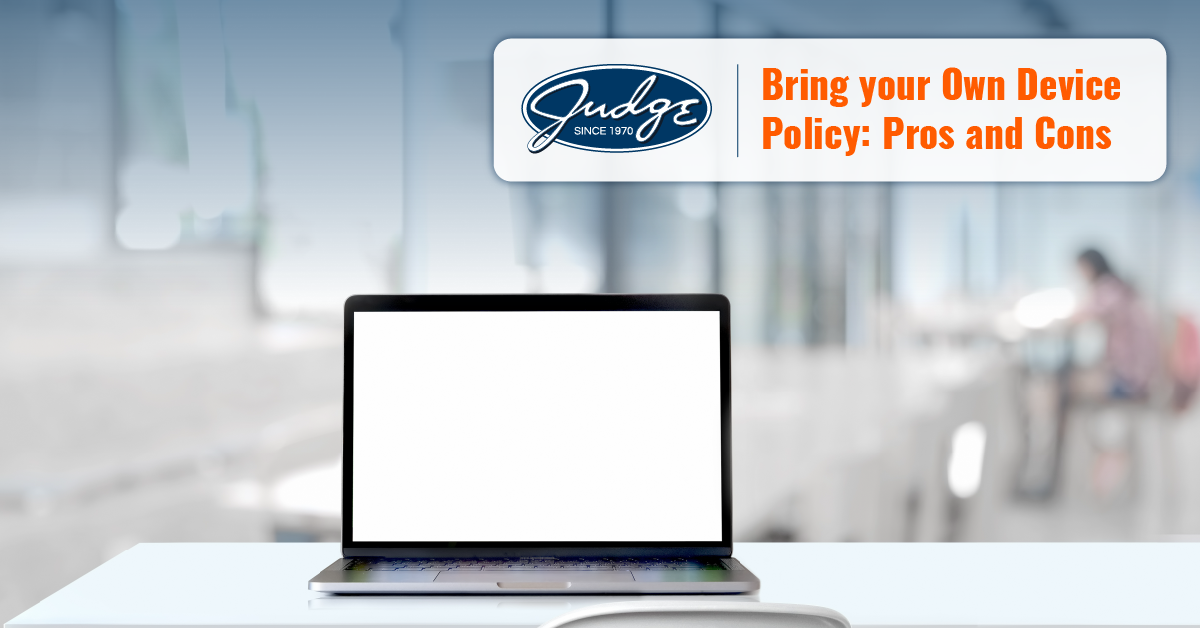 Share this post
Bring your Own Device Policy: Pros and Cons
According to Forbes, 42% of employees enrolled in Bring your Own Device (BYOD) programs say their productivity and overall efficiency has risen because of it.
Sounds encouraging, eh? So, what exactly is a BYOD policy, and why do some employees appreciate it so much?
BYOD stands for bring your own device to work. Policies around BYOD allow employees to bring their personal mobile devices, laptops, and tablets into the workplace, using them instead of, or in addition to, company-owned devices. Whether a BYOD policy makes sense for your company depends on several factors. And while it's true that many companies have one, others remain weary, for understandable reasons.
So let's look at some pros and cons of implementing a bring your own device policy.
The PROS of a Bring your Own Device Policy
Reducing Technology Costs
BYOD policies allow employers to reduce technology costs, saving money on laptops and mobile devices they no longer need to purchase. According to Cisco, BYOD policies save companies an average of $350 per employee, per year. Employees also tend to take better care of the devices, since they own them.
Familiarity
When employees use their own devices, they may work more efficiently, particularly in the early stages of a new job. Every device feels a bit different and takes time to get accustomed to. In some cases, BYOD policies can even reduce training hours.
Flexibility
As more industries allow remote work, permitting employees to use personal devices makes it easier to access the information they need, regardless of where they are. Likewise, trying out a new program or installing a new app is often easier when no technical set-up or special approval is required.
Newer Devices and Cutting-Edge Features
Individuals are more likely to upgrade their own devices and keep up with novel features. It takes longer (and it can cost much more) for a company to upgrade an entire team's technology — yet it's extremely important.
The CONS of a Bring your Own Device Policy
Liability
Since devices are privately owned, some natural questions arise. Who is responsible for repair costs if something goes wrong? What if damage occurs during work hours, versus after work? What happens if a device gets stolen? These are just some of the questions that should be considered.
Security Concerns
Companies and IT teams have a much harder time monitoring viruses, hacks and unauthorized use of devices when work occurs on personally owned technology. Employees may also worry that their personal data is less secure, since their device may store both personal and company data.
Data Retrieval
Even if a company has an exceptional data backup system, using a personal device can create problems when employees decide to move to a new job. If an employee leaves on bad terms, there may be concerns over the misuse of company information.
Device Incompatibility
When employees use different technology, software compatibility issues may arise from time to time. This can make it difficult to guarantee all employees receive the updates they need to various programs and apps, making IT's job more difficult.
Privacy Intrusion
Employees may worry about a company having access to their computer, and therefore their personal data and information. Also, after a worker leaves a company, managers often request that all data be wiped from the device. Employees may be opposed to this, for fear of losing their own data.
Conclusion: Pros and Cons of a BYOD Policy
There's no easy answer to this one, unfortunately! There are clear benefits and challenges associated with any bring your own device policy. If a company does decide to create one, all policies should be put in place in advance of its implementation, clearly explaining acceptable use of personal devices in the workplace.
Topics : Articles, IT, IT Departments, Remote Work
Share this post
Join Our Winning Team
We are always looking to add talented professionals to our team. Advance your career with Judge.
Apply Now
Let's Continue the

Conversation.

Tell us how we can help you and we'll be in touch soon.