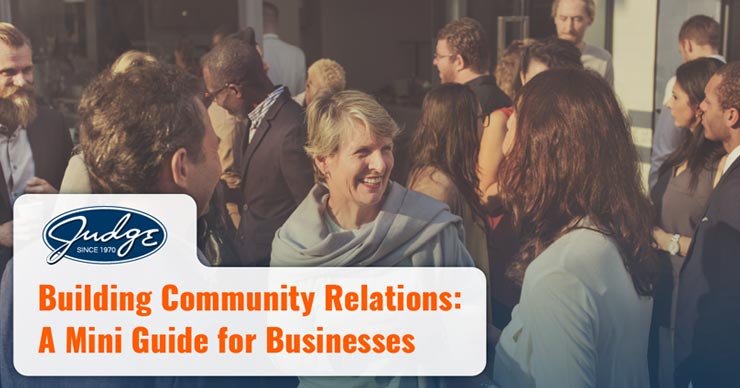 Share this post
Building Community Relations: A Mini Guide for Businesses
If the community is happy, then they will support your business. And if your business is doing well, you can give even more back to the community. - Earvin "Magic" Johnson
Business leaders like Magic Johnson understand the value of forging relationships in local communities. When done right, community building can have practical benefits (it can be very good for business) and ethical benefits (resulting in volunteerism, donations, and happier employees). And while it's true that most CEO's don't have the PR advantage of being a world famous athlete, there are lots of steps employees and executives can take to maximize their reputation, shape a culture of giving, and bring invaluable resources to the community.
Here are some tangible steps towards building effective community relations for your business.
Start researching opportunities
Begin by researching local community organizations and events. Start slow, giving yourself time to understand which opportunities your team members (and the community) will benefit from most. Seek events in which your team and outside community members will interact directly. The more engaged your employees are, the more visible they will be, and in time, the greater impact they will have. Research suggests that companies with active "corporate responsibility programs" have more productive employees, stronger teams, and lower rates of employee turnover.
Keep relationships consistent and ongoing
Once you've identified opportunities and experienced success, consider committing to an ongoing relationship. Over time, building community relationships will put a "human face" on your business, and can have wonderful impacts on the organization receiving assistance. Encourage your team to speak openly about big company news, and employment/internship opportunities. Even when conversations like these don't have short term impacts, they can build trust over time, making your company an increasingly familiar pillar in the community. Eventually, you might even consider hosting an open house for community members to learn more about what you do.
Organize a charitable event yourself
This one takes time and know-how to pull off, but it can be well worthwhile. After participating in several community events, consider organizing a charitable event of your own. Not only can this be a fantastic way to build positive relationships in the community, it can help educate your team about local community needs, allowing both employees and community members to become involved.
Protip: Make sure your team is part of the planning process! If appropriate, try to integrate members of the community into the preparations too.
Inspire your team
In order to engage with your community, team members and leaders must be motivated to take community relations seriously. Make sure you acknowledge those who took initiative, praising them publicly. Consider sending newsletters and advertising materials to your staff and relevant community members before and after events you took part in, either for event "recruitment" or simply to celebrate what you accomplished together.
In Closing — Consider a Community Relations Strategy!
Even when companies feel compelled to give back to their local communities, they often stop short, failing to fully appreciate the business-related benefits of a robust community relations strategy. Remember, building genuine ties to the community can take time, so start researching and think long term! 
By: The Judge Group
Topics : Articles, Community Relations, Judge Tips
Share this post
Join Our Winning Team
We are always looking to add talented professionals to our team. Advance your career with Judge.
Apply Now
Let's Continue the

Conversation.

Tell us how we can help you and we'll be in touch soon.