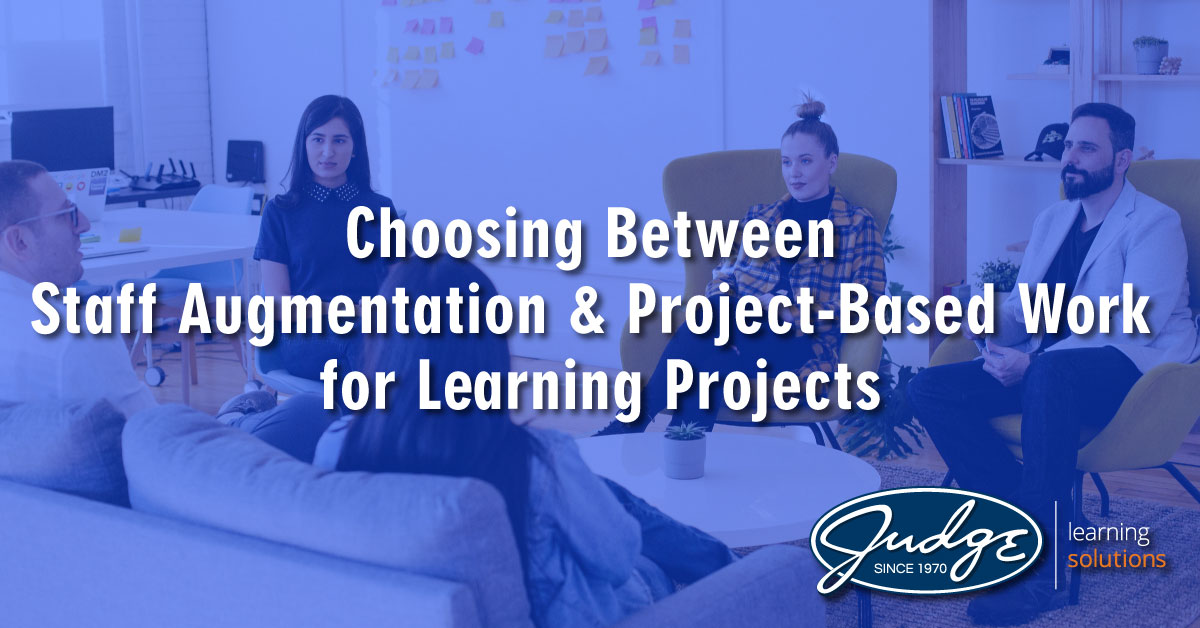 Share this post
Choosing Between Staff Augmentation and Project-Based Work for Learning Projects
By Mark Burke, Ed.D.
As a full-service learning company, we are often asked by our clients if they should temporarily bring on learning consultant to their team (staff augmentation) or hand the project to us to complete for them (project-based work). This is a great question, as there are advantages to each. To try and help you with your decision, here are some questions for you to consider when thinking of this choice.
Do you have the time to manage a learning consultant? Staff augmentation is extremely powerful when you can work directly with the learning consultant and guide them on what exactly you want. Whether you do a daily check in or manage the work through review cycles, when you have the time to manage the resource, you get fantastic work. On the other hand, if you don't have time to manage someone but still need work done, project-based work is likely best as the project is managed externally and all you need to do is review deliverables. Ultimately, this is about capacity.
Do you have the skillset to manage a learning project? Creating learning isn't as easy as it may look. There are structured processes and reviews that need to happen, and each one is focused on specific aspects of the product. If you are already a learning leader and have managed training projects before, then this is a simple question to answer. If you have not managed training projects, then project-based work might be for you. Otherwise, you will need to learn this skillset while the work is ongoing, which can be stressful and may result in missed opportunities for the quality of learning.
What type of project are you considering? This is an often-overlooked question. If you have a clear, discrete project with defined deliverables and a hard deadline, project-based work is a very good option. Conversely, if you have many small projects that will likely start and stop over the upcoming months, then staff augmentation is worth considering. As the term staff augmentation indicates, you are supplementing your team. Team members often have many projects on their plate and juggle them based on changing priorities. Staff augmentation consultants become an extension of your team and therefore can help you manage those many small projects. Bottom line – a defined project and deadline point to project-based work while expanding your team to take on lots of little projects points towards staff augmentation.
The above answers are a good place to start for this decision but aren't the only factors – e.g., budget, skillset of the learning consultant, and headcount considerations. Either way, you're going to get a great level of support – you just need to decide what format you want it in.
Want to talk more about this? Leave a comment below, or reach out to us at JLS@judge.com. Our team of creative rock stars are ready to help – just let us know what you need.
Topics : Article, Judge Learning Solutions, Staff Augmentation, Time Management
Share this post
Join Our Winning Team
We are always looking to add talented professionals to our team. Advance your career with Judge.
Apply Now
Let's Continue the

Conversation.

Tell us how we can help you and we'll be in touch soon.