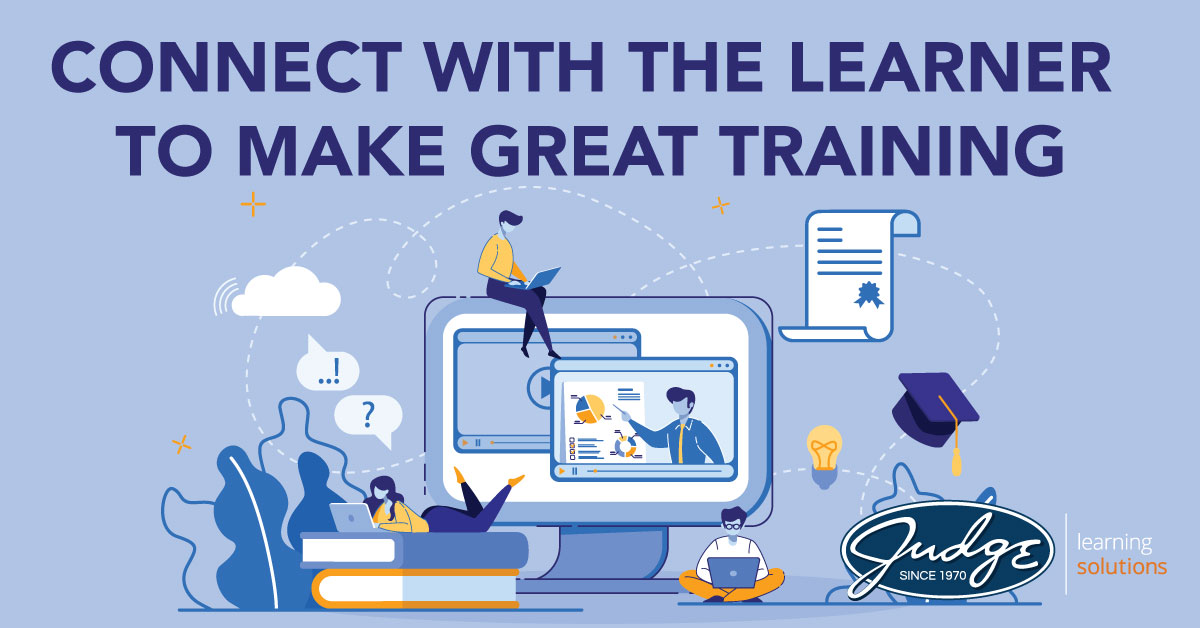 Share this post
Connect with the Learner to Make Great Training
By Mark Burke, Ed.D.
It's always special when we receive positive feedback from our learners about the training we've created. Hearing things like "It really made me think," or "I loved how it used characters to teach," are what we live for as training professionals. The challenge is that these comments don't come easily. With training development, there are a lot of moving parts and many people involved. For us to get to wonderful comments like those above, we need to keep focused on the star of the show: the learner. To keep this focus and truly connect with the learners, we recommend the following three actions for all projects.
Listen to the learner early in the process. Once a business need is identified and training is determined to be the right solution, we go straight to the learner to find out about them. After all, they are the reason we are there and the ones we need to help. We ask questions about what they can currently do, what they understand about the new content to be learned, how they like to learn, and what support they need to be successful. We need to get in their heads to create the optimal learning experience.
Engage learners throughout development. Having one or two future learners be part of the design process and development review cycles is an ideal situation. They will give the boots-on-the-ground novice perspective that subject matter experts cannot always provide. These learners will also be able to raise their hands when they don't understand the content or the design – thus allowing us to pivot to meet their needs.
Pilot test with a learner group. The final way to connect with the learners is to let them be the last voice in the development process. We do this by conducting pilot tests with a sample of the target population. Depending on the project, 5 to 10 people is enough to give you a good understanding of how the training resonates with them. Logistically this isn't always possible, but most of the time we are able to run a pilot test and make changes to the training based on the learner's feedback.
With timelines, budgets, stakeholders, and ever-changing priorities of companies, it is always a risk to lose sight of the end user. But as learning professionals, it is our connection to the learner that gives us the empathy and understanding to make quality learning that truly benefits them.
Want to talk more about this? Leave a comment below or reach out to us at JLS@judge.com. Our team of creative superheroes are ready to help – just let us know what you need.
Topics : Articles, Learning, Learning Solutions, Training
Share this post
Join Our Winning Team
We are always looking to add talented professionals to our team. Advance your career with Judge.
Apply Now
Let's Continue the

Conversation.

Tell us how we can help you and we'll be in touch soon.