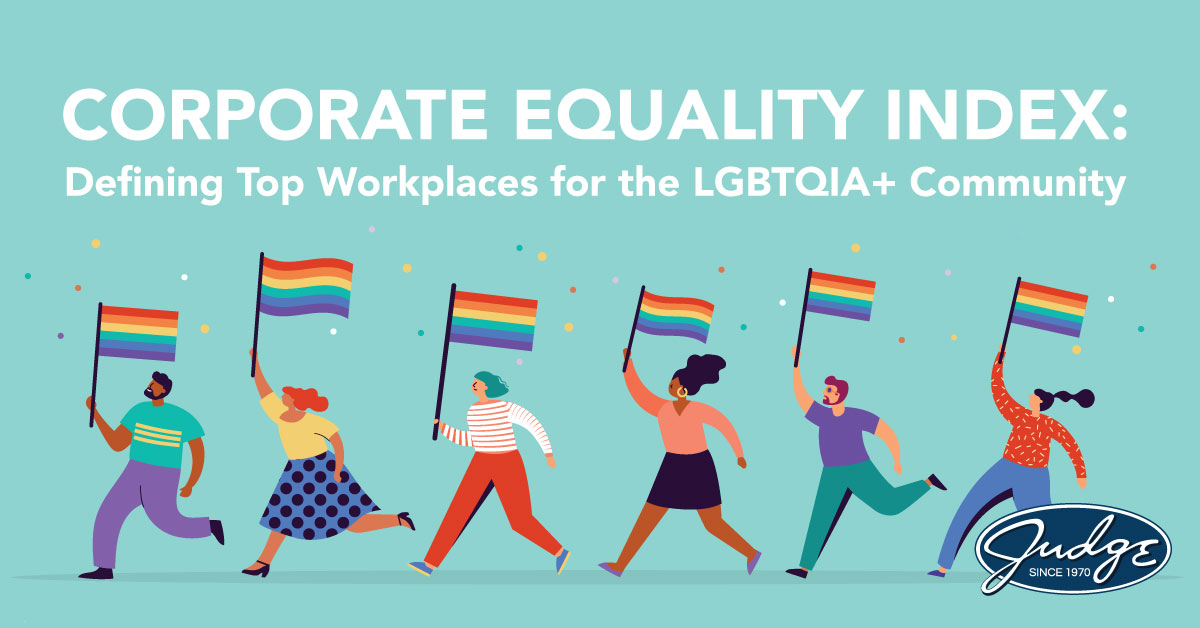 Share this post
Corporate Equality Index: Defining Top Workplaces for the LGBTQIA+ Community
By Kristin Ortiz
Each year, the Human Rights Campaign releases the Corporate Equality Index (CEI), a national benchmarking tool rating corporate policies, practices, and benefits relating to LGBTQIA+ employees. The CEI aims to identify and drive LGBTQIA+ inclusion in the workplace through the review of critical initiatives, processes, and policies within a given organization
In 2021, 1,142 companies were rated and 767 of them received the top score of 100, which added them to the "Best Places to Work for LGBTQ Equality" list. Of the Fortune 500, 233 employers actively participated in the 2021 CEI.
"Our participating companies know that building an LGBTQ-inclusive workplace is not just the right thing to do—it is also the best business decision—allowing companies to attract, retain and engage top talent," said HRC President Alphonso David.
The Judge Group Makes Strides Towards CEI Rating
In 2021, The Judge Group made a renewed pledge for greater emphasis on Diversity & Inclusion as well as the rights of our LGBTQIA+ employees. Several employee resource groups (ERGs) were formed at the start of the year, including Pride@Judge.
Pride@Judge is a group of Judge employees dedicated to the enhancement and sustainability of an inclusive, safe, and thriving professional environment for LGBTQIA+ employees and prospective talent. This ERG is a group of persons committed to promotion of awareness, education and furthering The Judge Group in engagement with the LGBTQIA+ community as an inclusive employer.
In just a few short months, The Judge Group identified existing policies and procedures and created new ones that would lead to a favorable rating from the CEI, including:
The addition of gender identity and sexual orientation to our EEO policy
New hire training clearly states that the nondiscriminatory policy includes gender identity and sexual orientation and provides definitions and scenarios illustrating the policy for each
Equivalency in same- and different-sex spousal and domestic partner medical and soft benefits
Provided three LGBTQIA+ internal educational trainings for employees
Requirement that all managers take DE&I hiring practices training, which included LGBTQIA+ bias training
The addition of gender transition guidelines with supportive restroom, dress code, and documentation guidance
Philanthropic support of an LGBTQIA+ organization – The Trevor Project
"The simple fact of the matter is, The Judge Group did not hit 50 years in 2020 by way of willful ignorance," said Sky Donovan, Senior Technical Recruiter, and leader of Pride@Judge. "We know better, and so do our clients. The CEI has been around for nearly two decades and year-after-year the list of verified names on that index continues to grow. The Pride@Judge ERG is less than six-months founded, and we'll be submitting our survey for formal assessment by the Human Rights Campaign on-time to earn our spot on the CEI in 2022."
For more information on the CEI, click here.
Topics : Articles, Corporate Equality Index, LGBTQIA+, Pride Month, Top Workplaces
Share this post
Join Our Winning Team
We are always looking to add talented professionals to our team. Advance your career with Judge.
Apply Now
Let's Continue the

Conversation.

Tell us how we can help you and we'll be in touch soon.