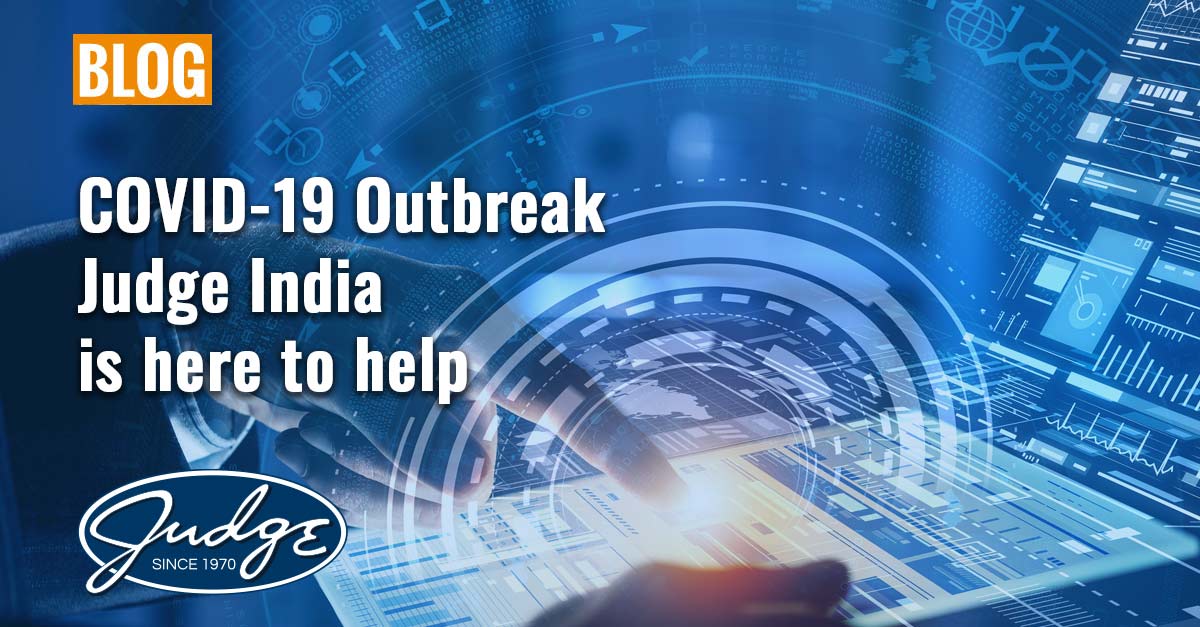 Share this post
COVID-19 Outbreak – Judge India is here to help
The outbreak of Coronavirus COVID-19 has put the world on edge. During a time of great scientific advancements and technological brilliance, a small microscopic virus has caused such global economic and social disruptions, that it's nearly brought the world to a halt.
But, history has taught us that technological advancements and better research & information has successfully mitigated similar outbreaks in the past. We're excited that through our services, we're able to support new technology and insights to help slow, and eventually stop, the spread of COVID-19.
Here at Judge India, we understand the unique demands COVID-19 is placing on businesses. We want you to know, we're ready to supply comprehensive solutions to help our clients fight this outbreak.
a) Custom Healthcare Solutions – We have deployed a rapid development team to take care of the needs of healthcare professionals. We have experts that will help you with the following:
All Scripts Integration
Health Information Exchange
Mobile Veterinary
Electronic Health Records (EHR/EMR)
Pharmacy Management
Emergency Notification Application
E-prescribing(e-Rx)
Telemedicine/Telehealth
Appointment Scheduling
b) Helpdesk Services – We have a team of professionals to help you. We can use your CRM, EHR, and contact information to provide you with a framework that will give you a 360° view of patient information. Our agents can help you to schedule appointments or find physicians. We provide 24x7, 100% uptime SLA with end-end data encryption.

c) Healthcare Staffing - We have extensive experience in hiring and deploying resources. Please connect with us if you need to help in hiring RN's, Physicians, Counselors, Healthcare Management professionals, and IT resources.

d) Remote Developers – Over the years, we have built best practices and tools to optimize the performance of remote teams. We can help you to hire niche, skilled resources that will work with you in your time zone. Our resources are trained and certified on more than 130+ technologies across different technologies.

e) Application Managed Services – We have dedicated development and testing CoE's to help you achieve your strategic objectives. Please connect with us for application modernization, integration, DBA services, testing services.

f) Learning Solutions - Our Learning experts work with our clients to develop modules to support healthcare workers. We develop bite-sized modules for learning on the go. A few of the topics that we deliver are managing stress, interpersonal skills, managing emotions, service mindset in critical times, and emotional intelligence. Also, Instructor-led training for simulation and managing interpersonal behavior.
Judge India is committed to support you to ensure your unique requirements and business continuity needs are met. Please connect with us today.

Topics : Application Managed Services, Blogs, COVID-19, Custom Healthcare Solutions, Healthcare Staffing, Helpdesk Services, Learning Solutions, Remote Developers
Share this post
Join Our Winning Team
We are always looking to add talented professionals to our team. Advance your career with Judge.
Apply Now
Let's Continue the

Conversation.

Tell us how we can help you and we'll be in touch soon.